Types of the hosting control panel
What is control panel hosting?
The control panel hosting is software that is installed on the host and adds a graphical user interface to it. With this graphical user interface, there is no need to perform complicated steps to access different parts of the site. Moreover, with just a few clicks you can manage emails, users, resources, backups, and more.
Assessing some types of the control panel hosting
Firstly and more importantly, You are not allowed to use any control panel that you want. Apart from features, selecting an appropriate control panel is highly depends on the server operating system (Linux or Windows) and the programming language of your site.
In the following, we will discuss what operating system and programming language are suitable for each type of control panel.
cPanel
cPanel is one of the most popular web hosting control panels in the world. Note that cPanel is just for Linux servers. Moreover, supports sites written in Python, Perl, Ruby, PHP programming language.
Benefits of cPanel
The cost is reasonable
Easy to install and set up
User-friend interface and easy task setting up
Occupies a small amount of your hosting resources
Many facilities and advanced features for professionals
There are many educational resources on the Internet for this
Disadvantages of cPanel
The existence of different sections and many features may confuse the user at the beginning
Migrating from other control panels to cPanel is difficult and sometimes impossible
Vital host settings are readily available; That's why a small mistake can ruin everything
In addition, the cracked version of cPanel has a low level of security and increases the vulnerability of your site to hack.
Direct Admin
Direct Admin may not be as popular as C Panel, but it has a great advantage you can use it with an official and legal license. , Like cPanel, Direct Admin, is suitable for Linux servers. This control panel supports sites written in Nginx and PHP.
Benefits of Direct Admin
The direct Admin user interface is more efficient than cPanel; That's why it does not confuse you at the beginning
Its legal license is reasonably priced
Is very light and takes up very little space
Has four different themes for the user interface
Migrating from cPanel to Direct Admin is very simple
Cons of Direct Admin
Adding more features and software requires an extra fee
Its educational resources are less than cPanel.
Plesk
Plesk control panel can be used for both Windows and Linux hosts. So you have no problem with the operating system. Plesk supports sites written in ASP.net, Python, Ruby, PHP, and Node.js
Pros of Plesk
Supports both Linux and Windows servers
Ability to configure the suit firewall to the operating system of the server
Is multi-server; Which means that you can manage multiple servers from one of your panels
Is highly secure
Easy to install due to its user-friendly interface
Disadvantages of Plesk
It has relatively high costs
On Linux servers, it is slower than cPanel
It has different licenses for different plugins
Migrating from other control panels (especially cPanel) to Plesk is difficult
Direct Admin, Plesk, or cPanel?
We have compared these three control panels from the following five views:
User interface
Security
Operating system compatibility
Updating
Backup
User interface
When it comes to using a control panel, the first thing a user considers is the user interface. The user interface should be such that it creates a good feeling in the user and easy access to its various parts.
In the following, you can see the user interface of cPanel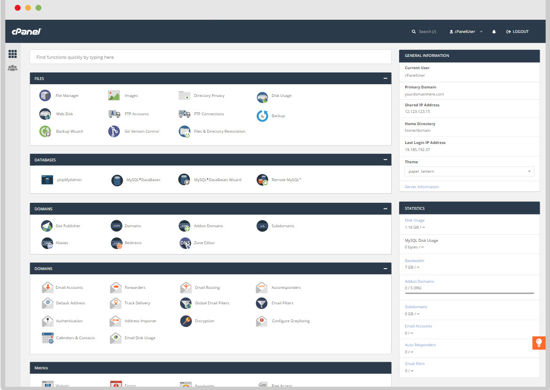 The user interface is a bit complicated and misleading for beginners; But the more they work with it, the less complex it will be. Professional users of cPanel usually have no problems with the user interface.
In the following, you can see the user interface of Plesk.
The Plesk user interface is more modern than the other 2 control panels, and 90% of those who have worked with it have had positive feelings. Additionally, with this user interface, it is extremely easy to manage different sites or servers.
In the following picture, you can see the user interface of Direct Admin.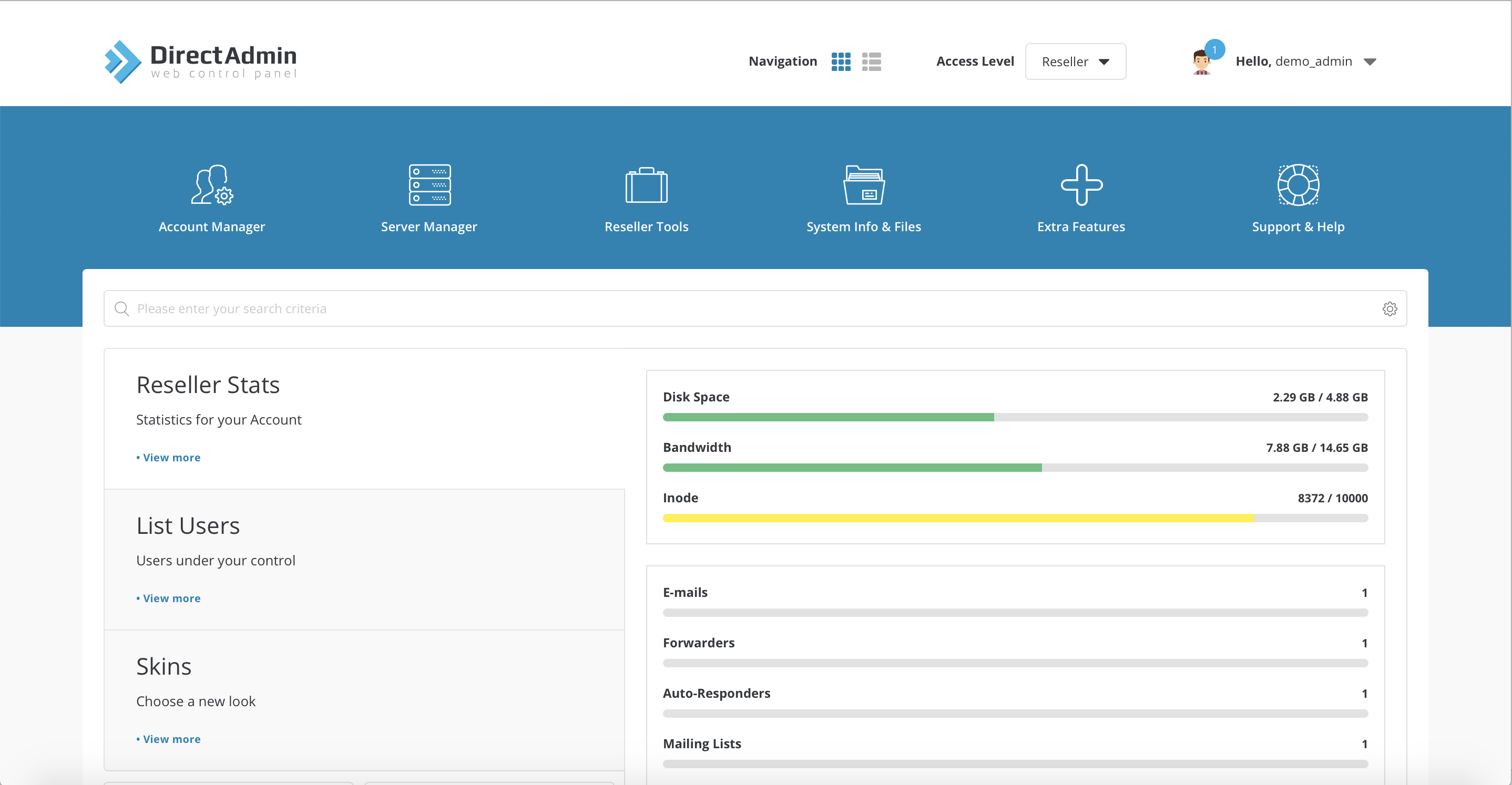 Direct Admin Control Panel With its new panel, it has made all the tools, statistics, and various system information and menus available to the user on one central page. To access each section, you must enter its special menu and apply the necessary settings. Simplicity is the main feature of the Direct Admin user interface, But some people think that this simplicity makes their work too difficult and they have to go a long way to access some parts of the panel.
Security
Security is a very serious issue in control panel hosting and the makers of these control panels are well aware of it. In the following items we are going to appraisal each control panel from the view of security:
cPanel security: the ability to close the IPs of the webmaster is one of the important features of cPanel. It should be noted that before configuring the hosting service, it is necessary to follow the safety tips of cPanel so that you do not face any particular problem in the continuation of the work. Moreover, using firewalls and antiviruses is another way of C Panel security.
Plesk security: Plesk reacts quickly and makes quick decisions in the face of dangers and vulnerabilities that threaten it. Additionally, uses various security tools such as Revisium Antivirus, Firewall, Fail2ban, and…  to provide security to users at different levels.
Security in Direct Admin: Direct Admin security, like the other two panels, depends on the important settings that you have made so far. Installing security software along with antivirus and firewalls will help secure your Direct Admin control panel. Moreover, Direct Admin has a number of anti-spam tools.
Operating system compatibility
All three control panels are capable of working with the Linux operating system. However, Plesk also can support Windows, and this is the difference between Plesk and the other two control panels. Now if you are planning to use a control panel that can support both PHP and ASP sites, the best choice is the popular Plesk control panel.
Updating
Without a doubt, having the latest version of any software will eliminate many bugs, vulnerabilities, and vulnerabilities of older versions.
cPanel update: You must have full access to root (Linux user) to update C Panel. In cPanel, you can set the update to one of these three options: automatic, manual, or no update.
Update in Plesk: Surprisingly, updating this software may take a full day. Moreover, if you are offline for a few minutes while updating Plesk, do not worry because your site will still be online. You can also set the settings to automatic to update Plesk.
Direct admin update: Direct Admin can be updated in two ways. 1) Manually update via ssh commands. 2) Update via admin level panel. Both of these methods are simple and can be done with a few clicks.
Backup
The importance of backup in control panel hosting becomes clear when you want to make changes to your site or your data is lost for any reason. In this case, a backup of the whole site or part of it can help you.
Backup in cPanel: to make a backup in cPanel, after entering the user section in the Files section, click on the Backup option. You can use the full backup or just back up part of the site. Then, submit your request and after confirming the email, a backup of your site will be made.
Plesk: to back up the Plesk control panel after entering the control panel, you must click on the Backup option. the difference between Plesk and cPanel is that you can tick any part that you want to back up, and tick all options if you want to get a full backup. Then, wait for your backup to be made.
Direct Admin Backup: backing up in Direct Admin is just like Plesk, and when you log in to the control panel, you announce your request for a backup. After that, by activating the tick of each section, you determine from which section you want to make a backup. Makes a full backup for you. If you have activated all the ticks.
To sum up
This is from the introduction and comparison of three different control panels for hosts. In this post, we talk about some important aspects of three famous control panels that are used in servers.