Video tutorial on how to use action in Photoshop in simple language
Action is one of the useful features of Photoshop that allows you to record your work steps and in the future you can execute the same steps without repeating with a simple click and use it.
The process in Photoshop is called an action or command. In using action, graphic designer or other user does not need to go through all the steps you have gone through, it is enough to apply your design on your project with one click to achieve the result you have achieved. .
How to upload predefined actions?
Photoshop-ready actions are contained in a set of files in the Action folder. You can open and use predefined actions. They include Frames, Text Effects and Image Effects, ie text and effects. Using the LAB-Black and White techniques is a great way to turn a color photo into black and white. Oil Pastel action is a great way to turn a photo into a drawing mode.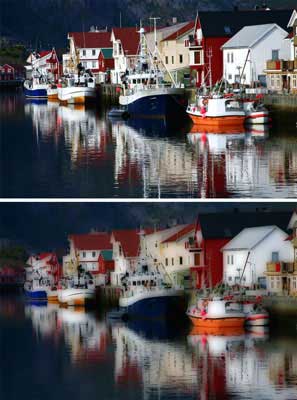 Follow these steps to load ready-made actions:
1. In the Actions panel, click on the pop-up panel menu and select Load Actions.
In the Open dialog box, Photoshop opens the Actions folder in the Presets folder. This folder contains a set of ready-made actions. If this folder is empty, the C: Program Filesadobeadobe Photoshop Cs6Presetsactions go, Mac Applicationsadobe Photoshop Cs6Presetsactionsmacintosh Hdapplicationsadobe Photoshop Cs6Presetsactions . go.
2. Choose one of the actions.
3. Click the open button.
New ready-made actions appear in the Actions panel under default actions. In the third column you can hide or show the actions by clicking expand / collapse.
Note: You can also make actions available – or unavailable – by clicking on the first column of the action panel, to the left of the settings icon.
some notes:
To remove existing actions and replace them with the set you want, select Replace Actions from the pop-up panel menu.

To clear all actions from the action panel, select clear all actions from the panel pop-up menu.

Don't forget:

 Try to use antivirus to download any file on the Internet.