What Is A Torrent? – A Comprehensive Guide For Everyone
The use of torrents has always been associated with legal issues. But you should be aware that if you do not use torrent to send or receive copyrighted files, there will be no problem.
Amidst the legal hype surrounding torrent websites, it is unfortunately sometimes forgotten that torrent technology has many more useful and legal uses than illegal uses.
If you are still not convinced, check out the following:
Go to the BitTorrent Now website and see how creatively they have used torrents to distribute their works and make them available to you.
The Amazon S3 cloud storage platform supports the BitTorrent protocol . This way, developers can save on costs when moving large amounts of data.
Sites like Academic Torrents and even the Internet Archive use the BitTorrent protocol to allow users to download educational and historical files.
Using torrents is as simple as using any other technology. You are responsible for how you use it.
Although using torrents is largely simple; But most people have difficulty getting started. Even people who call themselves "professional users" are often unfamiliar with half the torrent.
In this guide, we will try to introduce you to this technology in a few steps and provide interesting tricks for more experienced users so that they do not miss this guide.
BitTorrent is just a simple way to share a file
Most of us are familiar with common file sharing methods such as email and FTP, but BitTorrent is another file sharing method that we can use.
BitTorrent is very different from traditional file sharing methods. Email and FTP rely on the computer that hosts the file and sends it to other computers; But BitTorrent files are distributed on many computers through a technology called peer-to-peer networking. We can use BitTorrent to share or download any type of file such as EXE, MP3, AVI, JPG, DOCX, etc.
To better understand BitTorrent technology, we use the example book.
Suppose there is a book you want to read; But only one chapter of the book is in your hands. So look around and find a few more chapters of the book with your friend. However, the book is not complete yet, and both of you are looking for other chapters in the book to find someone who has the remaining chapters in the book.
Now we see that different parts of the book are in the hands of different people and yet no one has the complete book. You can share the sections you have with other people so that almost everyone can finally get all the sections of the book.
On the Internet, the concept of the book is the file you want to download. This file is divided into different sections called bits. Each person has a piece of the file. So you start downloading and sharing these bits until everyone gets the whole file. Every piece of file you (or anyone else) downloads is available to everyone. While you are downloading a piece of file, you are uploading the sections you have on the Internet and others are using it.
This way you can share a file together, without having to take responsibility for hosting and distributing the file on your computer.
Understand common BitTorrent terms
The following terms describe how different parts of the BitTorrent protocol work.
Torent : The main concept of this technology is the torrent file itself. This is the file that you are actually looking for when you are looking for something to download. The name of the usual torrent file is sufficiently indicative of its content. For example, an Ubuntu operating system distribution might have the following name: ubuntu-17.10-desktop-amd64.iso.torrent
Remember that the file has the torrent extension. It does not actually form an entire file. This file is very small and contains only the information that the BitTorrent client needs to put all the pieces of the file together.
BitTorrent client: The BitTorrent client is actually a file downloader software. This is a torrent file software. Picks up, reads the information in it, and starts the download. Torrent clients are available for all platforms, including Android and iOS. Of course, if you use an iPhone, you may have to jailbreak your phone to use them.
Peer : A peer or pair of computers involved in the process of downloading or uploading a torrent file.
Seeder : A seeder is a person who has a complete copy of a file shared on a torrent network.
Leecher : A lecher (or lecher) is a person who does not have the complete file and has joined the network to download it. Leacher becomes a cider when it downloads the entire file and then shares the file on the network.
Swarm : Swarm means the mass of all the leachers and ciders (ie all computers) involved in the torrent process.
Index : An index, as its name implies, a searchable list of torrent files. Are hosted on a website.
Share ratio : The share ratio is the ratio of the amount of data a person uploads to the network to the data they download. A subscription ratio greater than 1 means that the person has uploaded more to the network than they have downloaded, which has a positive effect on the person's reputation. Conversely, a subscription ratio lower than 1 has a negative effect.
Tracker : A tracker is a server that stores the information of people who have files and those who are looking for files and acts as a bridge between ciders and leachers. Some trackers are private and require registration; While most of them are public.
Before we go any further and actually examine the torrent, we need to think a little and check the legality of the torrent again. Although torrent technology is legally permissible; But its misuse as a source of digital theft has led to its notoriety. You should be aware that there are always regulators in such networks, so you should be careful not to download illegal or copyrighted files.
BitTorrent is not illegal: understanding copyright laws
"The seventh season of Game of Thrones on September 3, 2017, reached more than one billion illegal downloads and streams on content theft channels."
Peer-to-peer file sharing is perfectly legal; But using it to access copyrighted content is not legal. You should be familiar with copyright laws and be able to learn about copyright.
In some countries, downloading or using different content for personal use is not prohibited; But its distribution may be a crime. This is somewhat ambiguous about torrents, because in this technology everyone is a downloader and an uploader at the same time.
In many cases, torrent trackers that index existing torrent files have been shut down for violating a country's laws. Organizations such as the American Recording Industry Association (MPAA) and the American Moving Images Association (RIAA) have filed charges against many sources of content theft.
Keep in mind that downloaders can be tracked by their IP address, so do not assume that you are anonymous on the torrent network.
The safest thing to do is to respect copyright laws. It is better to see the link explaining the copyright section of the tracker website to be informed of its rules.
Of course, you should note that since Iran has not acceded to the Berne Convention on the Protection of Literary and Artistic Works, the unauthorized download of foreign works in Iran cannot be prosecuted, but in any case this is a kind of theft and it is certain that theft Morality is condemned by every person. However, content produced in Iran is subject to domestic intellectual property protection laws, and its illegal downloading can have legal consequences.
Getting started with torrents
A torrent client is software designed to share peer-to-peer files via the BitTorrent protocol. A good torrent client must be secure, reliable and user-friendly. Here's how to find the right torrent client software, set it up, and download the first torrent file.
Find good software for torrents
With a simple Google search, we come across different names. BitTorrent is the first torrent client still in the lead after 16 years of solid service. But you may be more obsessed with your choice and want to explore more options depending on your operating system.
One of the best and most complete resources for comparing torrent clients is this Wikipedia article . There are many free and lightweight software. Some clients (including the official BitTorrent client) display ads and you will have to pay a fee for not displaying ads
Install Torrent Client
The software download size is very low (2.74 MB) and the Windows version is free. If this is the first time you have installed BitTorrent, just follow the instructions. Installing other torrent software has a similar process.
Optimize torrent client for faster speed
A torrent client is no different from other software. You can install it right away and use it. You can also change some of its settings to experience better performance.
BitTorrent has an installation guide that can help test bandwidth and configure the client for maximum performance. Go to Options> Setup Guide or use the Ctrl + G shortcut keys. BitTorrent guides you through the various steps.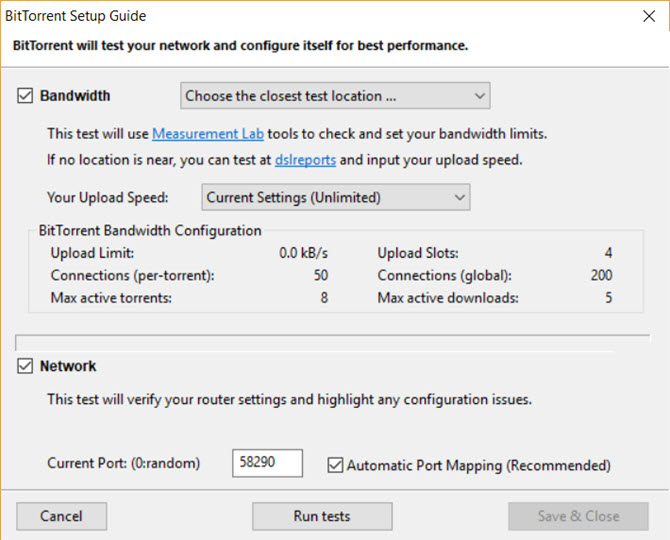 The installation guide runs two tests:
The installation guide checks the bandwidth for upload speed . BitTorrent tries to upload at maximum speed, so you need to find out what your speed limit is so that you do not take up all your bandwidth. Select the nearest location to you from the drop-down menu.
The installation guide checks and confirms the router settings. When BitTorrent runs for the first time, a port is automatically selected for you. A port is where a computer receives and sends signals from an external network. This test checks whether a particular port is open for traffic or has some specific problems.
Then go to the Preferences section and set BitTorrent to use the maximum speed and performance.
Download the first torrent file
Search engines are very cautious about displaying torrent links on their pages. This is another front of the fight against digital theft. In early 2017, Google and other search engines voluntarily agreed on an anti-theft code. Search engines and Internet service providers are adhering to more stringent torrent file policies, respecting requests to remove illegal content.
Of course, you should note that this discussion is not about torrents, but about content theft sites. Google and other Internet sites continue to remove such sites from their index. SEO traffic is cut to suspicious websites and torrent sites generally do not appear in search results.
The Pirate Bay website, for example, is banned in the UK and India, even though it hosts legal content (such as LibreOffice software and various Linux distributions).
So the question we face here is which torrent sites should we go to? We should try to avoid illegal torrent sites as much as possible. Going to trusted torrent sites also protects us from downloading corrupt files or even malware. A good torrent website filters out inappropriate files and only hosts clean torrent files. The following is a list of such sites:
SkyTorrents : An ad-free torrent site that focuses on privacy.
Zooqle : has a clean interface with nearly 3 million verified torrents growing. You can register to manage your torrents on this website.
Torlock : A torrent download site with 100% verified files. This site pays users $ 1 for each fake torrent they report. But we can not independently confirm this claim.
SeedPeer : A fast and orderly site with a large catalog of three million verified torrents.
RarBG : A trusted site that is popular in the torrent community and is another alternative to the banned site PierateBay.
Demonoid : A well-known name that has a long history of operation. The only drawback of this site is that it is a private torrent community and you have to register to use its services.
How to search for downloadable torrents

1. Go to torrent sites and look for your torrent file. For example, the image above shows a view of the Sky Torrents site. Just enter your keyword in the search field.
Keep in mind that a torrent file is nothing more than a small 15 to 100 KB file. This file refers to the contents of the entire file and the people who have it all in it. So files with the torrent extension. They are uploaded by torrent subscribers everywhere on the Internet.
2. Select a healthy torrent link to download. Usually the links with the most ciders and pairs are better. Some cake sites have an icon that indicates that a file has been approved by the community as "clean". It is better to use the user descriptions below the links to find the best link.
3. Click on the torrent link. Torrent file. It will be downloaded to your computer in a short time. You can also click on the magnet link icon. Magnet Link is a server-free way to download torrent information. So instead of downloading the torrent file from a server that hosts it; You will download it directly from a peer.
Most torrent websites have both options. Many sites use only magnetic links, as this allows the user to download torrent files even when the main tracker is down or down.
4. torrent file. Open the one you downloaded with your torrent client. To do this, you can double-click on the relevant file or use your client's open menu. You can also drag and drop the file onto the torrent software window.
If you use the magnet link, the torrent client will open automatically. At this time, the software starts downloading the file by connecting to the tracker server to find the person who downloaded the same file and the bits it has.
5. The tracker server identifies users who are involved in sharing and tagging files as ciders or leachers. Look for torrents with the highest number of ciders. The ratio of ciders to leachers is the same as the share ratio, and higher digits make torrents healthier and faster.
6. Download starts ; But it may start slowly at first and you have to be patient. Gradually, as my ride increases, so does my speed.
The time to finish the download depends on factors such as file size, connection speed and ride quality. Once the download is complete, you can use the file you downloaded. Now you might think it's better to have a torrent file. Remove and close the client. But hold on! This selfish act is called "hnR" (HnR or H&R) in the dictionary of torrent players and is an unforgivable sin in the torrent world.
How to be a good member of the torrent community
Goats are called "leachers" in torrent culture. Leacher means someone who does not yet have a complete copy of a file. A lecher becomes a cider only when he makes a complete copy of a file available to all riders for download.
Unfortunately, this term is also used to refer to people who only download without uploading. To avoid being called by this name, follow the following basic rule:
"Once your download is complete, let the torrent client software stay open for at least three hours or until you have completed your download time (1: 1 subscription ratio). "Sometimes you may not be able to follow this rule properly, but in other cases you should try to make up for it."
Note : If you are downloading at night and have been downloading while you are awake, allow the file to be uploaded later in the night and pay your share.
Torrent Security Rules: Be careful about what you download
At the beginning of the torrent acquaintance, you may feel like a child who has gone to a chocolate shop; But you have to be careful, because there are so many fake torrents, most of which are malware. Here are the golden rules of internet security that will make you never infected:
Make it a habit to always read the comments of previous downloaders of a torrent file before downloading it.
Download torrents from popular websites or join a private tracker. Private trackers strictly control the quality of torrents and have strict rules.
Do not download files that are split and zipped into large files. These files are often fake torrents.
Always read the copyright rules and policies of any site you download from.
Do not download stolen software or games from unsafe public torrent sites.
The best software for torrenting
Now you are familiar with the concept of torrent and torrent client and have prepared an internet connection and with the help of some search engines you were able to get the first torrent file. Find yourself and download successfully.
In the next step, like a professional user, you can find the best software for your operating system and turn from a torrent beginner to a torrent expert.
Security software : Your firewall and antivirus software are the first step in protecting against bad torrents.
Archiving software: Many files are compressed before they are uploaded. You need to have a fast extraction software for zip files to decompress them. WinRAR and WinZip software are common; But we recommend using their great alternative, zip7 software – along with PeaZip and Zipware.
Media Player : Torrents are often the best way to exchange public videos and audio files. Any good media player software you have installed on your system can play different types of media files with the right codecs. But VLC Media Player software is still one of the best options for media player software.
Media playback support codecs : When you can not play a video or audio file, the most common problem is the lack of relevant codecs. A codec is a piece of code that compresses and extracts a compressed media file. To learn more about this, see the article " Introduction to Codecs ". It is better to download the appropriate codecs and solve these problems. Suitable resources for downloading codecs are:
How to increase torrent download speeds?
If your download speed is something like a snail-wheelchair race, why would you use the torrent protocol? Download speed depends on several factors, some of which are under your control. Here's how you can set up a torrent client with a few tricks for faster downloads.
In the screenshots below, the BitTorrent client on Windows 10 is used. But each of the common clients has the same settings and it is not difficult to find them in the operating system and other software.
1. Check your bandwidth
To optimize your torrent download speed, you need to know your optimal download and upload speed. You should also know if the ISP you are using has restricted the use of torrents in any way. There are several ways to check Internet bandwidth. To read more about this, you can refer to the article " Internet Speed ​​Test ". You should also check the health of your internet, as in some countries internet neutrality laws are not currently enforced. Keep track of your download and upload speeds. These numbers will come in handy later.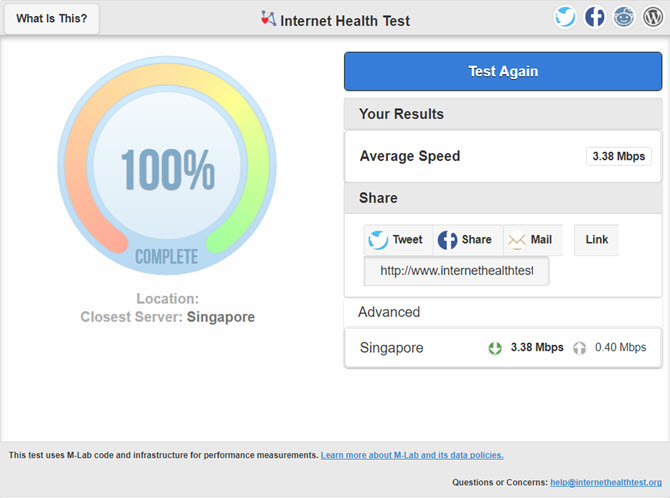 TCP Optimizer 4 is a small free application that optimizes your Internet connection. You can also find the answers to your possible questions in the FAQ section.
2. Use the right torrent client
Some clients have many features, while others are quite simple and rudimentary. You may also prefer multi-platform clients, as you can configure it on all of your devices. BitTorrent and uTorrent have been around for a long time, but now they come with ads, so lighter torrent clients are more preferred.
For Windows : Take a look at Tixati or qBitTorrent software, which are open source software. These two softwares have all the basic features you want. Clients such as FrostWire or BitLord may also be considered.
For Mac : Transmission software is the best torrent client for Mac; But it has some security issues. You can find some alternatives with a little searching.
For Linux : Transmission software is installed on Ubuntu by default. There are several other good torrent clients for it. qBitTorrent is once again at the top of this list. You can also look for other more modern alternatives to Linux.
Cloud Torrent Clients : Cloud torrenting, which is more secure and anonymous with high speed, is also common today. Offcloud , Bitport.io , Put.io and Seedr.cc cloud services that can be used for torrents.
3. Choose healthy torrents.
A good torrent is a torrent with more ciders than leachers. The more ciders, the healthier the torrent. So choose torrents that have a high cider / lecher ratio. On many sites, you can identify these torrents with a green sign next to their name, which usually indicates that the torrent has been approved by the community.
4. Allow torrents to bypass the firewall
Firewall software hates torrent connections and often blocks them. They also usually block the download of the torrent file itself.
In the first step, define an exception in Windows Defender or any other software that you have installed as a firewall. Then go to your torrent client and enable the option that allows you to automatically add exceptions to the Windows firewall:
Go to Options> Preferences> Connection> Add Windows Firewall and click Apply and OK with the exception.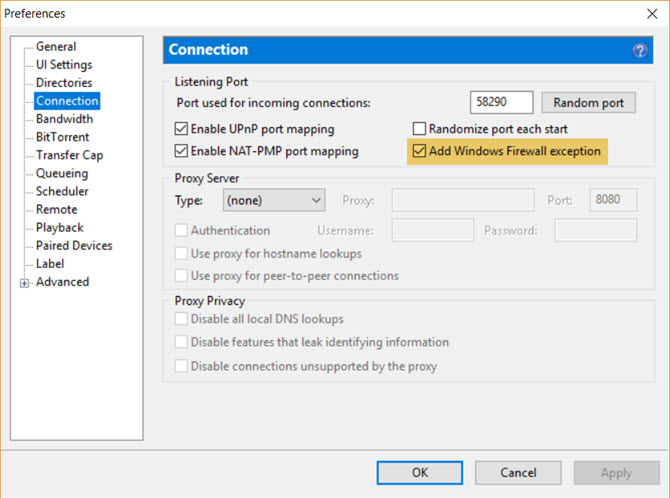 Never turn off your antivirus and firewall software, as they are your first line of defense against downloading malware.
5. Change the default port
BitTorrent uses the default ports 6881 to 6999. Because torrent connections consume a large amount of traffic, most ISPs try to limit the bandwidth of these ports. Good torrent clients make it possible to change these ports, so you can use unlimited connections. You must change your torrent port number or change it randomly each time.
Just go to Options> Preferences> Connection. Enable the following options in the Listening Port settings:
Enable UPnP Port Mapping
Then Enable NAT-PMP Port Mapping
Randomize Port Each Start
With the exception of ports that are used by default for essential tasks such as email and web browsing, most ports are already blocked by routers to prevent malicious connections. If your home computer uses a router to connect to the Internet, these ports must be opened through an option called port range forwarding to allow torrent traffic to be exchanged.
6. Do not limit your maximum download or upload speed
Think of your Internet bandwidth as a highway that is supposed to handle traffic during rush hour. You can do this if you have a good reason for limiting your download and upload speeds. For example, you may limit your speed while watching video online or playing online games; But do not limit this speed so that your download rate goes down a lot.
There is usually a straightforward rule for this speed limit.
Maximum upload speed: 80% of the maximum internet connection upload speed.
Maximum download speed: 95% of the maximum internet connection speed.
You can see these settings by going to Options> Preferences> Bandwidth> Global Upload Rate Limiting / Global Download Rate Limiting.
But if you want to use your maximum speed, it is better to set both of them to 0, which means using the maximum speed that the Internet service provider provides you. The BitTorrent protocol, which operates on the concept of "fairness", introduces you to the rider based on the bandwidth quality you have.
If your speed is too low then you are automatically grouped with low speed pairs. In short, the more you give to my rider, the more you get back. You usually do not have to worry about upload speeds, but it is better to reduce the number of simultaneous torrents to increase the overall health of torrents.
Note: BitTorrent requires kilobits per second, not megabits per second, in terms of maximum download and upload speeds. Use a bandwidth conversion tool like toolstudio or Google and find the right speed for you.
7. Determine the number of connections
The number of connections is an essential part of BitTorrent optimization. You can set this number in Options> Preferences> Bandwidth.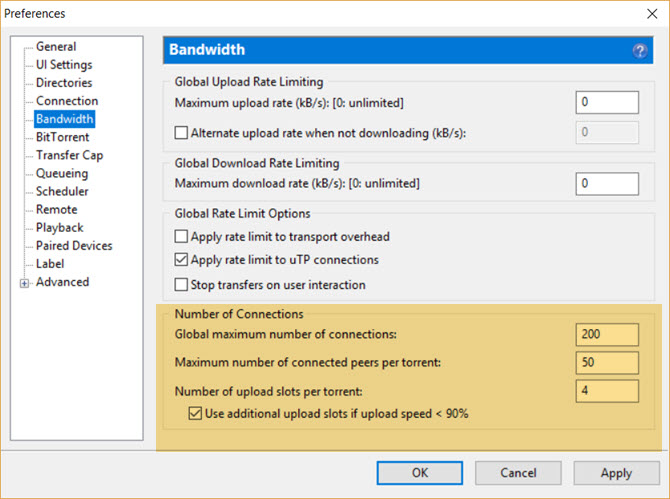 Global Maximum Number of Connections : This number indicates the number of connections that the BitTorrent client can use for each P2P exchange. Setting this number for large numbers does not mean higher speed. Adjusting it to large amounts will waste bandwidth, and adjusting it to a small number may cause some pairs to be lost.
Maximum number of paired pairs per torrent : This number indicates the maximum number of pairs that the BitTorrent client can use to exchange each P2P torrent.
Number of upload connections per torrent: This number determines the maximum number of pairs that the client can provide the file in each P2P exchange. These upload links are established with pairs that do not have parts of the file that you have. Setting low values ​​for this number will also slow down the download.
If the upload speed is below 90%, increase the number of upload connections . These settings are suitable for healthier uploads.
If, like most Internet users, you are using speeds above 1 Mbps, it is best to use the 4/50/2 configuration for about 8 active torrents (which you can set in the Queueing section).

It is usually best to avoid setting large numbers for active torrents and active downloads, as this will increase the number of read / write operations and peer-to-peer networking. Of course, there is no single number that is suitable for all conditions. The worst case scenario is that your torrent speed is slowing down, but you can find the best speed for your bandwidth with the right settings.
8. Prioritize certain torrents
This method will be useful when you have several downloads at the same time and you want one of them to finish faster. These settings are also suitable for freeing a connection if the number of download links is limited.
Right-click on the torrent you want to increase your priority. Go to Bandwidth Allocation and select your priority level (for example high).
Keep in mind that these settings will not work much if the torrent health is low. It will also be of no use if you have set all downloads to a high priority.
9. Update torrent trackers
Try updating torrent trackers to see if the number of pairs and ciders has increased. The more pairs, the faster the download. Torrent trackers do this by publicly announcing the IP addresses of all the pairs that have shared the file. More pairs come to the web than other torrent trackers. And you can add them to the current tracker list.
Right-click on the torrent you are downloading and click Update Tracker. You can also find a list of trackers on the web. Then click on the torrent being downloaded and go to Properties> General tab. Paste the tracker list at the bottom of the tracker list.
10. Use the Scheduler to manage torrent downloads
Suppose you run a torrent at maximum speed, but some other family members may also want to use the Internet. Most torrent clients use a scheduler that helps set speed limits, cancel speed limits, use only sideways, or stop torrents at certain times of the day.
1. Go to Options> Preferences> Scheduler.
۲. Select the Enable Scheduler checkbox. An array of boxes changes color from gray to green. In this network, each frame means one hour of the day and covers the next Sunday from midnight Monday to midnight.
3. The tags below this network indicate the status that you can set for each hour by clicking on each network box. For example, light green boxes mean download and upload at a limited speed. You can click on any of the boxes and define a specific status for a specific time of week.
11. Determine the appropriate subscription ratio
Torrents rely on the participation of the torrent community and the healthy exchange of files. As a responsible member of this community, you should give back to it as much as you enjoy it. A torrent client can help automate this task by setting a subscription ratio. Private torrent sites encourage users to use a 1: 1 subscription ratio, which means you can download files from the network just as much as you upload them.
You can automatically stop file sharing at a specified subscription ratio that you specify. This way you can save time and bandwidth instead of constantly checking your upload ratio.
Go to Options> Preferences> Queueing> Default Values.
Set the Minimum ratio to 100% (which means a 1: 1 subscription ratio).
Alternatively, you can set the Minimum seeding time in minutes.
Set a task for When BitTorrent Reaches the Seeding Goal, which means the time to reach the subscription ratio. A value of 0 means that when the desired subscription ratio is reached, the CD automatically stops.
12. Avoid limiting torrent speed by ISP
Internet service providers often limit users' bandwidth to specific times, such as weekends and afternoons, in order to manage peak bandwidth demand. Most torrent clients have a simple setting called Protocol Encryption that can be used to overcome the limitation of torrent protocols by ISPs. When these settings are used, ISPs can no longer detect the type of traffic you have, so you can bypass their torrent traffic restrictions.
To enable these settings, go to Options> Preferences> BitTorrent> Protocol Encryption> Enabled.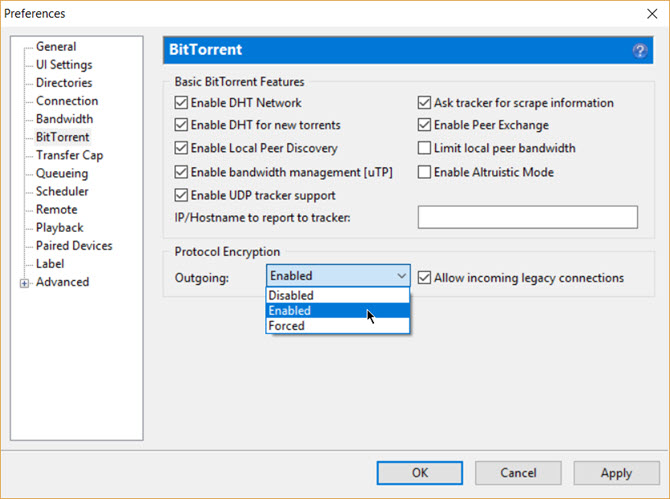 It is a good idea to check the various statuses of these settings one at a time, as in some cases you may be able to speed them up by disabling them. Enabling these settings may also reduce the number of available pairs, or in some cases make it impossible to download at all.
The BitTorrent protocol uses RC4 encryption, which is very weak, but enough to cross the data packet check barrier that ISPs perform. You should also note that protocol encryption does not hide your IP. For this reason, if you want to hide your footprints and exchange your traffic through a remote server, you must use VPNs that use AES standard secure encryption.
13. Use a VPN to stay safe.
Bitcoin stands for "virtual private network" and its use encrypts all your traffic, not just torrent traffic. Powerful AES encryption cannot be easily decrypted by your ISP or others. There is also no need to make any changes to the torrent client when using it. Just install and use the VIP software.
Another option to bypass blocking torrent connections is to use a seedbox. Sideboxes are actually dedicated virtual servers that are encrypted. Sidbox manages torrent downloads and then sends them to your computer via regular downloads.
How to create and share a torrent yourself?
Behind this file sharing technology called torrent is a large community. Torrent is never a one-way street. To be a true member of this peer-to-peer sharing community, you must also share your content online. This can be done very easily using the same torrent client you use to download.
In this case, too, you should keep in mind that you should not share illegal content. This technology is just a useful way to share digital files with the public without the need for a central reference to store them.
1. Open the BitTorrent software or any other client you are using and look for a button in the menu that says: Create New Torrent. You can also go to File> Create New Torrent.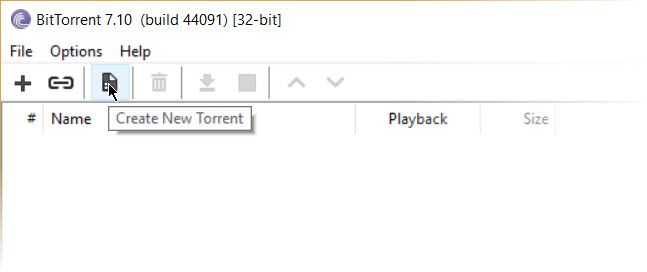 2. At this point, the Create New Torrent box opens. To upload a file, click Add File, and if you want to upload a batch of files, click the Add Directory button. Find the location where you save the files and select them as source files.
3. In the Trackers section below the torrent specification, there is an important step that you must do before uploading files. You can copy and paste a list of trackers (specifically called announce URLs) from some trusted websites. For example, TorrentFreak has a list of trackers that you can use. At this gateway you can also find a list of constantly updated trackers. A Google search can give you a lot more.
4. If you want to enter more than one address, put a blank line between the two addresses by pressing the Enter key twice. Check the Start seeding box and click Create. If you do not want to see Syed at that moment, you can leave it unselected.
5. Check Preserve file order when you want to preserve the folder structure for downloaders. Do not select the Private torrent box unless you are using a private tracker.
6. Save the torrent file with the appropriate expressive name. As soon as you save your torrent file, it will be added to the active directory in BitTorrent, and if you check it immediately, its status will be Seeding or Finished.
7. Upload your torrent file to a tracking website such as legittorrents or gameupdates . All tracker websites have a link or upload button. These websites usually ask you to register to access the upload page. Please read the Website Rules and Copyright Policy before uploading your torrent file.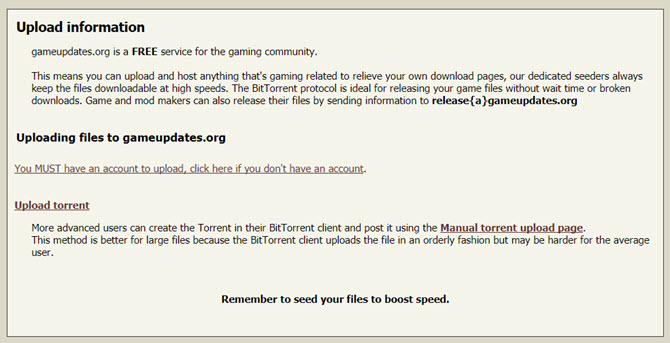 1. You can now share the torrent file link with friends, family or any member of the community.
You can also create a private torrent for yourself and share it only with friends and family. But this requires a few more steps and is generally outside the scope of this article.
Conclusion: The wonders of peer-to-peer sharing
Peer-to-peer network expands without any restrictions, because every new player who enters this network not only receives from it, but also shares in it and gives to it.
Today we see how this protocol has evolved into blockchain technology and decentralized applications. These technologies not only provide us with a large amount of digital content; Rather, they fundamentally change the world. As part of this community, you should always try to follow its rules.
If this post is of interest to you, the following tutorials may also be helpful to you: