Update And Install Driver With Solution Pack Driver – From Zero To One Hundred
If you have just installed Windows on your system, or you think one part of the system is not working properly, one of the first things you should do is install and update your computer hardware drivers. 
With the introduction of Windows 10 , drivers are now installed and updated to a large extent automatically, but if you are using previous versions of this operating system or you are not sure about the up-to-date drivers of the system, you should check this manually. 
Every computer system is made up of different hardware components, so it is not easy to look for individual drivers and install them. In this post, we are going to introduce you to a software solution that performs this task for you automatically.
 Join us to get acquainted with the driver update and installation method with Solution Pack Driver.
DriverPack Solution software allows you to install or update all system drivers for free. This way you can easily solve the problems that exist with the system drivers. Driver Solution Pack is a free software package that when you use it, with just a few clicks, you can install the required drivers for your laptop or computer hardware components and make sure that they work properly.
 This way, you will no longer have to look for individual drivers and enter the time-consuming process of finding, downloading and installing them, because the process of updating and installing the driver with the Solution Pack driver is completely automatic.
We all know how important it is to keep the system software drivers up to date. This will ensure the optimal operation of the system. Before updating a hardware driver, we need to know its current status. There are several ways to do this, as well as downloading and installing different hardware drivers, but most of these methods are too complicated or not free. But Solution Driver does it for you for free and in an easy and straightforward way.
This driver installation tool is provided as open source and can be used immediately after installation on a system. This makes the tedious and repetitive task of finding, downloading and installing individual system drivers much easier. The Solution Pack driver works on the basis of the concept of running a "System Diagnostic".
 Using this software, we can view the names and specifications of system hardware components such as RAM, BIOS type, hard disk name, antivirus status and system name.
Antivirus
For example, it warns users when an antivirus program is not installed on the system. It is also possible to perform a system scan and detect the presence of unused files through the Disk Cleanup tool. With this software, it is possible to test the RAM performance to find possible problems.
 In order to always have the latest version of hardware drivers installed on the system, you can easily update the drivers or schedule the installation of different programs at the same time. These changes can be performed on different drives or even exclude some drives from the update task.
In addition to all of the above, the Solution Pack driver can be programmed to create a "System Recovery" point. In this way, you can restore the system settings to the previous stable point in case of any problems in the operating system after updating the drivers.
The Solution Pack driver displays a suitable progress bar for all drivers during the update process. It also shows the currently processed driver in the assumed system. 
You may need to restart the system after the job is completed and before the new driver is actually installed. Users of this software can access the Device Manager section of the system without having to leave the program interface. 
They also have the ability to add and remove programs through the same software. When you use the Solution Pack driver, you can back up all your hardware drivers through the application database.
Advantages of Solution Pack Driver
Solution Driver Pack is a single-package software that helps update and install the required hardware drivers. This software has many other benefits, some of which you will see below.
Multiple device compatibility:

 This software package is capable of working with various operating systems including Windows 10, Windows 8, Windows 7, Windows Vista and Windows XP.

Lightweight program

 : The solution pack driver itself is a lightweight program and does not take much time to download on the system. So you can use it on your system with great speed and ease.

Fully portable:

 This app is fully portable. This way, the solution pack driver can be run from any hard drive, folder or even portable device such as a flash drive.

Absolutely free: The

 best thing about the Solution Driver Pack is that it comes completely free.

High Security:

 Solution Driver Pack software officially cooperates with antivirus service providers and thus ensures the security of the operating system against various threats.

Operation in all conditions:

 This software package works even in situations where there is no access to the network. In this case, users must download the DriverPack network driver or use the offline version of the solution driver pack if they do not have access to the Internet at all.

Major software downloader:

 This software package also offers the ability to download multiple software at the same time. These usually include important applications that most users will need on their system.

System Information Monitoring Tool:

 The troubleshooting section of this software package acts as a system data monitoring tool. With this feature, you can get good information about your system hardware drivers.
Download Solution Driver Pack
In this part of the driver update and installation guide with Solution Pack driver, we will get acquainted with the method of downloading this software. To download the Solution Driver Pack software, you must visit its official website at ( + ). By clicking on the green button below, the latest version of this software will be downloaded to your system.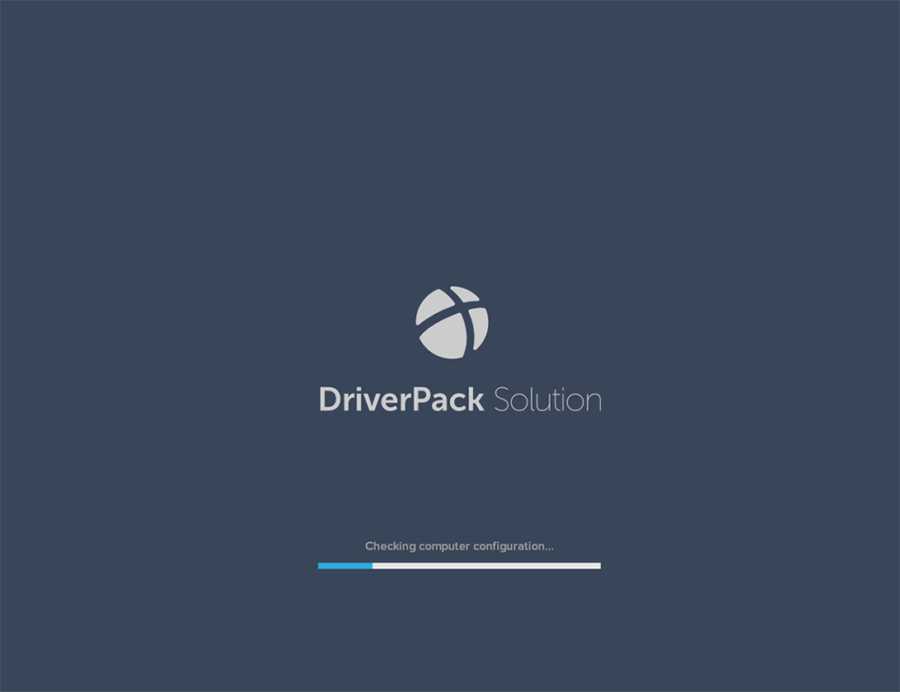 After downloading the software, run it to install it on the system and check the computer configuration.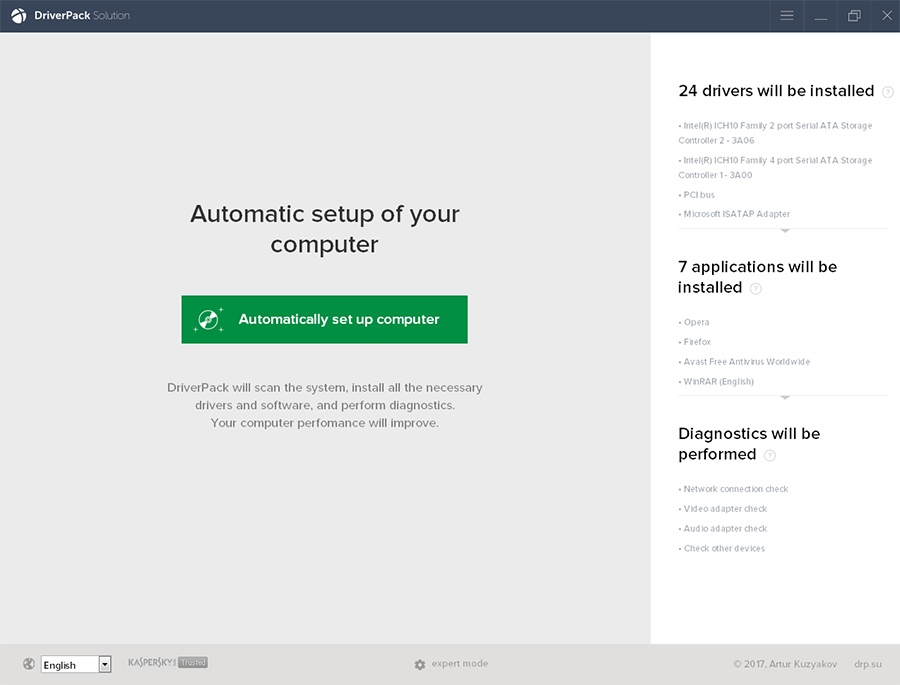 After checking your computer configuration, you will see an image like the one below.
On the page above you can select the automated process or click on "Expert Mode" in the bottom bar to customize the drivers and programs to be installed. We suggest using this option.
In this section you can choose which drivers to install or not, and you also have the same choice about software packages. The Security tab also provides recommendations for applications that are installed on your system but do not need them.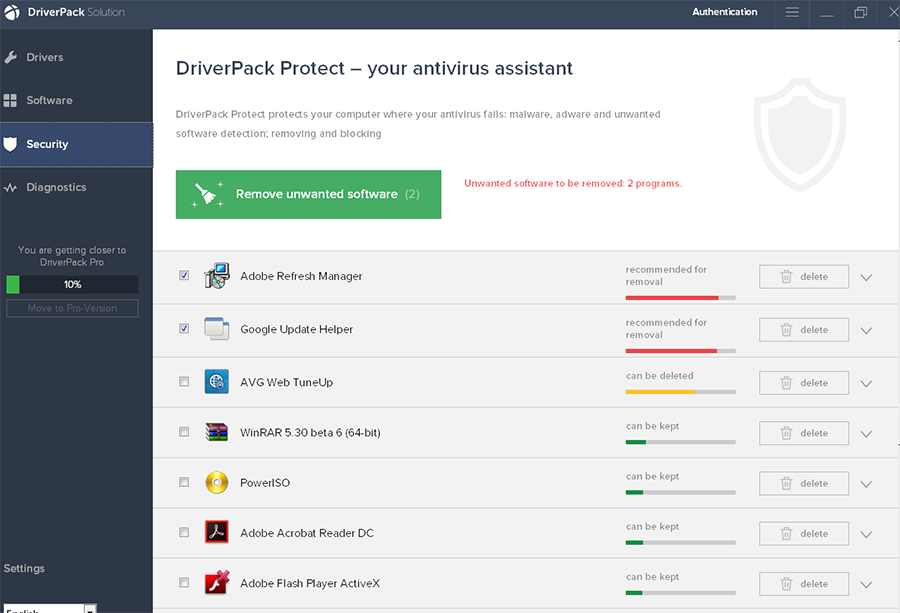 Select the software to be installed
In this step of the driver update and installation guide with Solution Driver Pack, you must select the software you need on your computer.
Install the driver with the solution pack driver
Now, we come to the part where we talk about the middle ground, which is to choose the drivers that we need to install. You will also see that Driver Pack also updates existing drivers.
Once you have selected all the required options, click Install everything to download the driver pack of all selected drivers and software.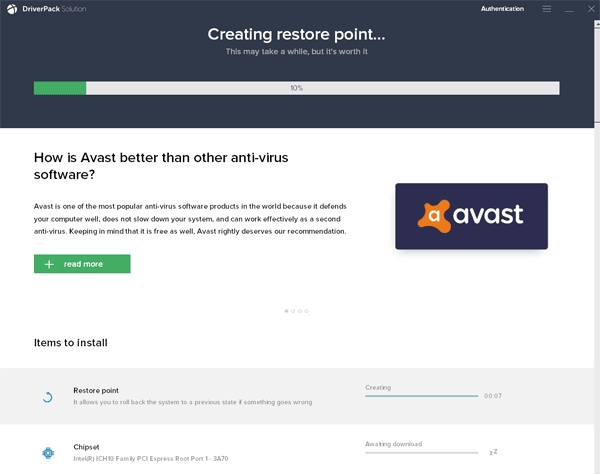 Driver Pack Offline
If you have a problem with your internet connection on your computer or your computer is in a place where this is not possible, you can pre-download the driver pack solution solution software offline and run it on the destination computer. Note that the size of this package is 10 GB and you can download it from this address ( + ). After downloading the offline package, extract it from the compressed mode.
And during the installation process, which we mentioned in the previous section of this article, entitled Update and Install Driver with Solution Pack Driver, install and use it.
Concluding remarks
Not to mention that driver pack solution is just one of the computer driver update software and you can use a variety of software for this purpose. The tool in question is a comprehensive software package for troubleshooting computer hardware drivers, making it a laborious and time-consuming task that can be performed automatically with just a few clicks. 
If you are using older versions of Windows or have installed a piece of hardware on your system that Windows 10 cannot find the driver for, we recommend that you try this software solution to update and install the driver with the Solution Driver Pack.
If this article has been helpful to you, the following tutorials and content are also suggested: