How to restore backup in Direct Admin
In the previous training, we fully explained how to up from Host Direct Admin and the necessity of backing up from the site. In this training, from the knowledge base of Host Fa, we are going to discuss how to restore backups in Host Direct Admin. So that the user is able to restore backup in his direct admin after making a backup from the site and is familiar with all the settings options for restoring the direct admin backup. At the end of this article, we will learn about topics such as SQL database recovery, restoring or transferring FTP accounts, as well as restoring direct admin emails.
The challenges of an administrator to deal with possible dangers and threats of the site!
Backup or let the hosting do this?
Hosting companies carry out backup services on a scheduled basis. Still, it is better to make a backup copy of the site and its information at regular intervals so that it can be restored quickly if there is a problem.
What risks do we face if we don't back up?
In times such as server failure, hacking of the site, injection of malicious codes into the site, presence of unwanted changes and confusion of the site, etc., you can easily restore the full backup in Direct Admin.
What backup and restore plugin is there for WordPress users?
Several plugins have been developed for WordPress, the site backup category is not exempt from this rule, and many things have been written and published for this purpose, including UpdraftPlus. To learn more about functional plugins, you can check the list of the best WordPress plugins.
Why is the category of backing up from the site and restoring full backup maneuvered to this extent?
Because if there are any problems, the first step to fix the problem is to restore the backup file of the site. By backing up the site, you can reduce the risk of losing your site information to zero.
How to restore a backup from Direct Admin
Let's assume that you have made a backup copy of your Direct Admin host through the previous tutorials, and now you want to restore your backup site. with the help of the direct admin login tutorial, your control panel
After entering your direct admin host, you will see a page similar to the image below. Click on Create/Restore Backups option.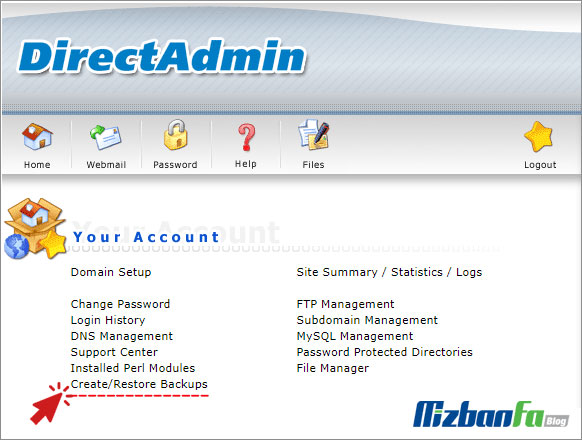 After clicking, we will come across a page that displays a list of backup files prepared by the host. Now we can choose the backup we want to restore.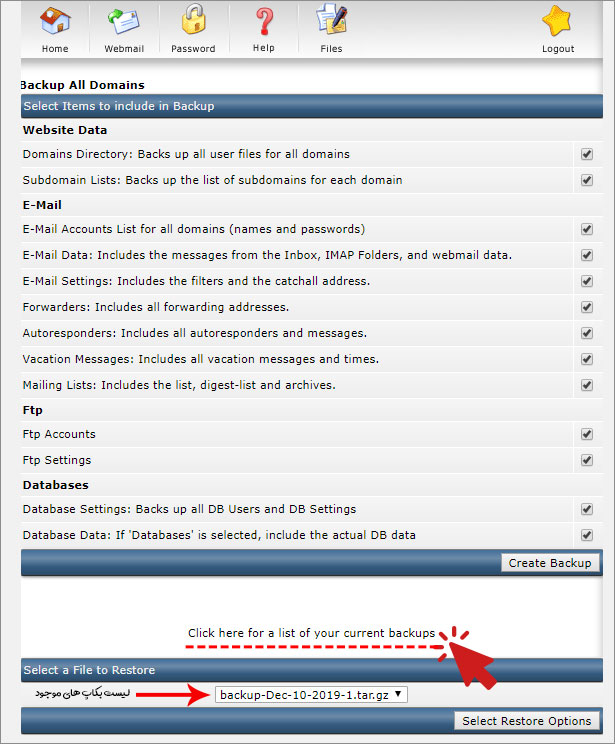 As you can see, at the end of this page, a link titled Click here for a list of your current backups will be displayed, and by clicking on it, you will be directed to the storage location of the backup files. Click on any backup file to download, and it will be saved in your system.
A little lower in the Select a File to Restore section, there is also a tab that displays the backup versions made in Direct Admin. Select the version you want to restore to the backup site, then click on the Select Restore Options button. To be directed to the final settings section. Several options are displayed on the settings page, which will be explained in detail below.
Be careful. This section only shows the backups made by the host. If you don't back up your site regularly, you will face the possibility of data loss. This way, it is better to protect yourself from possible risks by purchasing a backup host and making automatic backups at regular intervals.
Note: Be careful whether the options in this section are active or inactive depending on your settings during backup. In other words, if these sections were active at the time of backup, you will be able to restore them.

Restoring the site in Direct Admin
In the initial section of restoring backup site settings, we come to a section titled Website Data. In this section, we can apply the general settings related to the primary data of the site. Any of the items you choose will be ready for restoration.
Domains Directory:

by activating this option, we specify that I want to restore the information related to this host's domains.

Subdomain Lists:

restore the backup of defined subdomains for all domains
This section is very useful for those users who have defined multiple domains and subdomains on their hosts. You can transfer a specific subdomain or domain to another host if needed.

Restore direct admin email accounts
One of the challenges that Host Direct Admin users always face is the need or lack of email accounts and inboxes. You can skip the Email section if you don't want to backup and transfer emails. But those people who have corporate or very important emails should not forget the email settings!
(names and passwords) Email Accounts List for all domains):

restoring email accounts and corresponding passwords

Email Data:

Retrieving the general information of emails

Email Settings:

Restore email settings as well.

Forwarders:

I also need accounts and forwarders.

Autoresponders: Return

I have set up.

Vacation Messages:

I will return Vacation messages (prepared messages and their timing).

Mailing Lists:

I need email lists and…

Restore direct admin FTP accounts
If you only intend to restore the accounts of your FTP host or even if you have defined an account on another host, you will be able to restore it in this way. For this purpose, it is enough to FTP the following two options according to your needs.
Ftp Accounts:

I want my FTP accounts to be restored.

Ftp Settings:

I plan to return the account settings as well.

How to restore the Direct Admin database
On this page, there is a section titled Databases. As you know, the database is the most important part of the site. If this backup is missing, your site will be restored incompletely. Here are two options:
Database Settings:

Restore backup related to all users and database settings

Database Data:

restored database data

Challenges of Direct Admin users
Users who use Host Direct Admin always face two primary challenges. One is that if the information is accidentally or intentionally deleted, they can no longer restore it. In such a situation, we restore the full backup.
Direct admin host cleaning

If your host has a problem or its settings are messed up, or you need to clean your host in general, after the reset of the host by the user or support of your host, you can restore the full backup related to the date of the health of the web files. Take action on the site.
Restore the deleted file in Direct Admin

One of the challenges that users have always faced is deleting information in Direct Admin. Because, unlike CPanel, the deleted data in Direct Admin is not directed to the recycle bin but is deleted directly and completely, so if you delete the data, you have to say goodbye to it forever. In such a situation, it is suggested to restore the backup if the information is necessary. This is where the importance of regular backup becomes more prominent. So, we recommend that you make a regular schedule to prepare a backup copy of Host Direct Admin right now.
In this tutorial, we tried to examine and explain all the cases, problems fully, and challenges that occur during backup and restore the backup from Host Direct Admin. Restoring the backup from the database, restoring the database information, and returning the deleted information from the direct host admin are all tips that can be applied in the configuration stage of the host backup. It is hoped that it will be effective. Share your problems and experiences with us through comments.