How To Fix Windows 11 Black Screen Issues
How To Fix Windows 11 Black Screen Issues
Several Windows users have installed Windows 11 Insider build on their PC. And now they are facing various problems likcrashes crash, buggy system operation, BSOD (black screen of, death) etc. This article provides the best methods tthe o fix Windows 11 Black Screen of Death (errors esent, BSOD (Blue Screen of Death) errors have been a nightmare for Windows from the past to the present users.
Microsoft first saw these errors in Windows 3.0 and continued to see them until Windows 10, meaning blue screen errors have been around for over a decade. Over the years, BSOD errors have changed in one way or another, but they still appear (with or without the amount of bug checking) and pose a threat to Windows users.
Now, Microsoft is changing the popular blue screen of death (BSOD) to black in Windows 11. Read this article to learn how tthe o fix the black screen of death in Windows 11.
Before continuing the article, if you need to buy a virtual server, go to the Ded9.com website and see the great plans at great prices.
The Blue Screen of Death will now be black in Windows 11
In Windows 11, Microsoft changes the BSOD screen from blue to black. The software giant has already started testing design changes in the new operating system in June 2021.
However, for now, the preview version of Windows 11 includes a green BSOD error. Green has been used in Windows Insider builds since 2016.
With the Windows 10 Insider build, several Reddit users reported experiencing green screen of death and even red screen of death errors due to hardware issues. However, Windows 10 system crasha with a blue screen is primarily due to Windows history, registry se, things, and RAM failure. To some extent, several users find familiarity with the blue screen somewhat comforting.
This is also said to be the first significant change to the BSOD since the addition of the sad face to the screen in Windows 8, 2012, and QR codes until 2016: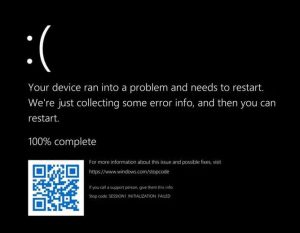 Recently we have come across several queries regarding Windows 11 BSoD errors. Several users who have installed this new OS on their PC are facingerrors error due to compatibility issuesthe  with Intel driver and MSI (Microsoft Installer).
This error affects the update or repair of the application. Microsoft confirms that Windows 11 has some compatibility issues with certain versions (10.29.0.5152 and earlier or 10.30.0.5152) of Intel Smart Sound Technology (Intel SST).
Intel and Microsoft are working on a new version of drivers compatible with Windows. However, no official solution has been provided. So, how do you fix a BSoD error? do not worry! We have listed some tested and easy ways to fix BSoD error in Windows 11 along with common reasons.
Reasons for the black screen of death error in Windows 11
Before we get into how to fix it, we need to know what causes a BSOD.
You may not get BSOD errors with some troubleshooting, but you can google and find out why it's happening on your system.
Discovering the root cause of this error may not be easy. Because there may be several reasons like hardware failure, driver issues, software or program incompatibility, faulty system files, etc. Hence, we have come up with solutions and keep every possible reason in mind. Let's begin!
Caution: Some of the methods discussed may cause data loss. So, if you are unable to backup your system data, use reliable data recovery software to recover data from Windows system affected by BSOD.
If you can, boot your computer into safe mode to be on the safer side and avoid any problems that may occur when troubleshooting the black screen of death error.
Boot Windows 11 in safePlease restartestart your computer and restart it when it shows you the Windows logo on the monitor screen.
Repeat this twice, andd then your system will start the repair environment.
There, click on Advanced options > Troubleshoot > Advanced options > Startup SettClick click.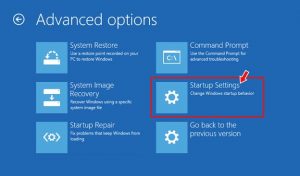 Then click on Restarstem, and press F4 to enable saf after restarting the systeme mode.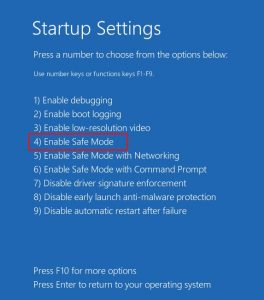 Now that you are in safe mode, you can follow the below methods to remove the BSOD error.
Method 1: Run the Windows Memory Diagnostic Tool
Type Windows Memory Diagnostic in the Windows search box and open it.
Next, click Restart now and check for problems (recommended).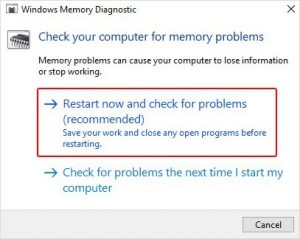 The system will reboot and the test will begin. Wait for the test to complete: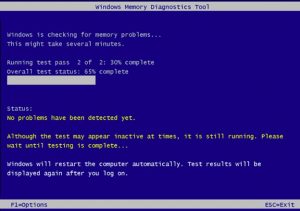 After the test is done, restart your computer and check if the problem is fixed or not!
Method 2: Update/restore/disable/remove device drivers
You can update, rollback, disable or uninstall device drivers to fix the problem.
Device driver update
Press Windows X and select Device Manager to open it.
Select a device category and then select drivers.
Right-click on the Driver and open Properties.
Go to the Driver tab and then click Update Driver.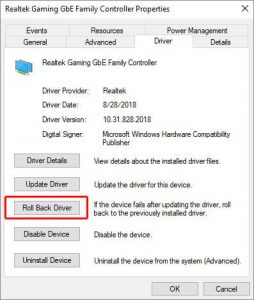 Once done, restart your system to check if the BSOD error is gone.
Rollback driver
Follow the steps below:
Go to Device Manager, find the device category for which you want to restore the Driver, and then select the Driver.
Now right, click on the Driver and go to its properties.
There, under the Driver tab, enter Roll Back Driver.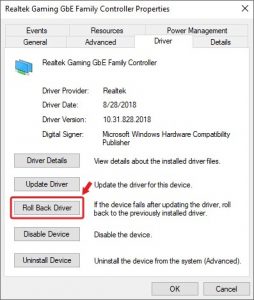 .
Now, give a reason to restore the drivers and click "yes" to confirm the operation.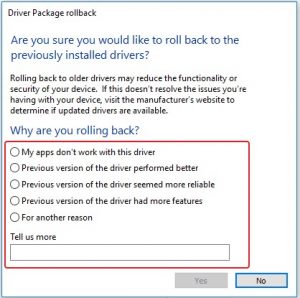 Now check if the error is resolved.
Disable the device driver
Go to the device driver in Device Manager, open its Properties and follow Driver> Disable Device > OK.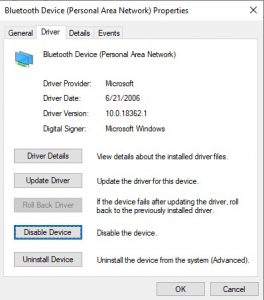 Remove device drivers
A few steps are similar to the steps above. To remove device drivers, select Uninstall Device in the Driver Properties window: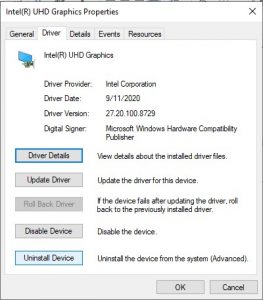 Select the Delete the driver software for this device check box and click Uninstall: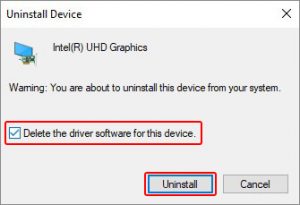 Let the process finish and check if it solves the problem.
Method 3: Run SFC Scan
Run the Command Prompt tool as Administrator.
In the Command Prompt window, type SFC /scannow and press Enter:

This process may take some time.
Wait for the process to complete and then check if the error is fixed or not.
Method 4: Scan the computer for malware
Open System Settings and go to Update & Security > Windows Security > Virus & Security Protection.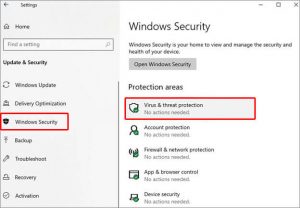 At the next prompt, see if Windows Defender Antivirus detects a virus.
Then follow the instructions to remove the malware from your system.
Method 5: Restore the system
In the Windows search box, type Create a restore point to open it.
Under System Protection, click System Restore: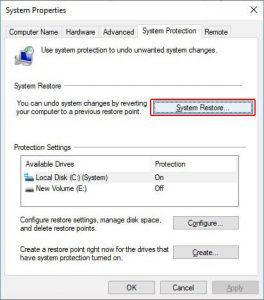 Then click Next > Next and select a restore point and click Scan for affected programs: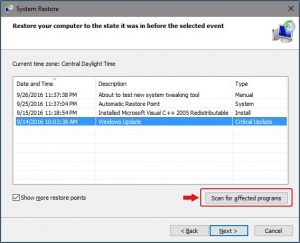 This process scans programs, applications, and files that are affected due to this process.
Once done, click Next > Finish to finish.
Note: This method takes your device to default or selected restore point and affects apps, programs, system files, etc. We recommend powerful data recovery software such as Stellar Data Recovery Professional to recover your data. The DIY software enables data recovery from Windows PCs, laptops, and external storage media devices. It also allows you to create bootable media to recover data from a damaged, unbootable, or BSOD-damaged Windows system.
Conclusion
Microsoft is making many changes to the design of Windows 11, one of them is changing the color of the BSOD error screen from blue to black. However, the reasons for the Windows 11 black screen error may be the same as discussed above. So, we have shared pre-approved methods to troubleshoot the black screen of death error in Windows 11. We recommend that you follow the steps provided against the troubleshooting procedures to avoid further damage.