Google Chrome On Macos Big Sur Consumes Up To 10 Times More RAM Than Safari
Morton, the creator of the Flotato app, found in an experiment that the Google Chrome browser uses about 10 times more RAM than the Safari browser under normal conditions and when browsing lightly on the MacOS Big Sur operating system, which is a It is a disaster.
According to Morton Just's blog, both versions of these browsers were tested in the latest version of macOS, and two different scenarios were considered for this experiment.
The first test or scenario was performed on a virtual machine and the second test was performed on a 2019 16-inch MacBook Pro with 32 GB of RAM.
In the first scenario, routine tasks such as browsing Twitter and checking and writing emails in the Gmail service were performed in separate tabs. In this scenario, it was found that 1 GB of chrome and Safari consume only 80 MB of RAM.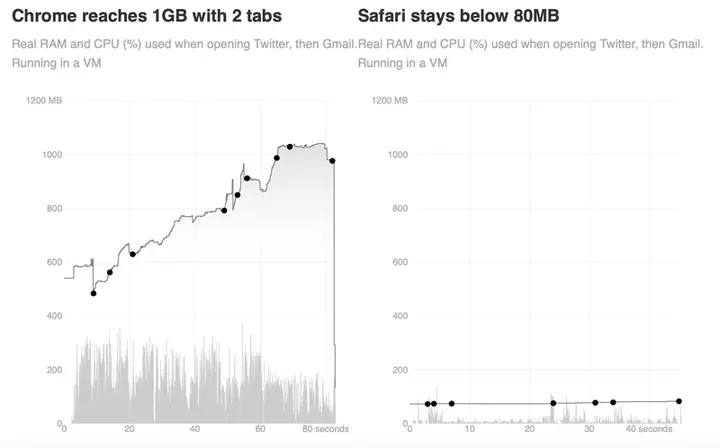 Then In the next round, 54 tabs or New Tabs were opened, and if we want to compare Chrome with Safari in this part, we must say that this browser uses 24 times more RAM. Morton Just went on to say that both browsers were free of any plugins, and that the test was performed not on the virtual machine but on MacBook Pro itself.
The results of the tests and findings show that the Chrome browser uses 290 MB of RAM per tab and the Safari browser uses only 12 MB of RAM per tab.
The source of these reports concludes that Google Chrome is probably only looking for the speed and responsiveness of the tabs that users are using, so it loses memory management of other tabs. Morten Just says that his own software called Flotato, which builds web pages from the app, consumes less RAM than not only Chrome but also Safari.
Of course, this part of his career is similar to advertising, and it is possible that the statistics are wrong and not accurate enough.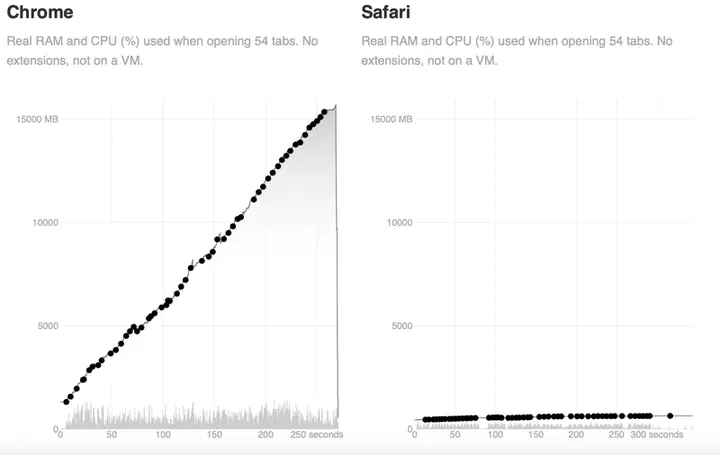 Some time ago, an update for the Safari browser was released on macOS Big Sur, which made this browser surpass Google Chrome. Apple also claims that the Big Sur Safari browser is 50% faster than Chrome on average when loading familiar websites.
In addition, the high-speed Safari can provide one and a half hours of video streaming and one hour of web browsing on a single charge compared to Chrome and Firefox.