5 Important Security Tools You Must Have On Your Computer
Online security is very important, but do you have the right tools for security? Various online attacks target millions of computers around the world every day.
 Although standard antiviruses are good; But they cannot cover all kinds of threats. 
The following free security tools are used to improve system and network security. You probably haven't even heard their names yet; But they are essential to your online security.
Why haven't we heard of these tools yet?
You may think you have up-to-date online security and antivirus software and therefore do not need any additional tools.
But keep in mind that antivirus programs may not be able to secure all of your computer components. They work well against viruses, malware and even ransomware and provide a good firewall; But these tools are, in a word, omnipotent.
Whether you have a comprehensive security software installed on your system or you do not have any security tools, in any case, you should install the tools that we introduce below and enjoy their advantages:
InSpectre

 : This tool detects Specter vulnerabilities on the system.

Angry IP Scanner

 : Scans the network for unauthorized access and heavy bandwidth usage.

Cybereason RansomFree

 : Checks ransomware activity on the system.

Disconnect

 : Monitors incoming connections to the browser.

Malwarebytes Anti-Rootkit

 : Removes dangerous rootkits and repairs the damage they have caused.
In the following, we will introduce each of the above tools and explain the reason for using each of them in addition to your existing security software.
1. InSpectre software
You've probably heard of the Specter and Meltdown bugs by now. These vulnerabilities at the CPU level allow for abuses that remain theoretical. Few computers are immune to these bugs, and patches and security updates to the operating system can only slow down the vulnerability process.
In short, these bugs have created a complicated situation. Although Microsoft has introduced its own tool to investigate Specter / Meltdown vulnerabilities, it is difficult to use. It is here that the InSpectre tool can be used, which is designed to determine the current status of each system so that the user can select appropriate actions to upgrade the system hardware and software for the highest level of security and performance.
InSpectre is easy to use and directly determines whether the CPU is vulnerable to any bugs. InSpectre will also notify you if any security patches or updates are available. You can even disable this protection; But this is unwise unless there are acute functional problems at the system level. If disabling this software has made system performance smoother, it may be time to upgrade your computer hardware.
You can download this software here . If you feel you need to upgrade your system, we suggest you read the " Simple Motherboard and CPU Replacement Guide " .
2. Angry IP Scanner software
If you have a modem of any kind in your home, this software with more than 23 million downloads is one of the must-have software on your Windows, Mac, or Linux operating system.
This free, open source software scans LANs using the range of IPs you define. The IP addresses are then pinged and data is collected on each responding device. The scan results can be saved as a text file as well as an XML and CSV file, which will be useful for later use.
For example, this software announces which devices are active on your network. If you suspect that a neighbor is using your network, you can use this software to investigate. You should note that discovering your network password is not a difficult task for any of your curious neighbors.
This software runs on Java, so you need to make sure you have an up-to-date version of Java installed. Java itself has some security issues that constant updates can help you fix.
You can download this software here .
3. Cybereason RansomFree app
Have you ever heard of ransomware? Ransomware is a type of malware that locks up the system, encrypts the data, and forces you to pay to gain access to it again. That way, all the data on your computer and possibly even your data on the cloud will be out of your reach. Such a situation can be catastrophic for anyone, especially if they have important documents or photos on their computer.
In most cases, paying a ransom to the ransomware owners will actually release your data as promised; But these people are not always happy. 
For some ransomware, ransomware removal tools are provided; But others do not have such a possibility, so you should think of a solution before the accident.
According to the official website, the RansomFree from Cybereason tool protects you against 99% of ransomware. These ransomware include Bad Rabbit, NotPetya and WannaCry. This tool is provided for versions 7 and later and creates some "canary" files that detect ransomware behavior. 
These files are located where ransomware usually starts, thus preventing ransomware from encrypting files in the early stages. Fortunately, this software is designed to work with other security software.
You can download the RansomFree from Cybereason tool here .
4. Disconnect plugin
When you browse the web, only the websites you are visiting do not connect to your computer. There are adware, analytics, social media and many more that track your browsing. With the Disconnect plugin for the browser, you can find out what software is tracking and dealing with you.
Disconnect can speed up your browser up to 44% by identifying and blocking websites that track you. More importantly, Disconnect will increase your online security. Although it is generally not recommended that you block all advertising software; But Disconnect can block invisible trackers that are not connected to ad networks or social networks.
Disconnect has a whitelist option that ensures that the items you want to download are still available to you. On this page, you can block social networks or any kind of anonymous trackers.
You can download this software here for Chrome , Firefox , Opera or Safari for free.
5. Malwarebytes Anti-Rootkit software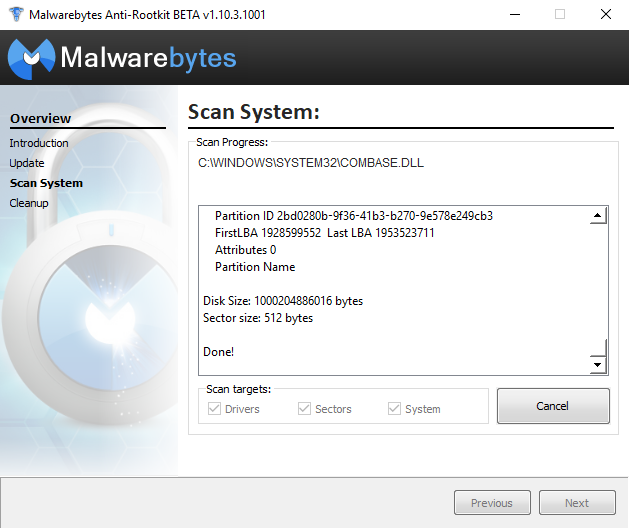 Rootkits can be dangerous: Rootkits are powerful malware that can block antivirus software and give attackers system-level access to gain complete control over the system. Rootkits operate at the hardware level.
This means that they can take control of the system BIOS as well as the operating system. There are several ways to deal with rootkits; But among the effective solutions, the best option is Malwarebytes Anti-Rootkit (MBAR). This software starts scanning your computer after installation and detects threats. The Cleanup button instructs the tool to deal with any threat and starts when the computer restarts.
The software is now in beta, Malwarebytes Anti-Rootkit is not yet fully supported by the developers. However, if you are worried about rootkits, this is the best starting point.
You can download this software here .
Concluding remarks
Is your system really as secure as you think? Your home network has vulnerabilities that you may not be aware of. The Specter bug can damage your device unexpectedly. Online activities have always been associated with the risk of malware.
These tools are free and easy to use. These softwares can prevent many problems. You can use them with an effective VPN and comprehensive security software such as SmartScurity to bring you the most online security.