5 Best Free CPanel Alternatives Hosting Control Panel 2022
5 Best Free CPanel Alternatives Hosting Control Panel 2022
Every hosting web service should include some advanced control panel – a platform through which users with more complex web design needs can access file management, images, security, and other deeply technical aspects of website ownership. cPanel Control Panel and cPanel Alternative have both recently taken over the market.
Linux is one of the most popular operating systems for hosting websites. In recent years cPanel has dominated the market of programs that allow users to access and control those servers.
cPanel is associated with web hosting management (WHM). Still, the two are not the same: WHM is used by domain vendors like GoDaddy to manage entire servers, while cPanel is an end-user product that manages a single hosting account.
A large part of cPanel's ubiquity is because it's the standard control panel for WordPress-powered sites – and given WordPress' huge market share, it's no surprise that cPanel has come to dominate this part of the web world. But is it always the best choice?
Unsurprisingly, the answer is no (if one tool were truly suitable for any function, the Internet would not be what it is today). CPanel has many flaws.
First of all, unlike many of its alternatives, cpanel is not free, and its price continues to rise.
Second, it is very hard to uninstall without reconfiguring the entire server.
Third, it does not support Windows servers at all, only Linux.
And perhaps worst of all, in 2019, the control panel was found to have a major security flaw that made it easy for malicious actors to access website data — and it wasn't even the first time this had happened.
So if you want to host your website on a Linux or Windows server but don't want to pay for cPanel (or risk its security flaws), what other options do you have? The good news is that there are now several free and open-source alternatives. Today we introduce you to 5 free and best cpanel alternatives. Stay with us.
Five free cpanel alternatives
1. Ajenti
Ajenti, a free control panel built for web developers and server admins, has a famous Star Wars quote on its page: it's "an administration tool for a more civilized age." This is a creative way to clarify that they are looking for a new era of humanistic hosting management.
At no cost, Ajenti allows you to use a simple and clean interface to manage any aspect of your server remotely. Its focus is on lightness and support, allowing less technical website owners to avoid annoying searches for copy-paste code fixes. Their development team is also constantly iterating and loves to hear from their users.
Additional features of Ajenti include powerful monitoring and analysis dashboard configurable firewall, which you can use without any problems.
Ajenti contacts
Organizations with limited budgets include schools, small businesses, and individual web developers. One of its most prominent users, the Slovenian Academic and Research Network, praises the way Ajenti met its demands in providing limited access to a large number of administrators.
Advantages
Python and JavaScript are extensible.
It does its best to keep your existing server configuration intact.
Disadvantages
It only works with Linux servers
Limited facilities
2. CentOS Web Panel
The Linux version of CentOS results from the developers' efforts to create a rich and stable platform for future users. These future users include those who need web hosting, and since its inception in 2004, CentOS has been used to configure many web servers.
Now, a control panel is built specifically for websites hosted on virtual private servers configured with CentOS. CentOS Web Panel offers site administrators a long list of features, including user management, custom theme design, database implementation, firewall management, and analytics to monitor resource usage and system health.
Centos Web Panel contacts
Commercial website developers who like the stability and community offered by the CentOS distribution. CentOS Web Panel's auto-repair feature, which corrects file changes it senses, is causing unwanted server damage and makes it friendlier to more casual users.
Advantages
Access the freedom of a private server through the easy-to-learn CentOS environment
A good level of control over the main system
Easy to learn
Disadvantages
Available only for a limited number of servers running CentOS
No support for multiple servers or multi_server
3. Froxlor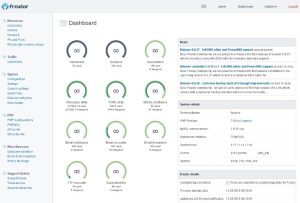 Almost all services that try to compete with cPanel advertise themselves as "lightweight," but Froxlor is closer to the word's true definition. This open-source platform results from a committed team of "Proxies" to build a free panel for the entire Internet, with an easy and customizable user interface and fast performance that will not cause problems for your systems…
The features of this control panel include SQL database management, PHP configuration, and security through SSL and Let's Encrypt. It also matches its cPanel counterpart WHM by including customer management, making it a great choice for domain resellers.
Troxler's ticketing system is one reason that makes it an optimal choice for web developers working for clients, as it is easy to access the server and make changes in response to client issues.
Troxler contacts
Anyone developing a website on a VPS configured with Debian wants an easy way to access it and deal with a wide range of possible problems. As mentioned above, it is especially good for client developers and vendors. It's also great for people who like to be a part of building something because the process of continuous improvement is quite obvious.
Advantages
Fast system loading
Friendly user interface and theme
Sales representative support
Community of active users
Disadvantages
People who use file manager have to set up their FTP
It only works on Debian servers and needs to be hacked for any other server OS
4. ISPConfig
Another open-source cPanel alternative is ISPConfig, which is experiencing explosive user growth. Their recent success owes to a feature that surpasses both cPanel and many of its alternatives: an ISPConfig control panel that allows you to manage multiple servers.
Anyone managing websites on more than one server should be relieved to be able to standardize functionality without going through the tedious download process for each site.
ISPConfig contacts
Advanced developers like documented panels that can be easily configured and administrators of multiple Linux web servers who want a consistent experience.
Advantages
Works with a wide variety of Linux server configurations
Control multiple servers from one panel
Competitive range of control features
Disadvantages
Potentially too complicated for new users
Manual installation required (without one click)
No technical support
5. Vesta CP
This alternative is trying to make things easier for newbies. Right on their front page, Vesta CP declares that they hope to make things simple and easy, and their design shows it: a clear single-bar interface makes it easy to reach any function with a single click.
This focus on good design also extends to monitoring server health – graphs make it easier to cross-reference site issues with traffic and identify how your site is using resources. Regarding resource usage, Vesta is also one of the lightest builds on this list, making minimal demands on your server and client systems.
It's important to note that Vesta CP was in the news for security issues in the summer of 2018 but quickly added new features like mandatory keys to secure its SSH connections.
This is either a worrying sign of its vulnerability or an encouraging report that Vesta's developers are vigilant about responding to problems.
Contacts of vesta
First-time VPS users want a cleanly designed introduction to all the features that make up a server control panel.
Advantages
Excellent user interface and analysis
Automatic and simple installation
Works with CentOS, Debian, and Ubuntu
Disadvantages
Customer support is fee-based
Multiple security vulnerabilities
Which CPanel alternative is right for me?
Suppose you've decided to take the plunge into private server hosting, congratulations! You have made a bold move that will free up many options for your project or business in the long run. It won't always be easy, but with these free tools, you'll have everything you need to get started.
If you're a tech newbie or have never run a server before, try Vesta CP, YunoHost, Ajenti, or Froxlor. YunoHost or Vesta are the way to go if you want a great interface. If keeping your system light is most important, go with Froxlor. If you want something that keeps up with your technical experience, get Ajenti.
More advanced users should choose based on their server configuration. If you are using CentOS, get the CentOS Web Panel. Ubuntu and Debian users prefer Webmin. If your server is running Windows or OSX, get ZPanel.
If you're a reseller or ISP looking to manage multiple servers from a single interface, get ISPConnect, although Virtualmin is an alternative in that space.
Conclusion
The new world is diverse and full of capabilities in the domain of website hosting. We no longer have to be confined to the monopoly of cPanel. In this article, we discussed cpanel alternatives that are provided for free. Good luck!