Windows
The Windows operating system is known today as the most widely used operating system in the world, the latest version of which is now on the market as Windows 10. People know Windows by the name of Microsoft and Microsoft by the name of Bill Gates. Although Bill Gates has been retiring for some time. But this person changed the world of personal computers. Bill Gates is a unique myth whose actions will forever remain in the memories of the people!
Older computer users have the most nostalgic memories of this operating system. Moreover, Microsoft removed all of its desktop operating systems from the list and focused only on the Windows operating system.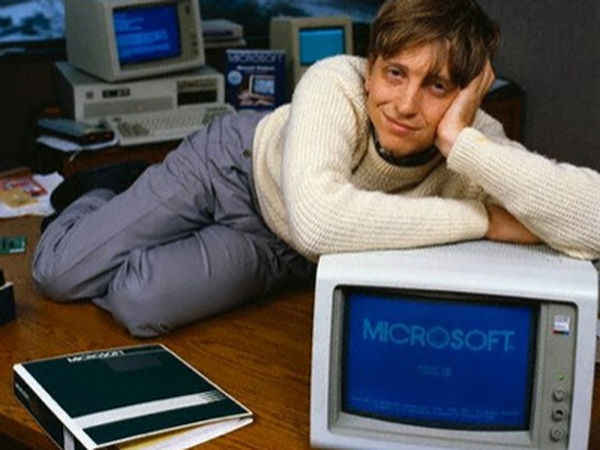 MS-DOS
The first Microsoft operating system to later produce Windows was MS-DOS. Microsoft released The first DOS operating system in 1981. In fact, the operating system was developed by Tim Paterson for Seattle Computer. In many ways, the operating system was close to the CP / M OS, but its development also included compatibility with X86 processors and the FAT 12 file system. Microsoft hired Tim Paterson and soon released MS-DOS.
Windows 1.0
Immediately after launching DOS, Microsoft began work on the first Windows operating system. Windows 1.0  built on graphical GUI relationships. Then, Microsoft released Windows 1.0 compatible APIs to develop its programming. These libraries were much larger than DOS development algorithms. In its first update, the operating system was able to build virtual memory (RAM) on the hard disk. An action that has remained in force to this day.
Windows 2.0
Windows 2.0 operating system was introduced in 1987. This operating system had its main focus on fixing bugs and problems of Windows 1.0. Capability overlays, key additions, and improved multitasking operations, and the like added.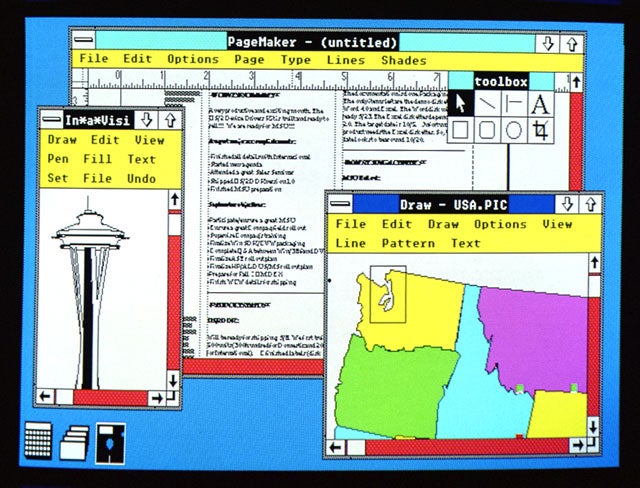 Windows 2.1
In 1988, Microsoft introduced Windows 2.1. This OS has a much higher performance speed than Windows 2.0 and was fully compatible with Intel 80286 and 80386 processors. For this reason, it is sometimes called Windows 286 or Windows 386.
Windows 3.0
In 1990, Microsoft released the third version of the Windows operating system. This operating system showed significant improvements over the previous one. These included changing the user interface and supporting 16-bit images. In VGA mode, the operating system was able to show 256 colors on the screen. Syntax protection also improved, and applications had greater access to the main memory.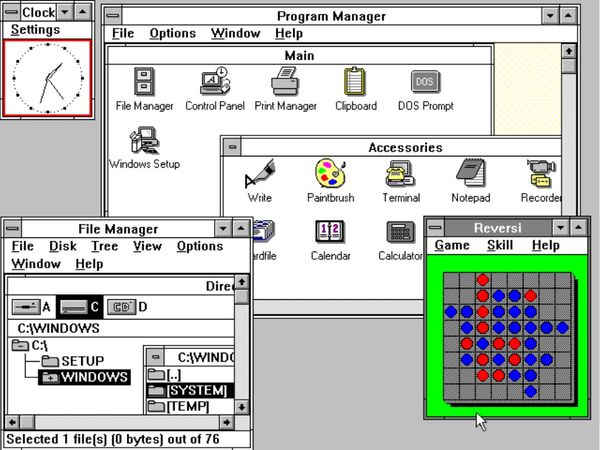 Windows 3.1
Microsoftو In 1992, introduced Windows 3.1. There are 3 key improvements in this operating system; The first was to delete Real mode. This operating system limited to running on new processors and hardware, but we saw significant system stability. Support for True type fonts and increased support for RAM. Several different variants produced from this operating system.
Windows NT 3.1
In 1993, Microsoft released the first version of Windows NT. Although there were some similarities with Windows 3.1, the usage and commands were completely different. The 32-bit operating system was able to run MS-DOS, OS / 2, and Windows command individually. Because of this flexibility, it was also very easy to develop. This operating system was the best option of its time to run Multiple processing architectures. The operating system ran on all X86 and MIPS processors. This operating system was much more stable than 3.1. Despite all these features, it is interesting to know that this operating system achieved fewer sales than Windows 3.1! The minimum system requirements for this operating system were 32-bit processors such as Intel 80386, 75 MB of storage space, and 16 MB of RAM.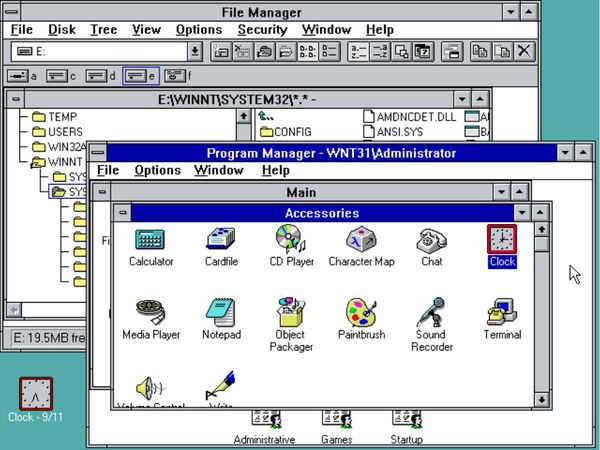 Windows 95
After the release of Windows NT 3.1, Microsoft discontinued the production of DOS-based operating systems, and in 1995 introduced the Windows 95 operating system. Using a user-friendly interface, Microsoft created a mode in which the operating system that people used simultaneously on personal and office computers. The competition began between this operating system and IBM's Mac and OS  operating systems. The first official version of Internet Explorer was also installed on it. For the first time, the Windows operating system uses a completely separate DOS kernel that processes commands without DOS intervention.
Windows NT 4.0
In 1996, Microsoft released a new version of the Windows NT operating system. This operating system looked similar to Windows 95 but in practice was completely different and only used its user interface. As you know, NT operating systems used in servers and business-oriented systems.
Windows 98
Microsoft introduced 98 operating system in 1998. The operating system carried more features such as Outlook Express, Microsoft Chat, NetMeeting, and NetShow Player. Windows installation became much easier and its usability improved. This window was much more stable due to the use of a new kernel. Reasons for this stability include the use of new tricks compatible with existing hardware, system drivers, system registry, and system memory management.
Windows 98 SE
Between 1999 and 2000, Microsoft released four different versions of the existing windows operating system, but one was the SE version of Windows 98, which fixed bugs and bugs in Windows 98. New applications such as Windows Media Player, an updated version of Internet Explorer, and the new DirectX 6.1 API also added.
Windows XP
In August 2001, Microsoft introduced the first version of the XP windows operating system. The operating system lacked professional server features but provided users with everything work or home system needed. High-end stability, enhanced UI and graphics quality, easy process of adding hardware, higher security, and better support were among its features. More than 1 billion copies of Windows XP sold, making it the most popular operating system in history.
Windows Vista
Microsoft introduced Windows Vista in 2006. Although Microsoft envisioned replacing Windows XP with Vista, this never really happened. Vista came with a new user interface and new graphics with dozens of new features, one of the most important of which was to increase security safeguards. These new security features were very cumbersome. The idea was to notify users of any new installations in order to prevent malware, but because of the system's inconvenience, the result was quite the opposite.
Windows 7
In 2009, we saw the release of the popular Windows 7 operating system. Windows 7 can be considered an optimized version of Vista that solved its problems. Although Microsoft did not reduce its pressure to increase security, its many annoyances and questions disappeared. Compatibility with processing commands in AVX processors increased speed and good efficiency of RAM were also its features. After XP, Windows 7 was the most successful and popular Microsoft operating system.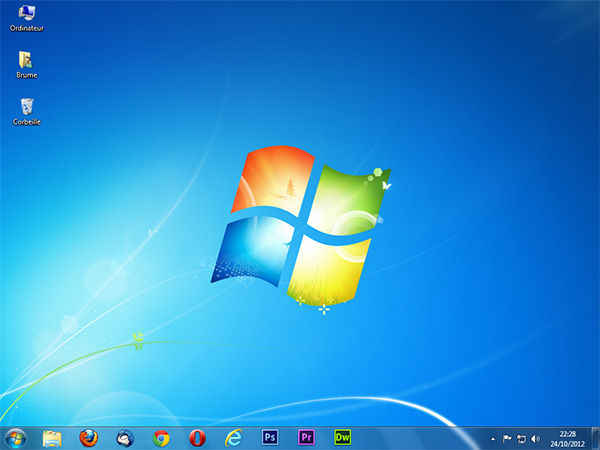 Windows 8
Microsoft introduced Windows 8 in 2012. The operating system came alongside Microsoft's efforts to launch mobile-class operating systems. The operating system runs on mobile phones, desktops, and notebooks.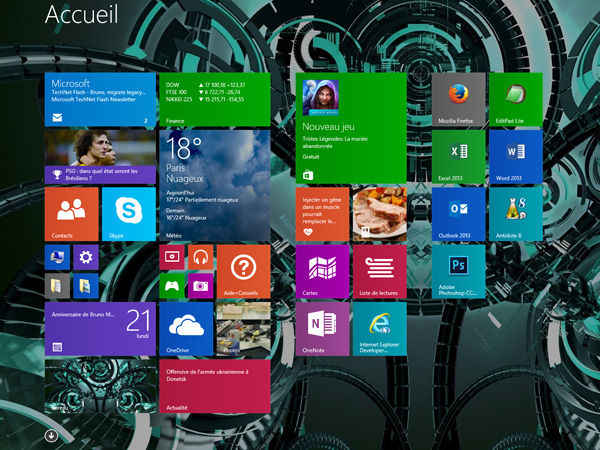 Windows 8.1
In 2013, just one year after the release of Windows 8, Microsoft released Windows 8.1. The operating system fixed many of the problems of Windows 8 and improved its compatibility with modern hardware. The operating system provided free of charge to users running Windows 8.
Windows 10
And finally, we come to the latest Microsoft Windows operating system. Microsoft introduced Windows 10 in 2015. Upgrading old operating systems to Windows 10 was completely free for 1 year. Microsoft also added Cortana Voice Assistant to the operating system. Microsoft's new browser that people know as the Edge and users' privacy took very seriously. Users' personal information is subject to the basic requirements of the software and websites subject to their approval only; Hardware installation and recognition have reached their peak so that the need to install multiple drivers is eliminated, and after Windows connects to the Internet, these drivers installed automatically.