Learn how to use an FTP account to edit domains in Host C Panel
Using FTP accounts, you can receive your site information from the Internet or upload the information you need at high speed within the host. FTP lets you manage your site files through FTP clients such as FileZilla, TurboFTP, and… To use the FTP account of the domain names in the C-Panel host, like the main domain in the host, you can have an individual FTP account for each domain name. To upload files via FTP on domain names, you must use each domain's specific username and password to connect, or normally connect through the username and password of the main domain and the files in the relevant folder. Upload a domain to any person. Follow the steps below to connect via the FTP account you created:
First, you need to create a new FTP account that you can use in the tutorial on creating an FTP account on the host.
Use

FTP

for domain names:
You need the following information to log in through the domain name:
Username:

username @ addon

_domain.com

Password: FTP account password or FTP account password

Host Address: com

Favorite folder path (Folder or Directory): /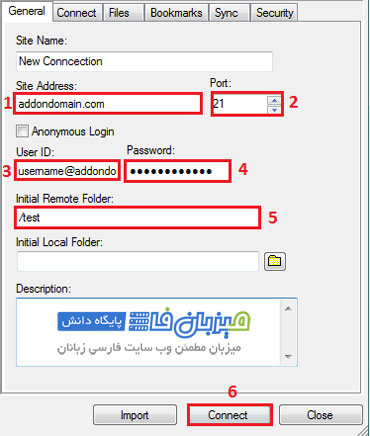 To connect through any domain, you can replace your favorite domain name with @yourmaindomain.com. If your FTP address is test123@yourmaindomain.com, and you want to use a domain name instead of the main domain, you should use addondomain.com instead of the main domain, i.e., test123@addondomain.com. (No need to change passwords and other settings)
Use

FTP

for the main domain:
The host's main FTP account allows you to access all the files and folders on the host and all your domains. After connecting via FTP Client, you can simply go to / public_html / addon_domains_folder / and upload your files.
To log in through the main domain and FTP account, you need the following information:
Username: The same username Login to C-Panel – The username is visible in the panel on the right side of the page and at the top when you log in to C-Panel.

Password: The same password to log in to C Panel – the password through which you can log in to your hosting panel (Cpanel).

Host address: yourdomain.com

Custom folder path: Folder or Directory: public_html / <em "> addon_domains_folder /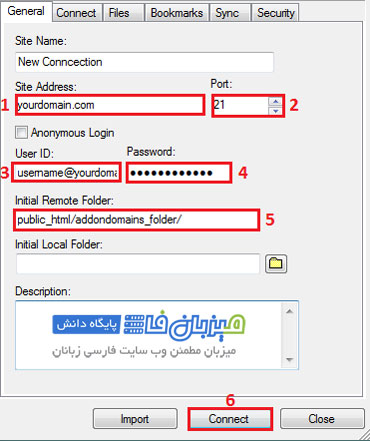 You can easily access your domain names through the above information and connection to the FTP server.