World tourist attractions similar to those in Iran
Now that foreign travel has become more difficult, let's take a look at Iran's natural attractions: attractions that are very popular similar to foreign ones and attract thousands of tourists each year. 
In recent years, with rising currency prices, traveling outside of Iran has not been affordable for many tourists. Just look at the prices of foreign tours.
Many travel enthusiasts with these relatively high costs are reluctant to travel abroad, but do not be upset; The story of travel and tourism is not going to end here. If you have been underestimating the nature of Iran until today, reading this article will surely change your mind. \
If you are one of those people whose natural tourism attractions are the most important criterion for choosing a travel destination, stay with us until the end of this article.
Kaboudwal Moss Waterfall and Bigar Moss Waterfall in Romania
Golestan is the land of waterfalls that are hidden like treasures in the heart of the Hyrcanian rainforest. One of the most beautiful waterfalls in this province is Kaboudwal Moss Waterfall. This waterfall is the only mossy waterfall in Iran and is located 5 km from Aliabad Katoul city. Kaboudwal Falls is very similar to Romania's Bigar Moss Falls.
Romania's Bigar Falls is the most beautiful waterfall in the country, located in the Anina Mountains between the cities of Oravita and Bozguichi. Both waterfalls are covered with beautiful and evergreen mosses that create a very dreamy view.
How to get to Kaboudwal Moss Waterfall?
All you have to do is go to Aliabad Katoul from Golestan province. 5 km from Aliabad Katoul, you will reach the forest park of this city. About 20 minutes walk from Aliabad Katoul Forest Park, you will reach Kaboudwal Moss Waterfall.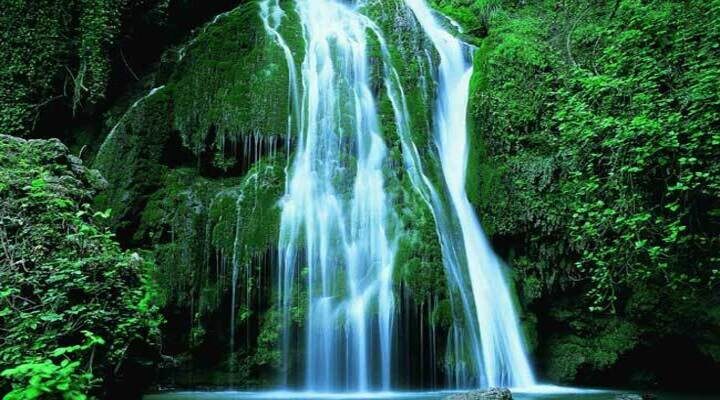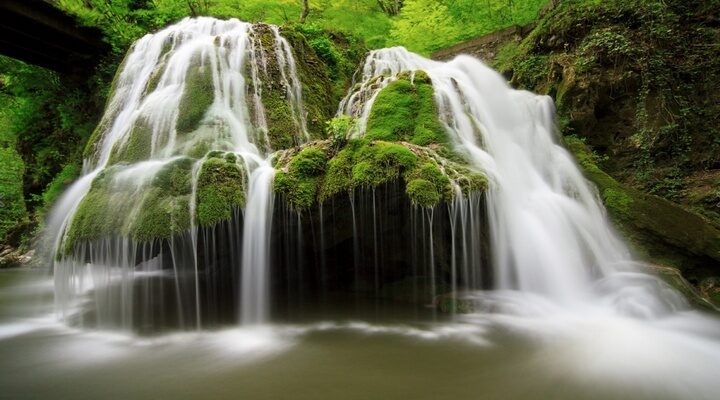 Kafrin Strait of Ilam and Fayfi Island, Phuket, Thailand
If you plan to travel to Ilam province, be sure to visit Badreh city and Kabirkuh heights. Next to Seymareh Dam, there is a gorge whose beauty will probably hold your breath. Kafrin Strait or Shaddad Strait is one of the most attractive sights of Badreh city and Ilam province, which is very important and valuable in terms of history and archeology. Human life in this region dates back to about 3,000 BC, around the middle of the Bronze Age. It is interesting to note that the scenery of Kafrin Strait is very similar to Fayfi Island in Phuket, Thailand : where it attracts many foreign tourists every year, including Iranian tourists. So this time, before booking a ticket to Thailand , think about a trip to the beautiful province of Ilam!
How to reach the infidel strait of Ilam?
Arrive in Ilam to reach Kafrin Strait. Enter Darashahr-Ilam road and continue on your way to reach the crossroads. Choose the right path and take the dirt road to reach the Kafrin Strait.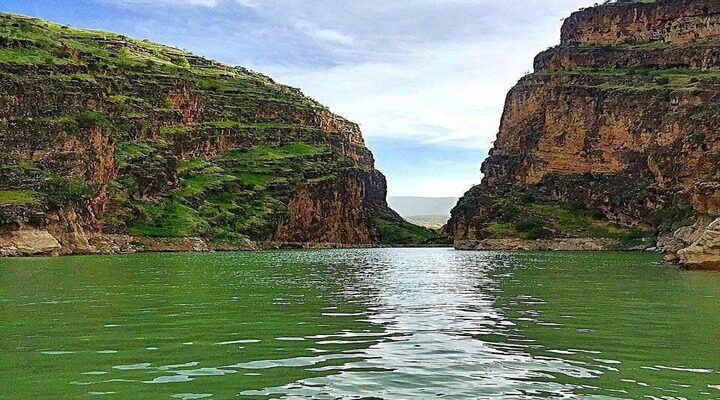 Zanjan and Bryce Sequence Chimney in Utah, USA
120 km from Zanjan city and exactly 20 km away from Mahneshan city, there is an interesting natural phenomenon that the locals call "Genie Chimney". This mysterious natural phenomenon is called Hoodoo in geology. Hoodo has a high scientific value. Hoods are actually tall, clay columns that have been eroded by this.
The headboards of these columns have shaped them into mushrooms. In Zanjan, locals believed that this strange structure was the work of supernatural beings; For this reason, it is called the chimney of jinn.
One of the most famous hoodies in the world is located in Braking National Park, Utah, USA. The similarity between the chimneys of the jinn and the hoodies of the breccion is also remarkable in its kind.
The sad thing about the Zanjan Genie Chimney is that, unfortunately, there is no oversight of the preservation of this valuable national heritage, and the Hudos are being destroyed.
How to reach the chimney of jinn in their month of Zanjan?
Move from Zanjan to Mahneshan. In 120 km of Zanjan, exactly 20 km left to Mahneshan, you can find the chimney of jinn or hoodo near the village of Behestan.
Shears Strait of Lorestan and the Strait of the Kings of Australia
The intersection of three provinces of Ilam, Lorestan and Kermanshah witness one of the most beautiful natural areas of Iran. This wonderful area, which is located in the city of Kuhdasht, is called Shears Strait. This strait is 5 km long and is one of the Iranian Grand Canyons.
The rocks that reach a height of 150 to 200 meters in some parts of the gorge, have made this gorge very different and beautiful. The natural features of Shears Strait, springs and rivers that flow in the heart of its high cliffs, has made this beautiful valley one of the potential tourist attractions.
It is interesting to know that Shears Strait of Lorestan has a twin sister on the other side of the world: Kings Canyon is one of the most important geotourism attractions in Australia and is located in Watarka National Park in the North.
How to get to Shears Strait?
Drive from Khorramabad to Kuhdasht city. From Kuhdasht, reach the village of Olad Ghobad. 2 km on a dirt road, you can see this beautiful gorge.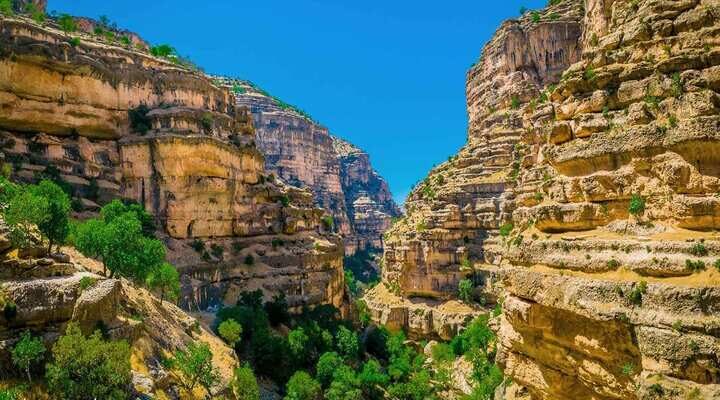 Lorestan Treasure Valley and Arizona Grand Canyon, USA
If you are still not convinced that the world's great geographical attractions have attractive twins in Iran, you will probably be convinced by seeing these pictures. Lorestan Treasure Valley is located on the way from Poldakhtar to Andimeshk, near Khazineh village. The presence of a suspension bridge with a length of 112 meters and a height of 85 meters has added to the attractions of this valley.
This suspension bridge is the highest suspension bridge in Iran. So if you love height and excitement, do not miss the walk on this bridge. This beautiful valley, which is one of the most interesting geographical features of Iran, is very similar to the Arizona Grand Canyon located in the United States.
How to get to Treasure Valley?
To reach Khazineh valley, it is enough to enter Poldakhtar road to Andimeshk from Poldakhtar. After about 44 km, you will reach Khazineh village. On the way to the village and around the construction site of Karkheh 2 dam, you can find Khazineh valley.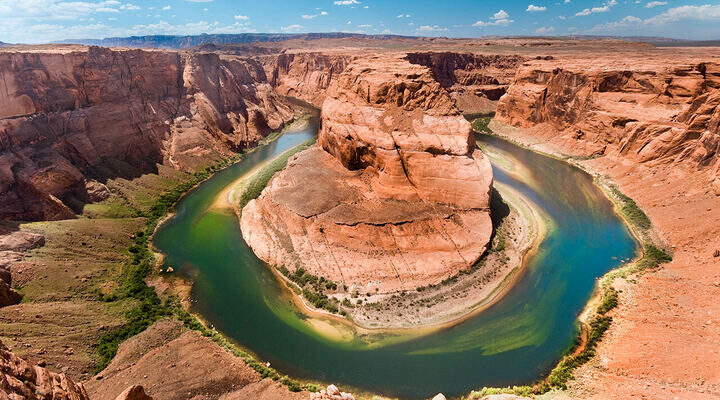 Kandovan village of East Azerbaijan and Cappadocia, Turkey
Many of you have probably heard of the village of Kandovan in East Azerbaijan: a rocky village in the heart of the mountains of East Azerbaijan, which is very old.
Every year thousands of tourists travel to East Azerbaijan to visit the village of Kandovan. But you may be interested to know that this beautiful and pristine village has a famous twin in Turkey.
The village of Cappadocia in Turkey is very similar to the village of Kandovan in East Azerbaijan. This village attracts thousands of tourists every year and is one of the sights of Turkey .
How to get to Kandovan village?
Move from Tabriz to Osko city. After 60 km, you can see this unique village in front of you.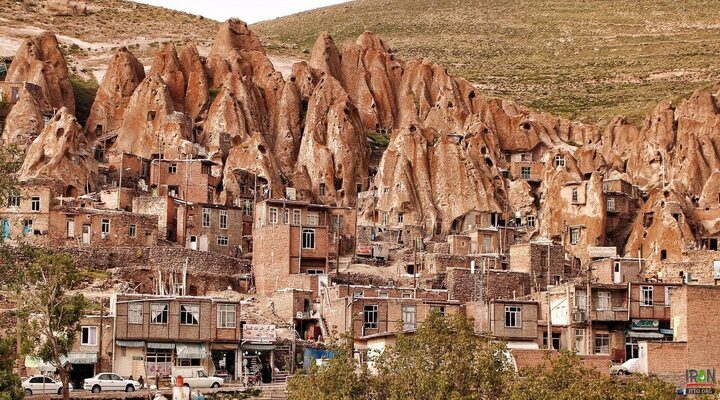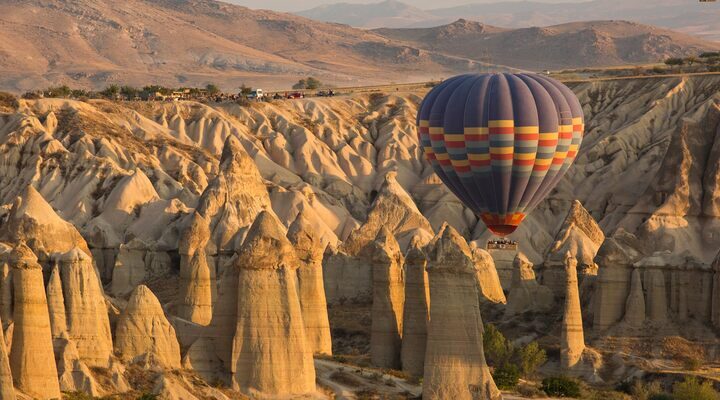 Aladaglar Rainbow Mountains of Zanjan and Zhangji, Dendixia of China
If you think you can only see the rainbow in the sky, you are sorely mistaken! It is enough to visit Zanjan province and Mahneshan city so that the open-hearted soil of this city will give you the beauty of nature. Mineral sediments in the soil of this region have naturally given a beautiful range of colors to the earth.
You can see the rainbow relaxing in the soil of this area and enjoy its beauty. It is interesting to know that Zhangdexenia National Park in China is exactly like the month of Zanjan, and for this reason it attracts many tourists every year.
How to reach Aladaglar mountains?
You can move from Mahneshan. Find the Zanjan-Tabriz highway, about 25 km from Tabriz city, the colorful mountains of Aladaghlar. These mountains are located right in the middle of this highway.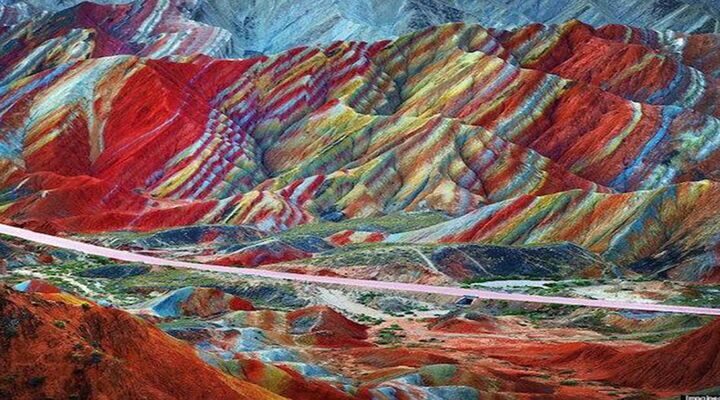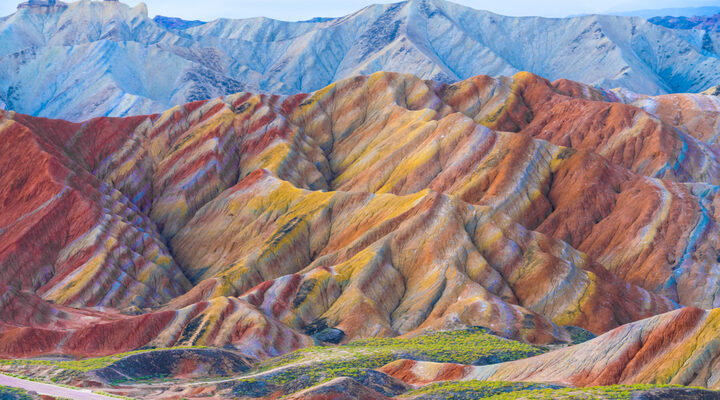 Pezmatiab port of Sistan-Baluchestan and Dardeldor coast of England
Sistan and Baluchestan province is one of the most amazing geographical attractions of Iran. Unfortunately, not much attention has been paid to the natural attractions of this beautiful province, and the beauty of this province is less known. If you like to travel to unknown geographical places and enjoy the wonders of nature, be sure to include Sistan and Baluchestan in your itinerary.
One of the beauties of this province is the rocky beaches of Makran, which will host you with its pristine and unique nature. Among these beaches, the beach of Pazmatiab port, with its beautiful cliffs, is spectacular.
This attraction is very similar to the rocky shores of Durdle Door, England. D دردld‌r Beach is a UNESCO World Heritage Site and is one of the oldest and most famous tourist attractions in the UK.
How to get to Pazm Tiab port?
Move from Chabahar to Konarak city. After 50 km, in 6 km of Konarak city, you will reach Pazmatiab port.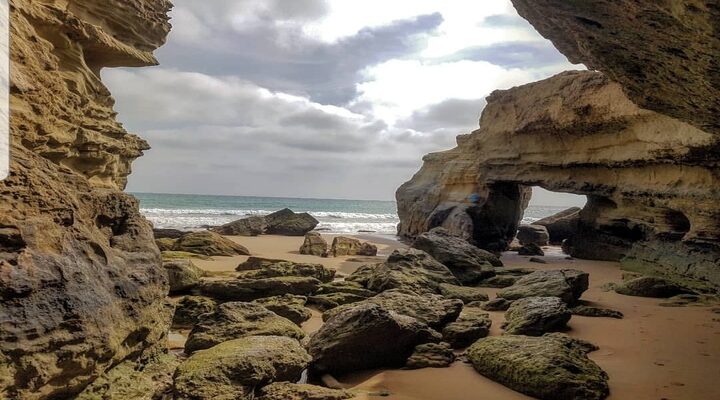 The Chabahar Martian Mountains and the Atacama Martian Mountains in Chile
Martian mountains are the so-called rugged terrain that has been shaped by extreme drought. The high similarity of these roughnesses with the surface of Mars is the main reason for its naming. You may not be familiar with the Martian mountains of Chabahar; But rest assured that you will be shocked after seeing its beautiful scenery.
These mountains are very similar to their counterparts in Chile. The scenery created by the Atacama Mountains in Chile is so fascinating that it attracts many tourists from all over the world every year: where its arid deserts have been dubbed the driest place on earth.
The view of the Martian mountains in the San Pedro region is so attractive to tourists that it has become one of the three most important tourist destinations in Chile.
How to get to Chabahar Martian mountains?
All you have to do is travel from Chabahar to Goatar port in Sistan and Baluchestan province to face the Chabahar Martian mountains after 50 km.
Port of Bryce, Sistan and Baluchestan, and the coast of Bunda Cliffs, Australia
There is not much to say about the pristine geographical attractions of the beautiful province of Sistan and Baluchestan! Brys port is one of the famous fishing ports in Sistan and Baluchestan province. The port is also known for its beautiful rocky beaches: beaches that are very similar to Australia's Bunda cliffs.
How to get to Bryce Harbor?
Drive about 60 km from Chabahar to Makran beaches. After crossing the Martian mountains, you will reach the port of Bryce.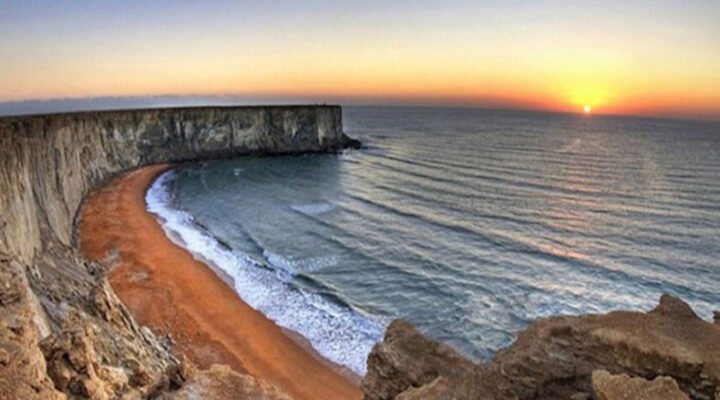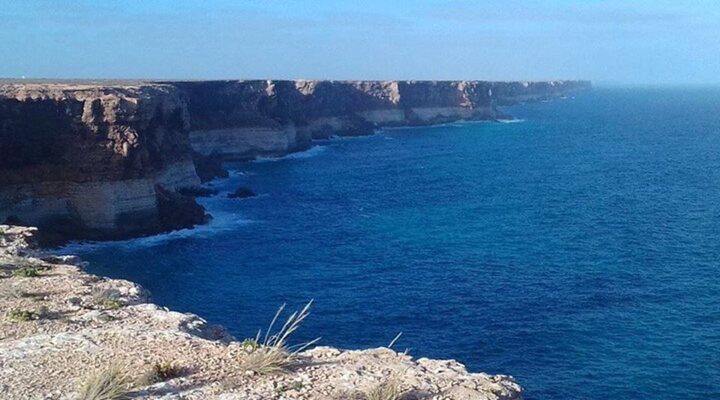 Chabahar Coastal Road to Goatherd & Greta Oshnrood Port, Australia
If you thought that we were going to give up Chabahar soon, you are sorely mistaken. Sistan and Baluchestan Province has so many amazing and fascinating areas that one can write a book about it.
You may be interested to know that one of the most attractive coastal roads in Iran is located in this province. The coastal road from Chabahar to the port of Goatherd has a very attractive view: on one side it stretches along the cliffs and on the other side it is located by the sea.
It bears a striking resemblance to Australia's Great Ocean Road: a road that is world-renowned for its unique beauty. You see? It is enough to pay a little attention to the natural attractions of this province to make this province world famous.
How to get to Chabahar coastal road?
Move from Chabahar to the east, ie Makran Sea. It will not be long before you reach the coastal road.
Tang Port of Sistan and Baluchestan and the desert coast of Namibia
Have you ever considered combining desert and sea? Where the desert and the sea meet. That's a weird contradiction, isn't it? Well, if you have not encountered such a phenomenon before, we must tell you that the charming province of Sistan and Baluchestan has one of these pristine landscapes. Bandar Tang, in the city of Konarak, is where the Sistan-Baluchestan Desert and the Makran Sea meet.
Namibia's world-famous desert beaches are in exactly the same position as Tang Port and its shores. It can even be boldly said that the beauty of Tang port is much more than the beauty of Namibia desert desert.
How to reach the narrow port of Sistan and Baluchestan province?
To reach Tang village, it is enough to drive 80 km from Konarak to Chabahar. Drive from Bandar Jask Road to Tang village to reach this pristine view.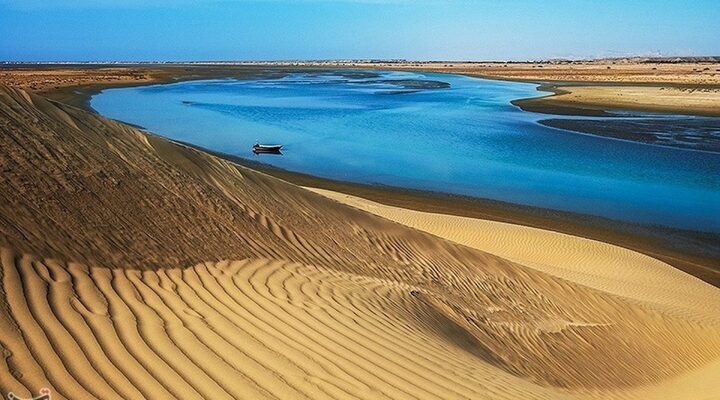 The beaches of the narrow harbor and the shores of the Maldives
Only narrow beach days are not spectacular. If you pass by a beautiful narrow beach, be sure to spend the night on this beautiful beach to be amazed by the sparkling waters. Narrow beaches are narrow because of tiny bioplankton called phytoplankton that glow at night like a worm. Similar cases of this beautiful and amazing phenomenon are rare in the world.
One of the shimmering beaches is Vaadhoo Beach in the Maldives, which, like its narrow beaches, has a dazzling glow at night. Many tourists travel to the Maldives to see this fascinating sight .
If you travel to narrow beaches, remember that phytoplankton are not a souvenir that you can put in a glass and container and take with you! By doing so, only the coastal ecosystem will be endangered and no trace of them will be left soon.
How to get to the night shores of Tang port?
The shores of Bandar Tang are located in the same city, which we mentioned in the previous section.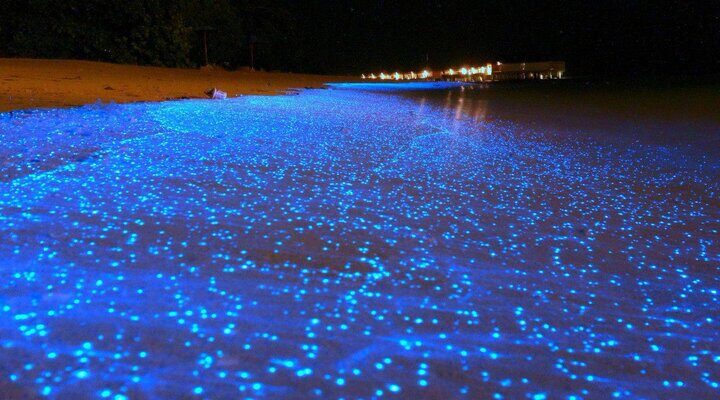 Lipar Pink Lake Sistan-Baluchestan and Gibson Australia
Probably the day Matthew Flinders, a British Royal Navy explorer in Australia, discovered the amazing pink Gibson Lake, did not think it would one day become world famous. The pink color of this lake is due to the presence of microorganisms that emit a pink spectrum. The high concentration of salt in this lake has made the living conditions of this lake very special; But the lake's habitat is completely safe.
It says that there are only four pink lakes in the world. The good news is that one of these beautiful lakes is located in our country. Yes! you guessed right. Again Sistan and Baluchestan and again the amazing Chabahar! Lipar Lake is located in Sistan and Baluchestan Province.
This beautiful lake is home to more than 93 species of plant plankton, 31 species of animal plankton, 85 species of fish, 24 species of crustaceans, 64 species of mollusks, 14 species of myobenthos (a group of amphibians / a group of small invertebrates) and 46 different species of algae Is.
Notice the great resemblance of the famous and popular Gibson Pink Lake to Lipar Pink Lake. Aren't you surprised?
How to get to Lipar Pink Lake?
Drive towards Goater from Chabahar city. 15 km from this road you will reach the village of Ramin, where the Lipar Pink Lake is located.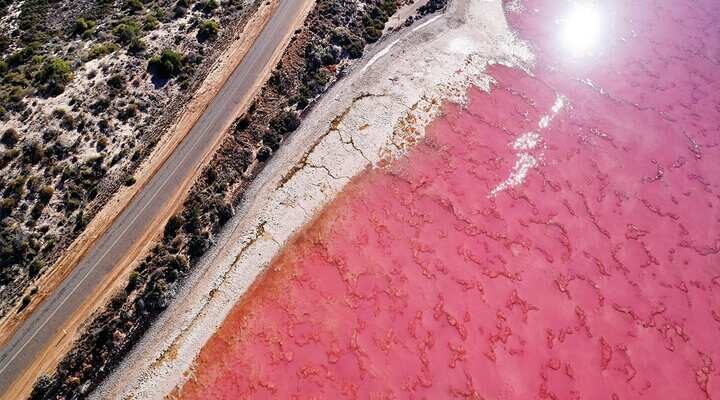 last word
Our amazing Iran is more attractive than we think. Many of Iran's geological attractions are so unique or even unique that some countries have been able to give a major boost to their tourism industry just by having just one of them .
Let us not forget that the increase of tourism and the prosperity of tourism, in addition to helping the domestic economy , will lead to the growth and prosperity and sustainable development of rural areas.
So this time when we wanted to spend our saved money on a costly foreign trip, let's think a little about how many cities and attractions there are in Iran that we have not yet seen.