What is WordPress? How to install it? (Complete 2021 Guide)
What is WordPress? At its core, WordPress is the simplest, most popular way to create your own website or blog. In fact, WordPress powers over 40.0% of all the websites on the Internet. Yes – more than one in four websites that you visit are likely powered by WordPress.
On a slightly more technical level, WordPress is an open-source content management system licensed under GPLv2, which means that anyone can use or modify the WordPress software for free. A content management system is basically a tool that makes it easy to manage important aspects of your website – like content – without needing to know anything about programming.
The end result is that WordPress makes building a website accessible to anyone – even people who aren't developers.
What Kinds Of Websites Can WordPress Make?
Many years ago, WordPress was primarily a tool to create a blog, rather than more traditional websites. That hasn't been true for a long time, though. Nowadays, thanks to changes to the core code, as well as WordPress' massive ecosystem of plugins and themes, you can create any type of website with WordPress.
For example, not only does WordPress power a huge number of business sites and blogs, it's also the most popular way to create an eCommerce store as well! With WordPress, you can create:
Business websites
eCommerce stores
Blogs
Portfolios
Resumes
Forums
Social networks
Membership sites
…pretty much anything else you can dream up.
Who Made WordPress And How Long Has It Been Around?
WordPress was created as a standalone project all the way back in 2003, originating as an offshoot of a previous project called b2/cafelog.
wp is open-source software, so nowadays it's made by a huge community of contributors. But if we were to trace wp' origins back to its roots, its original creation was a collaboration between Matt Mullenweg and Mike Little.
Since then, Matt Mullenweg has largely become the face of wp. And he's also the founder of Automattic, which is the company behind the for-profit WordPress.com service.
The history of wp between its founding as a blog platform back in 2003 and today is a long one…
But suffice it to say, WordPress has pushed forward and, thanks to its contributors and huge community, developed into the most popular solution to create any type of website.
Who Uses WordPress?
WordPress is used by individuals, big businesses, and everyone in between! On an immediate note, we use wp! So the very site that you're looking at right now is powered by wp. Lots of other well-known entities use wp as well. Here are some of our favorite examples:
Whitehouse.gov
The official Whitehouse.gov website is powered by wp:
Microsoft
Microsoft uses WordPress to power its official blog. It also uses wp to power blogs for specific products like Windows and Skype:
The Rolling Stones
Even famous bands love WordPress! The Rolling Stones' website is powered entirely by WordPress:
Why Should You Use WordPress?
Ok, so over 40.0% of all the websites on the Internet are using wp, including well-known entities like the White House and Microsoft.
But what about you? Why should you use wp?
Well, no matter what type of website you want to create, there are plenty of reasons to use wp . Here are some of the biggest:
WordPress Is Free And Open Source
One of the biggest benefits of wp is that it's free, open-source software. While you will need to pay a little bit for hosting, you will never have to pay just to use the WordPress software, which isn't the case with alternatives like Squarespace.
Beyond that, you can also find lots of open-source plugins and themes to change how your website looks and functions. Speaking of….
WordPress Is Extensible
Even if you aren't a developer, you can easily modify your website thanks to wp' huge ecosystem of themes and plugins:
Themes – these primarily change how your website looks.
Plugins – these primarily change how your website functions. Plugins can be something small, like a contact form, or huge, like creating an eCommerce store.
Currently, there are over 50,000 free wp plugins and 5,000 free WordPress themes, as well as tons of premium options. That to say – you have plenty of choices! Here is a hand-picked list of the best WordPress plugins.
WordPress Is Easy To Install
Think you need to be a tech genius to create your own website? Think again! If you can click a few buttons, you can install wp on your site.
Nowadays, most web hosts either:
Offer to preinstall wp for you so that your site is ready to go right away.
Give you dedicated tools that make the install process very beginner-friendly.
Step 1: Download and install XAMPP on your computer
The first step on your way to install wp locally is to download and install the XAMPP software. You can download the Windows installer file from Apache Friends. It's a big file, about 110 MB, so it might take a minute or so depending on your connection: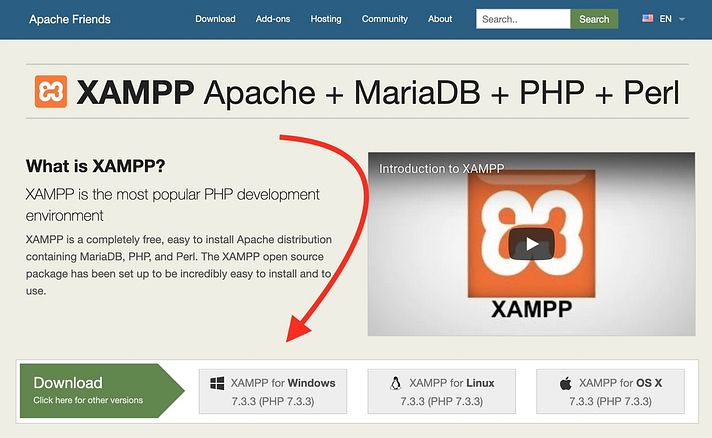 Once the download finishes, run the file you downloaded to launch the XAMPP installer. If you're running antivirus software, you might get a warning like this: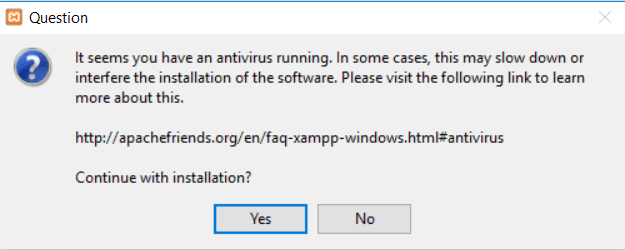 Just click Yes to continue. Depending on your Windows configuration, you might also get a prompt about User Account Control (UAC). Just continue through that prompt as well. Once you get through all of the prompts, you should see the standard installer screen:
Just click Next to continue.
On the next screen, you can choose which components to install. To install XAMPP and WordPress, you do not need all of the components. In addition to the required components, all you need are: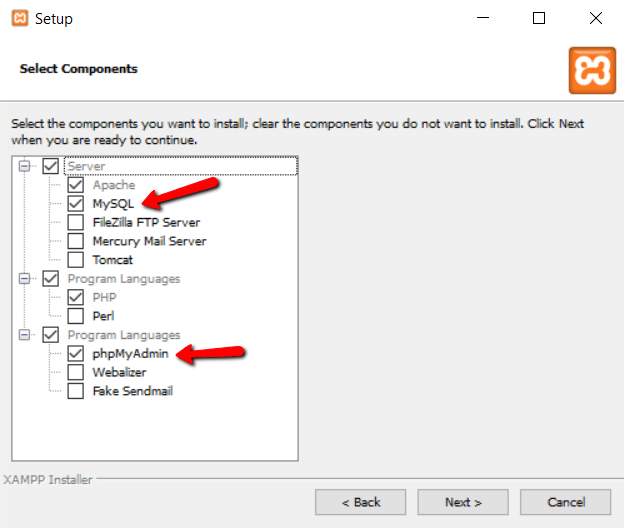 Again, this is all that's needed to install wp locally. Uncheck everything else and click Next.
You can now select which folder to install XAMPP in. I always leave it as the default: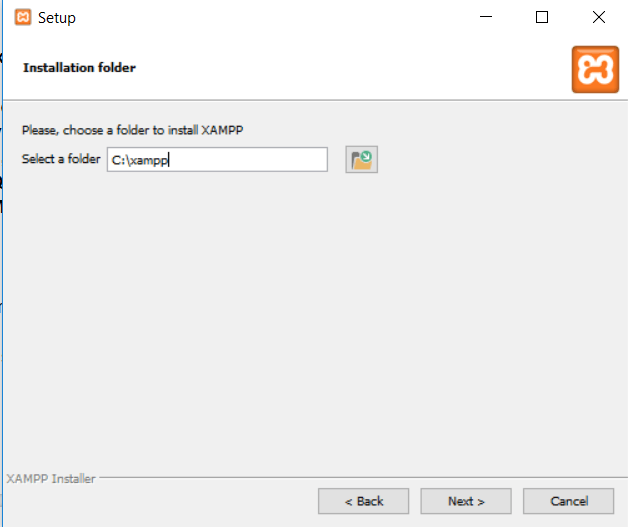 On the next screen, you'll get a prompt asking you to install Bitnami for XAMPP. You do not need this to install XAMPP and WordPress, so just uncheck the box: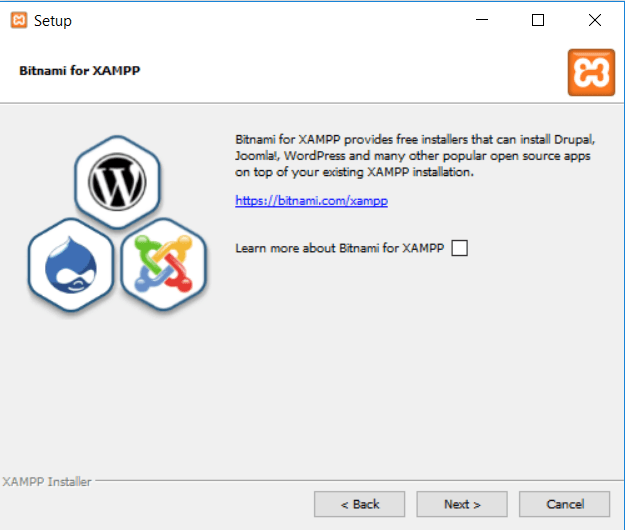 Once you click Next, you're ready to run the install: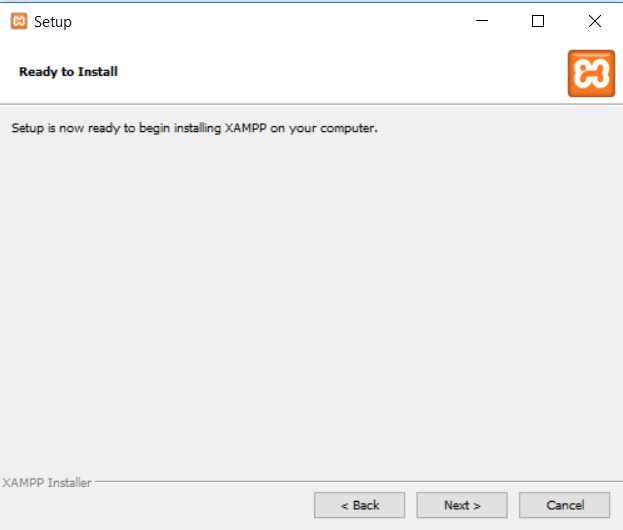 The install process might take a few minutes: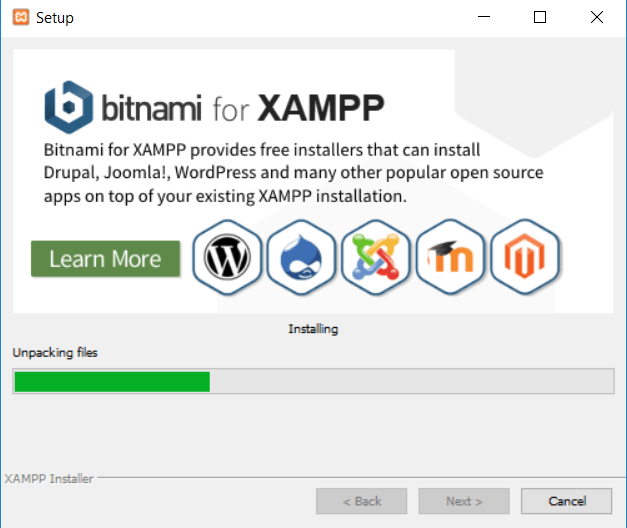 Once it finishes, you can launch the control panel to start working with XAMPP: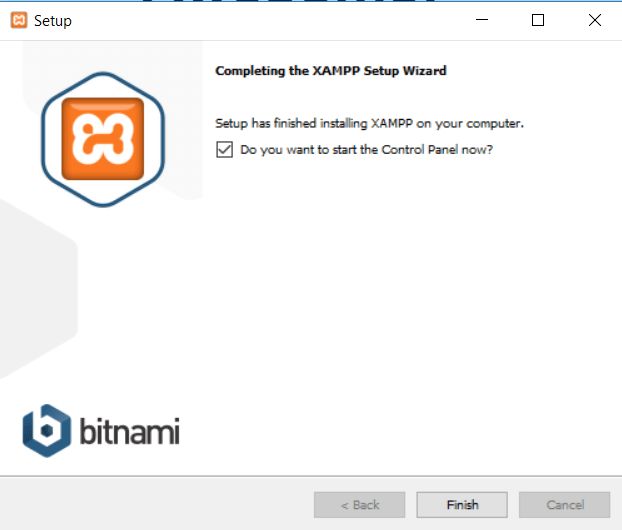 Step 2: Start the modules and test your server
To install XAMPP and WordPress properly, you'll need to run two modules:
You can start both modules from the XAMPP control panel: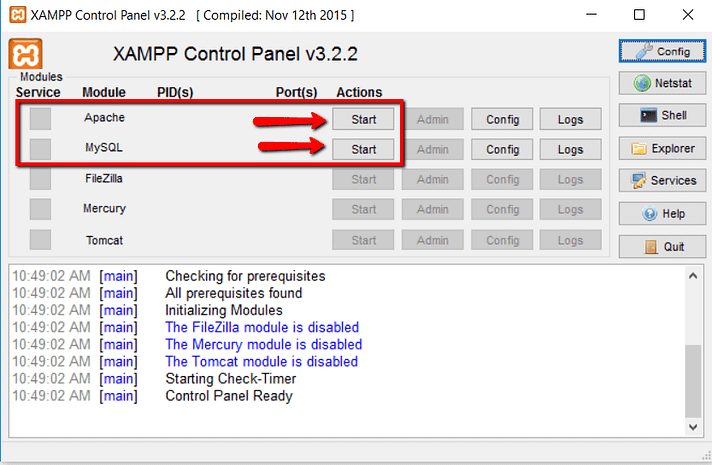 Once you launch them, you should see their status turn to green: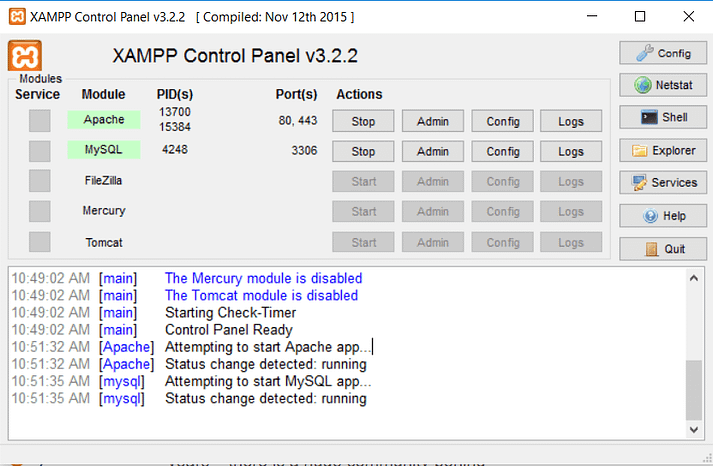 And now you should be able to test that your local server is working by going to http://localhost/ in your web browser of choice: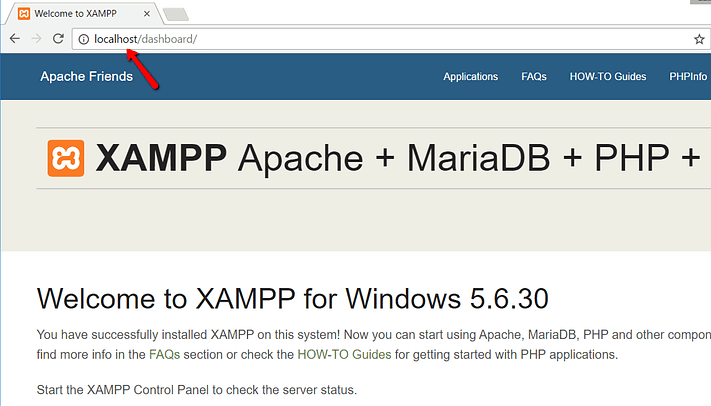 If all went well, you now have a functioning XAMPP server on your Windows PC! But now it's time to install XAMPP and wp. So here's how to get a WordPress site up and running on XAMPP.
Step 3: Add the WordPress files
If you've ever manually installed wp, the rest of the process should feel pretty familiar. First, you need to go to wordpres.org and download the latest version of wp.
Then, in Windows, navigate to the folder where you installed XAMPP. For me, that's C://xampp. It should be something similar for you. Then, in that folder, find the htdocs subfolder: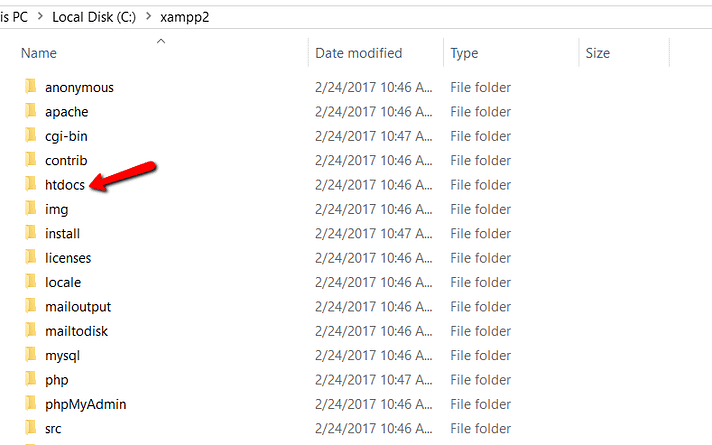 In htdocs, create a new folder for your test site. This folder name will become the sub-name used to access your site. For example, if you make the folder testsite, you'll access your site by going to http://localhost/testsite.
Once you create the folder, extract the WordPress .zip file you downloaded from wordpress.org into it: