Microsoft is an enterprise partnership tool that acts as a serious competitor to Slack and similar services. Can it be used to manage all kinds of businesses?
 Microsoft Teams call Microsoft to users' needs for easy management and enterprise collaboration tool in the modern world. It is a serious competitor slack and soon replaced the business service Skype ( Skype for Business) will be.
In addition, Microsoft Teams is available in a free version that meets the needs of many small and medium-sized businesses.
What is Microsoft Teams ?
Microsoft Teams is an enterprise communication application used for a variety of small businesses, large organizations, and even individuals such as freelancers with customers or students with teachers.
Anyone who needs teamwork on their files (especially Office files) in their coordination programs and activities can take advantage of Microsoft Teams features. In addition, Teams provides a variety of communication and messaging tools for him.
Microsoft Times features include VoIP, video and text chat, and most importantly, easy integration with tools such as Office and SharePoint, all of which are delivered in a simple and streamlined user interface.
The free section of the Teams platform allows you to manage business activities for groups of all sizes. Users can perform a variety of shared activities live on a desktop platform (for Windows , Mac, and Linux ), or a web application (with slightly lower performance), or a mobile application.
The initial idea of ​​Microsoft Teams was formed in 2016. Instead of paying $ 8 billion and buying Slack, the Redmondians at the time decided to design a similar service themselves and replace the Skype business service. Slack  , now known as a completely independent service and company, provides the user with excellent integration and coordination with Google applications .
Coordination that is similar to integrating various Microsoft tools with the Teams service.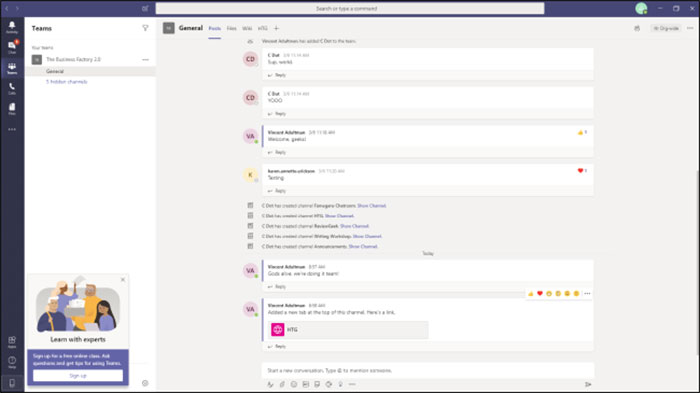 Teams will eventually become a dedicated desktop communication application on the world's most popular operating system (Windows) and Office 365 applications.
Even if you choose alternative tools for communication within your organization as a business manager, there are certainly many other businesses that use Teams as their primary tool.
One of the attractive tools of Teams is sending an invitation to attend a private meeting for people outside the organization. As a result, in the not-too-distant future you may receive a Microsoft Teams invitation to attend a video conference.
Microsoft also has serious plans to implement Teams in educational environments. They have also developed a version of Microsoft Teams for Education, which is a great solution for classrooms.
Teachers can implement solutions such as homework, booklets, and even tests through Microsoft forms and other tools in Teams . In addition, there is a large appstore next to the Teams that provides links to many convenient teaching services such as Flipgrid, Turnitin and MakeCode.
What are the capabilities of Microsoft Teams ?
With its core capabilities, Microsoft Teams manages and simplifies all the interpersonal interactions that should take place in a business between employees. In a world beyond the business world, Teams can be used in any group that needs digital communication and interaction.
The basic structure of the Teams begins with the formation of the organization. You can then invite different people to the organization and categorize them into different groups (teams) with different accesses. Individuals can have group or personal chats in groups, as well as public or private channels. Channels offer a variety of features such as instant thematic chat, file sharing, and even instant task management.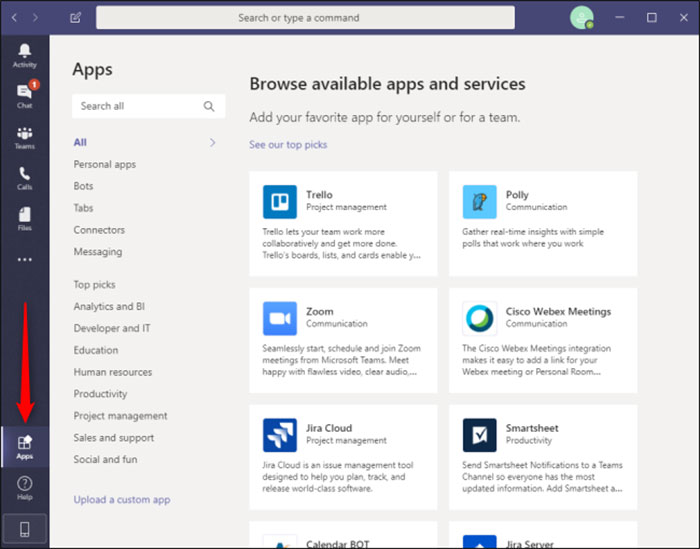 Microsoft provides a service called Advisor for Teams that can make it easier for users to streamline their business structure. After initial setup and setting up groups and accesses, you can perform a variety of activities such as virtual conferences and the production and sharing of file types with Office 365 or any other file sharing and storage service.
The integration of various applications in Teams is easy and adds a lot of services and capabilities to your organizational connection. To access the various applications, you can use the Apps section inside the Teams itself, which is located in the bottom left corner of the desktop application.
How much does it cost to use Microsoft Teams ?
Small and medium-sized organizations with up to 300 people can use the Teams for free
Users can create an organization within the Teams and invite up to 300 people to it at no cost. In addition, educational collections with valid certification do not have a limit on the number of people. You can then manage members of the organization on the Teams in multiple teams and channels with voice and video calling capabilities and 10GB of storage (plus two gigabytes of storage per person).
As mentioned, in addition to integrating the Teams with Microsoft's various services, you can integrate it with services from major companies such as Google, Adobe , Trillo, Ornot, and hundreds more.
If your organization has less than 300 employees and you need it for activities such as voice and video chat, file sharing and editing in Office 365 and similar services, you can use it now for free.
If you are looking for formal support, more storage space, more security , wider meeting capabilities, or compatibility with professional apps like SharePoint, Yammer, Planner, and streaming apps, you should pay $ 5 per month per user.
Another version, which offers access to desktop applications such as Word, as well as several other features with much more storage space, costs $ 12.5 per month per person.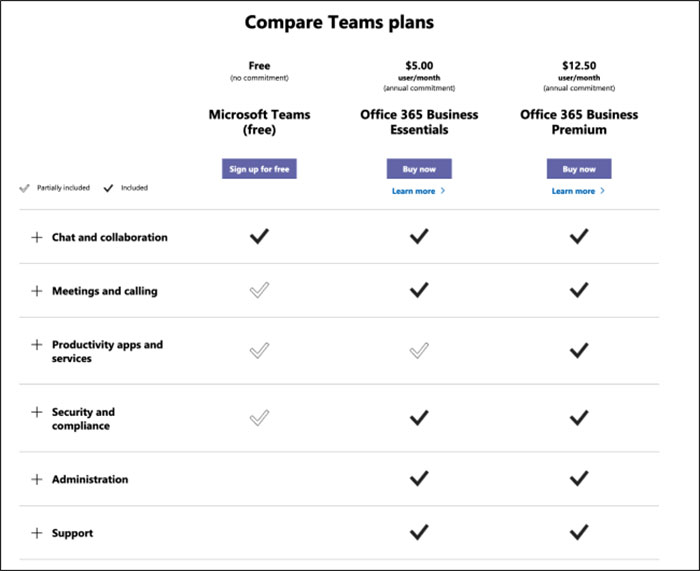 The cost of using Microsoft Teams paid services is included in the annual renewal discount. Full details of the cost of the services can be found on the official website of Microsoft Times .
Microsoft Teams vs. Slack
IBM uses Slack for its corporate communications. In contrast, the NFL has selected Microsoft Teams for players, coaches and staff. Intense competition between the two main services of intra-organizational communication made them more and more similar. In fact, both try to cover the maximum facilities needed by organizations for communication and interaction, which makes them similar.
There are some big differences between the two services. The free version of Slack, for example, provides more storage space (five gigabytes) per user per organization.
Of course, such differences are likely to disappear as competition between Teams and Slack increases. On the other hand, the Teams receives a lower cost than the Slack ($ 67.6 per month) in the basic monetary version.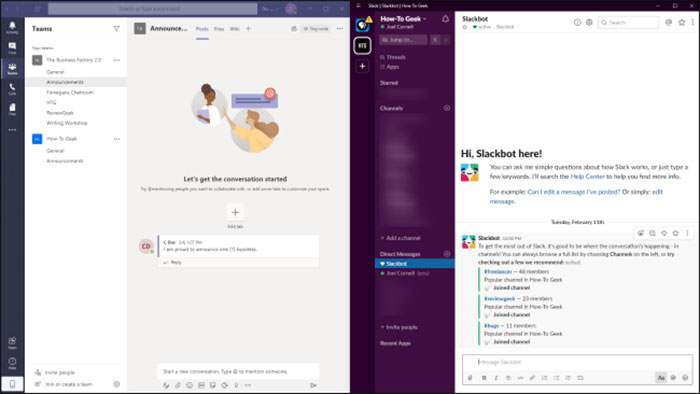 Teams has more advantages for large organizations than Slack
Teams has many advantages over large organizations for slack. Differences in this section include scheduling conferences, reporting meetings in great detail, and sharing screens with multiple users on the Teams .
Both services support a variety of robots in groups and channels and offer their service across all operating systems.
Deep personalization is also a common feature of Teams and Slack. Of course, eventually, with the development of competition and standardization of capabilities in both services, we will gradually see the differences decrease.
The biggest difference between Slack and Teams is that Teams belongs to Microsoft.
As a result, the Redmond service is even better integrated with Office 365 services, even in the free version.
In contrast, Slack is synchronized with Google services (along with Office 365 and SharePoint) by default. However, the services required by the business have a huge impact on the choice between Slack and Teams . Other similar tools include Discord and Google Hangouts.
Finally, choosing Teams for in-house communications and other applications has a lot to do with your organization's needs and the application you expect from the service. Before choosing any communication service and organizational coordination, check its compatibility with your current services. In general, the choice of this type of service, like many other digital services, depends on you and the application you expect.