Watermark (throwing Lego on the photo) as a group in Photoshop
Adding a white Lego to the image is a step that should not be overlooked. Because first of all it can protect your authentic images from being used illegally by others. 
Second, it can be a powerful marketing tool that will increase your website traffic and bring in new customers.
How to add a watermark to multiple images
This Photoshop tutorial shows you how to mark a complete photo folder at the same time. This way you can save a considerable amount of time and improve your productivity.
Step 1 – Open the image
The first thing you need to do is open one of the images in the selected folder. To do this, go to File> Open and select the image.
Step 2 – Start recording a new action
For the next step, we need to use the Actions panel provided by Photoshop. Basically, we want to tell the software to record all the actions taken from now on and repeat them later.
Steps to follow: Go to Window> Actions, click the "Create new Action" button, choose an appropriate name, in this particular case "Watermark", and click "Record".
Step 3 – Create your watermark
This is the step where you choose which type of watermark you want to use and where to put it. If you are using a copyright notice, it is recommended that you place it in the lower right corner. In this way, it causes less disturbance and does not cause distraction from the image.
Select the Horizontal Type Tool and start typing your watermark name, which can be your name, your website name, or anything else you want. Then change the look to your liking by playing with the font, size, color or transparency.
Step 4 – Apply effects to your watermark text
If you want to make your watermark stand out, Photoshop lets you apply special effects. To do this you need to click on "fx" on the right side of the page and then on Options Blending. Here you can play with Bevel & Emboss to add highlights and shadows to the watermark, add stroke, inner / outer glow and more. Of course, this step is completely optional and depends on the individual settings of each user.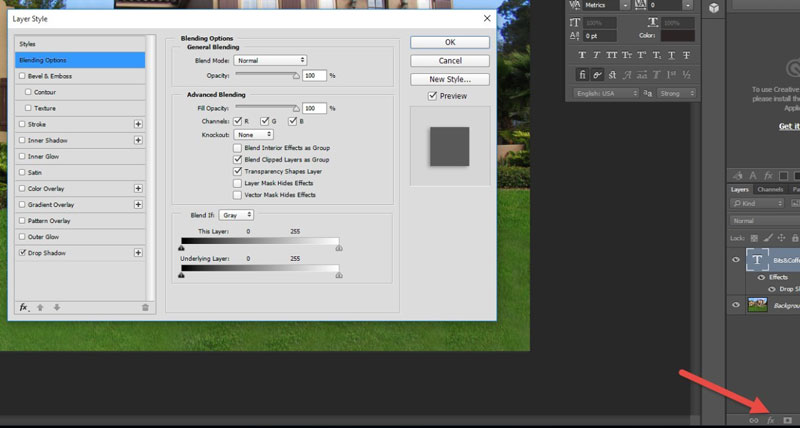 Step 5 – Insert your watermark
The following step is very important because it ensures that the watermark you apply to the original image maintains its position in all processed photos from your selected folder. Here's what you need to do: In the Layers tab at the bottom right of the page, select the text and image layer by pressing Ctrl + Click.
Now look at the main toolbar and you will see that the Arrange buttons are now clickable. Click on the "Align right edges" button and then on "Align bottom edges". Alternatively, you can go to Layer -> Align -> Right Edges, then Layer -> Align -> Bottom Edges. Whichever method you choose, it will place the watermark on the bottom right edge.
If you feel that it is too stuck to the edge of the image, you can choose a little padding. To do this, just select the Text layer and then use the arrow keys to move it left or up until you find a position that suits your taste.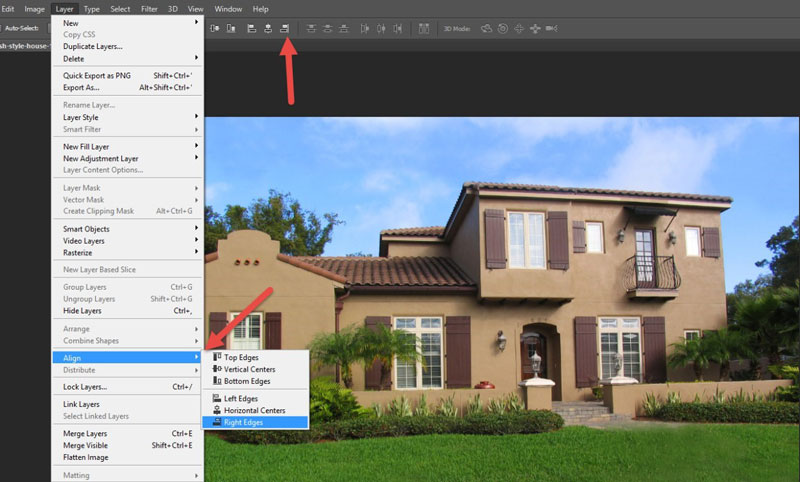 Step 6 – Stop recording
When you're done, go back to the Actions page and click the square button that says "Stop Recording." At this point you can close the original photo as you need it.
Step 7 – Start group processing
Now all we have to do is run this process automatically for the whole folder.
Go to File -> Scripts -> Image Processors. Select the folder you want to process as well as the folder where you want to save the processed images. Save the images in JPEG format and select the quality you want. Make sure "Run action" is checked in the Preferences section, select what you want to do (we originally called it Watermark) and click Run.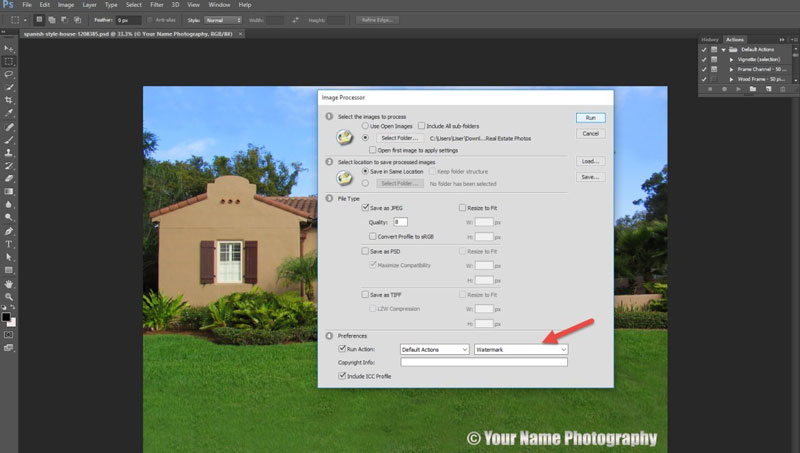 When Photoshop is done, you can go to the destination folder where you saved your photos and see the marked images.