How to draw a portrait (face image) of a person in Photoshop?
In this tutorial, in addition to learning the steps of portrait painting in Photoshop, you will learn all the principles and rules of working with different types of brushes and tips related to digital painting.
 To draw digital drawings, we recommend using graphic tablets and light pens to have more control over the work.
In this tutorial I'll show you how to paint a woman portrait from scratch. You'll learn some basic rules to form your painting, the tips to paint effectively, how to use brush and take care of the details.
A graphic tablet is highly recommended for this tutorial.

We'll start this tutorial by learning something basic of female face anatomy to define the base of our painting. After creating the base of the head we'll go more for the details of the face, hair, body and dress.
Later we'll use a few adjustment layers to make the color stand out. Finally we'll refine some details to complete the process. You can use any versions of Photoshop to follow this tutorial.
Here is a new tutorial for all the drawing lovers. In this tutorial, we will make a quick sketch, scan the sketch, and convert it into Photoshop. Then the fun will begin. Drawing a portrait is not very simple, but with some knowledge you can achieve a lot.
The end result may not look exactly like the person you are trying to draw, but the important thing is to do the best you can and make the eyes, mouth, or nose look similar to your subject.
The end result in this tutorial looks more like me, but to tell you the truth this is just a coincidence. Also, I would like to thank Necula Cezar for throwing a helpful hand in this… I am working hard to produce great quality tutorials for you and help is a must.
Step 1
Open a new page in Photoshop according to the settings below.
Blacken the background color. Do not forget that in digital paintings, it is better to have a large screen size so that you can easily draw the details of the painting.
Step 2
At the top of the page, draw the original shape of the manikin's head with the help of the brush and color # c99e80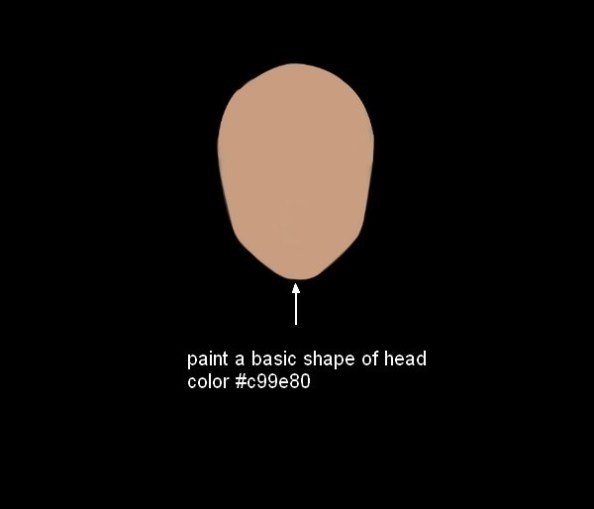 By drawing guidelines, approximate the location of the facial limbs.