Have you ever cheated in the game? In this article, we examine the types of cheating and the various causes of cheating in the game and examine whether cheating is worth spending money and the risk of being deprived of the game  to achieve a win that is not real or not.
Gamers Cheat, In 1982, I was playing Silent Hill for a long time. From the extremely frightening atmosphere of the game and the age inconsistency, I had reached a stage in the game where there seemed to be no way forward. Maybe for weeks I would turn on the PlayStation console , put the game in the machine, and spin around for hours. 
The game character was trapped in a room that had no way out, and the only way out was through a hole in the wall that was now completely blocked. I was very eager to see the end of the game, but it was as if I was stuck in the room forever. I felt like the game was punishing me for not being able to find a solution. 
According to Dara O'Brien, an Irish stand-up comedian, you do not need special skills to watch movies, read books or listen to music, and everyone can enjoy this model of entertainment and artistic activities; But to play video games, you have to be skilled, and if someone can not play well, the game punishes him and does not allow him access to the rest of the game. 
Imagine when you read a book, when you get to Chapter Three, the book asks you what has been the main theme of the story so far?
 And if you can not answer the question correctly, the book closes suddenly and does not allow you to read the rest of the story.
 Or, for example, you are listening to a music album, and when you get to the next song, the album suddenly asks you to prove your singing skills to him, and if you do not succeed, your access to other songs will be cut off. 
The game punishes the gamer for not having enough skills
It is far-fetched to imagine such situations for watching a movie or reading a book, but this is exactly what happens in the world of video games. 
If the gamer can not cope with the puzzle or does not have enough skills to defeat the enemies of the game, he will not continue the game; This is where you either have to give up the game completely or ask for help. 
Of course, in those days I was not willing to leave the game and I did not have access to the Internet to get help from it. I also found the solution by accident and finally managed to see the end of the game.
 But now that 17 years have passed since that day, I think if I could have cheated then, I would have finished the game sooner and had time to try more games. 
But if I got the answer by cheating, would it give me the same sense of joy and satisfaction that I experienced that day and still remember?
Cheating in the game seems to be a much more complex phenomenon than previously thought. However, there are many people who cheat in the game, especially online multiplayer games, without considering all aspects and without any internal conflict. Why? What draws gamers to cheat? And is cheating worth the game?
All kinds of cheating in the game
Before examining the reasons for cheating in the game, it is good to first identify the types of cheating. In-game cheating can be broadly  divided into law  – breaking cheats and game- breaking cheats .
Lawless cheats only manipulate the rules of the game in favor of the gamer and are often used to advance the game. But game-breaking cheats have nothing to do with advancing the game and happen to be used to ruin the game. 
The reason for this is either to annoy other gamers and ruin their gaming experience (which in the gaming world such a person is called " Greifer ") or to test himself against the creators of the game.
 In this context of anarchy and sabotage, cheating is actually the game itself, and the gamer entertains and challenges himself by ruining the game.
Fraud is divided into two categories: law

  – breaking and 

game-breaking
 In a speech at the GDC (Game Developers Conference) event on online multiplayer game cheating, Jeff Morris likens people who engage in game- breaking cheats to the bully Jimbo Jones in the Simpsons cartoon: "These are people."
 "They want to ruin the game, and their competitors are the developers who want to get their attention."
In another category of types of cheating in the game, we can refer to cheat codes that the developers themselves design them in the game and allow gamers to use them. Cheat codes are designed both to test the game and to make the gaming experience easier and more enjoyable.
In GTA San Andreas, for example, pressing game buttons in specific sequences activates infinite ammo, infinite money, or jetpacks. Such cheats, which are activated by pressing a button in the game, are called "cheat code" and work only because the developer has designed it this way. 
Another type of cheat in the game is the help of walkthrough guides written by other gamers with the aim of teaching the game steps, solving puzzles or how to defeat the bosses. Step-by-step guides fall into the category of positive cheats, as they not only do not ruin the game for others, but also help the troubled gamer who is stuck in the game at any moment and may leave it out altogether, be encouraged to continue playing (although it is possible).
For some gamers, progressing with cheating may not be as satisfying as progressing without cheating. 
Watch the step-by-step guide on YouTube "Netflix Video Games"
Step-by-step game guides have long been available in a variety of formats (magazines, bulletin boards, websites, and videos) to make the gaming experience more enjoyable and easier for people who feel the game is punishing them. 
According to the Games Reader website, watching a step-by-step guide to games on YouTube is like watching a Netflix video game .
Another type of fraud is the use of emulators to run games on an incompatible platform. Some of these emulators are made to evoke a sense of nostalgia; For example, to run old Sega or PlayStation games on PC, because access to the main consoles of these games is not available to everyone.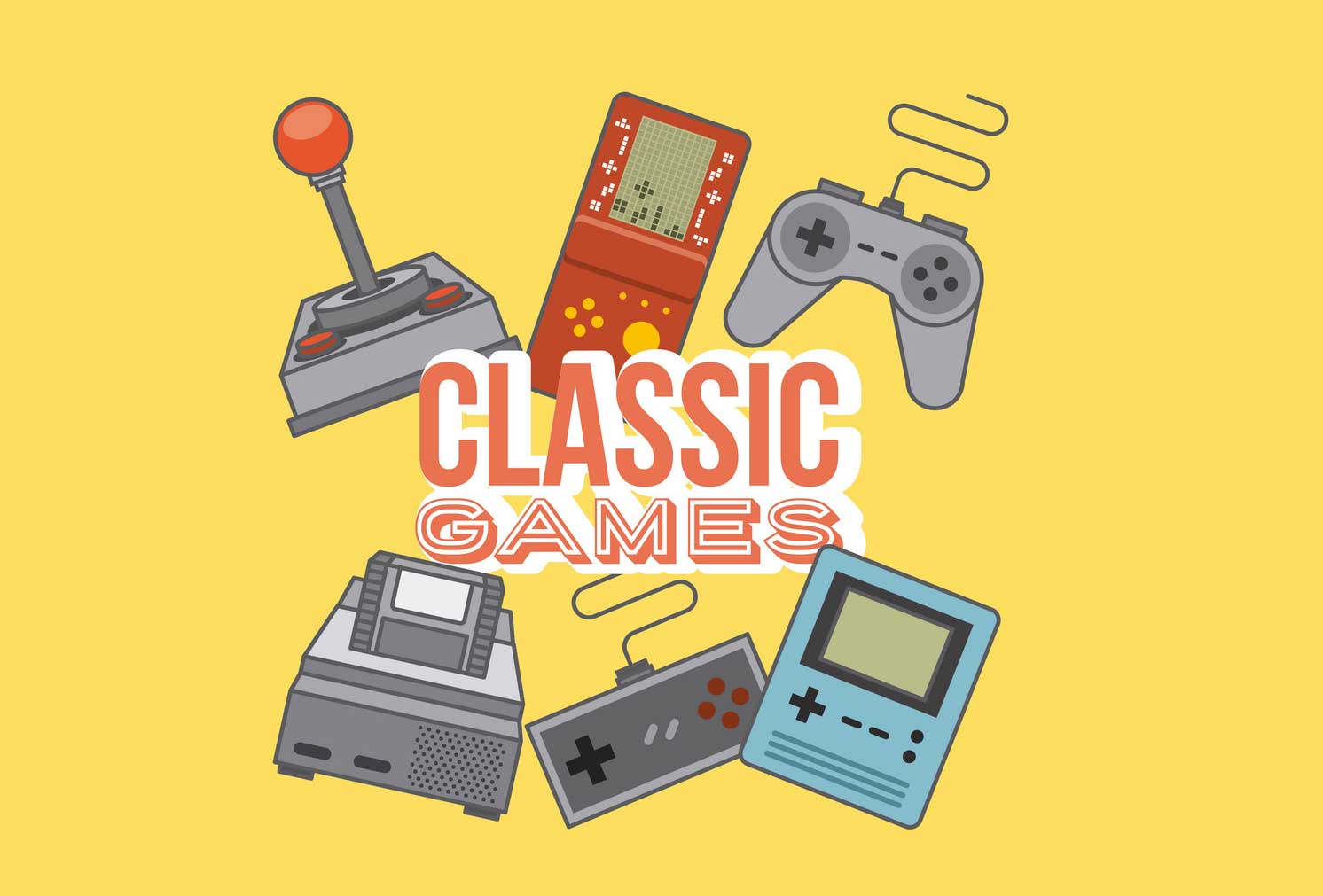 Some emulators are built to give gamers access to classic games, but others are considered cheating tools.
But some emulators are designed to run mobile games on PC. If these games are single player, they are classified as harmless cheats. But people who play online multiplayer mobile games on PC with the help of emulators have better control over the game and will perform better than other gamers.
 Many gamers do not have a positive view of this type of cheating and believe that people who play mobile multiplayer games with PC, spoil the gaming experience of others. 
But in addition to positive cheats that do not harm anyone and only improve the gaming experience in single-player games, and emulators that can be both annoying and annoying are cheats and hacks designed for use in online multiplayer games. 
These hacks increase the performance of the gamer in a very unfair way and in turn cause the performance of other gamers to decrease sharply compared to him. 
Obviously, the use of these hacks is mentioned in gaming forums, and gamers who use this type of cheating usually do not talk about it in game forums. 
In addition, to access these types of hacks, you usually have to buy them, which are sold illegally. In China, people who sell multiplayer games such as PUBG or Dota 2 and make a lot of money in this way are arrested and sentenced to several years in prison if identified; Of course, not only because the sale of hacking and manipulation of the game code is illegal, but also because the income earned in this way is not taxed. 
Why do we cheat?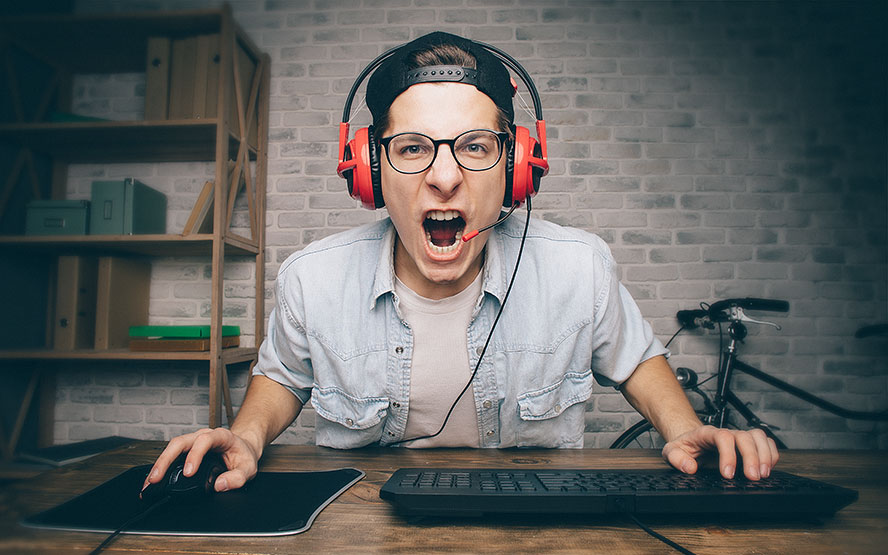 The ethics of the video game experience are complex and ambiguous. We all grew up with cheat codes and exploits created by the game designer himself, which was the accepted part of the game. 
Even the very structure of the game world, with hidden shortcuts and puzzles, tells the gamer that there are places in the game where the rules, ethics and even the geography of the game can be changed at the will of the protagonist.
 On the other hand, in the game world, winning is more important than anything (in many stages, if you do not win, you will not continue the game). 
Under these circumstances, is cheating gamers a strange phenomenon?
maybe no; But for many gamers, cheating in multiplayer games completely ruins the gaming experience of others. Even if this cheating does not directly affect the individual's game, it still seems to have violated some kind of social contract. 
Game designer Holly Gramazio believes:
When people play competitively with each other, they actually exist in the world of that game by mutual agreement, and this mutual agreement defines the goal and the limitations of achieving the goal. When we find out that someone is cheating, this can upset the mutual agreement and call into question the credibility of the whole gaming experience.
Maya Kansalovo, however, takes a different approach to this phenomenon in her book Cheating: Superiority in Video Games (2017). In this book, he examines the violation of the rules of the game from different perspectives, and at the end of the study, he examines people who cheat, not as a "bad guy" in the story or someone who intends to disrupt the gaming experience of others, but as gamers with characters.
Various mentions that they are involved in complex negotiations for personal, cultural and industrial exchanges. 
In Cheating, Cansalu explains the concept of "game capital", which is derived from the theory of " cultural capital " of the French sociologist Pierre Bourdieu , and defines the position of the gamer in the group of his contemporaries. 
According to him, gambling is a subculture that has its own rules, hierarchy and individual status, and achieving success or a higher position in this subculture is, for many, a sufficient reason to cheat. 
In multiplayer games such as Call of Duty, Fortnite, and Apex Legends, items such as costumes and weapon decorations are only available to players who have reached a certain rank in the game, and having these items indicates a person's place in the game world.
 Obtaining these symbols and items can be an incentive for some gamers to cheat; Like buying fake brand clothes.
 In other words, some people cheat in games for this reason, especially competitive games, in order to reach a higher position among their fellow human beings and gain their respect and admiration. 
For some gamers, there may be a sense of entitlement. A person may consider himself so deserving of victory and have such a high level of game capital that he thinks he has the right to cheat in order to win. He may feel that the time he spends to find a way to cheat gives credence to the act of cheating; Or he may feel so involved in the game that he deserves to win anyway, even if he cheats. 
Cyber ​​psychologist Bernie Good , on the other hand, argues that the very nature of video games implicitly allows one to cheat. 
"Players can cheat and not have to face each other physically," he said. "In the virtual world, social norms are different."
When the game cheats, gamer cheating is also allowed
According to him, gamers have used cheats, tips and step-by-step guides from the very beginning to advance the game, and this has been part of the game culture. "What is different now is that more people are turning to multiplayer games."
According to Good, when the game itself cheats, for example, when the character dies and returns to the game; Since dying in the game is not the real meaning of death, can it not be said that cheating in the game is not the real meaning of cheating?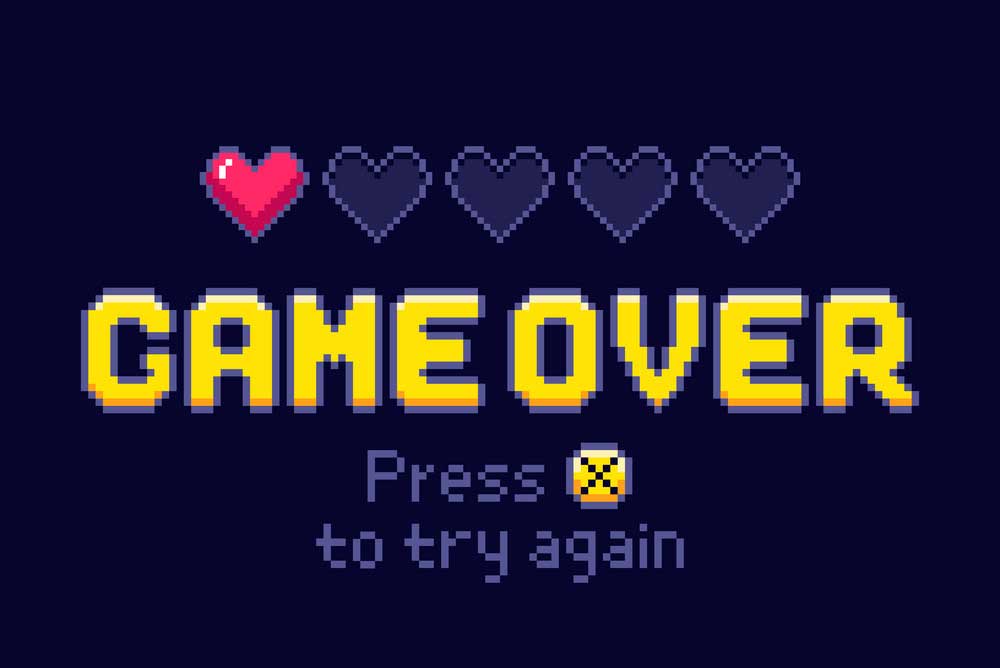 Since dying in the game is not the real meaning of death, can it not be said that cheating in the game is not the real meaning of cheating?
Another reason that leads people to cheat in the game is the shift in relationships and family plans. For example, if your older brother always has the last word and his position in the family is higher than yours, defeating him in the game can be more satisfying than any other situation. 
In this case, winning becomes a goal to improve one's position in family relationships, and sometimes cheating is the only way to achieve it. 
According doctor Lvk Tryvdy , psychological performance coach and founder of Aligned Performance (that helps entrepreneurs in developing mind to succeed in business), "There are games in which a 45-year-old heart surgeon as your child's first class, chances Has equality to win; "So if the father is usually the omnipotent of the family, defeating him in this game could be an opportunity to bring him down." 
In other words, this very rare opportunity to turn the tables upside down and gain a top position that was previously held by another member of the family can be an incentive to cheat people to win. 
The human brain has no mechanism for distinguishing play from reality
Another point that is raised here is the amount of commitment that gamers have to play and win. Some gamers take the game so seriously that they may get angry, fight with others, or be willing to cheat to win. But why do they take the game so seriously? Isn't gaming just fun?
According to Dr. Dan Van , a postdoctoral fellow at UCLA, when a person engages in a game, his or her mind does not recognize that the game is real. 
The human brain has not yet developed a mechanism to distinguish play from reality. If Shiri had followed one of our ancestors in the plains, this threat would have been real every time. There were no movies, shows or simulations at that time. Modern neuroscience has shown that just thinking about imaginary situations activates exactly the part of the mind that is used when experiencing that situation.
 For example, if your character in the game spends money to buy something, your brain is really experiencing the pain of losing money, even though the money paid is not real. 
According to Van, this sense of loss is the result of a chemical reaction in the brain; "If we could look at our brains right away, we would see a decrease in the mobility of dopamine neurons (which cause a person to feel happy and rewarded), and this is a clear sign of a real negative consequence." 
The opposite is also true.
 When a gamer wins a game, his brain takes that victory for granted and gives him a sense of joy and reward as a result of a chemical reaction in his brain and the release of dopamine.
 Maybe that's why winning and losing in the game is to some extent important and "real" for some people who are willing to cheat to achieve the desired result, even if cheating for others destroys the enjoyable experience of the game. 
The human brain is a problem-solving machine, and its structure has evolved to discover shortcuts and outperform predators and rivals for survival; Maybe the reason for cheating is as simple as we think, so we cheat. 
The result of the Zomit poll on cheating in the game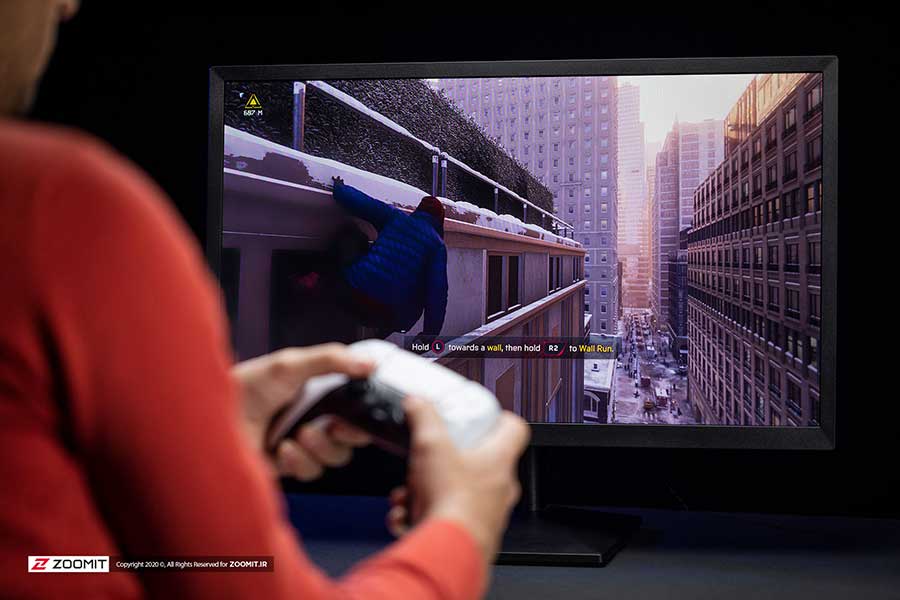 In the poll staff writer Zvmyt and Zvmjy fraud in the game, 51. 6 percent of respondents to the question "Do you ever cheat during the game?" 
They chose the "rarely" option. Among participants, 9.7 percent cheated "too much" and 32.3 percent "sometimes." Those who did not cheat "in any way" made up only 6.5 percent of the statistical population.
Of those who experienced cheating, 16.7 percent cheated online, 70 percent offline, and 33.3 percent cheated on board games.
In the case of various types of fraud, 71.4% used step-by-step guides, 67.9% used fraud codes, and 32.1% used emulators. Interestingly, none of the participants used hacks for online multiplayer games.
In the discussion of the reasons for cheating, the majority of participants (53.6%) said that they use cheating to advance the game when they are stuck in stages. 35.7% also said that cheating makes the game more attractive. In the case of 10.7% of participants, cheating by others forced them to cheat, and 7.1% said they cheated to harass other gamers.
Has cheating on other online games ever ruined your game?
90% believe that online multiplayer games should be more resistant to cheating
While most people agree with cheating in single-player games to advance the game and make the game more attractive or easier, most respondents (41.9%) believe that cheating in online multiplayer games is not right because it spoils the game for others. he does. Of those, 16.1 percent said they cheated on people who cheated, and 9.7 percent said they cheated to defeat them.
Should online multiplayer games be more resistant to cheating gamers?
Most people (42.9%) had a bad feeling about cheating in multiplayer games, and 19% were afraid of the consequences of cheating and being removed from the game. Meanwhile, 19 percent said it did not matter to them whether they cheated or not, while only 4.8 percent said they felt good about cheating and would do it again.
In this poll, 72.4% of the participants admitted that cheating in other online games has ruined their game. 93.1% also believed that online multiplayer games should be more resistant to cheating gamers.
Do you agree with selling in-game upgrade packages?
Meanwhile, reactions to the sale of upgrade packages by gaming companies were mixed. While 71% believed the packages to be fraudulent, 74.2% opposed the sale, 29% did not consider the packages to be fraudulent, and 25.8% agreed with the sale.
What to do with annoying cheating in online games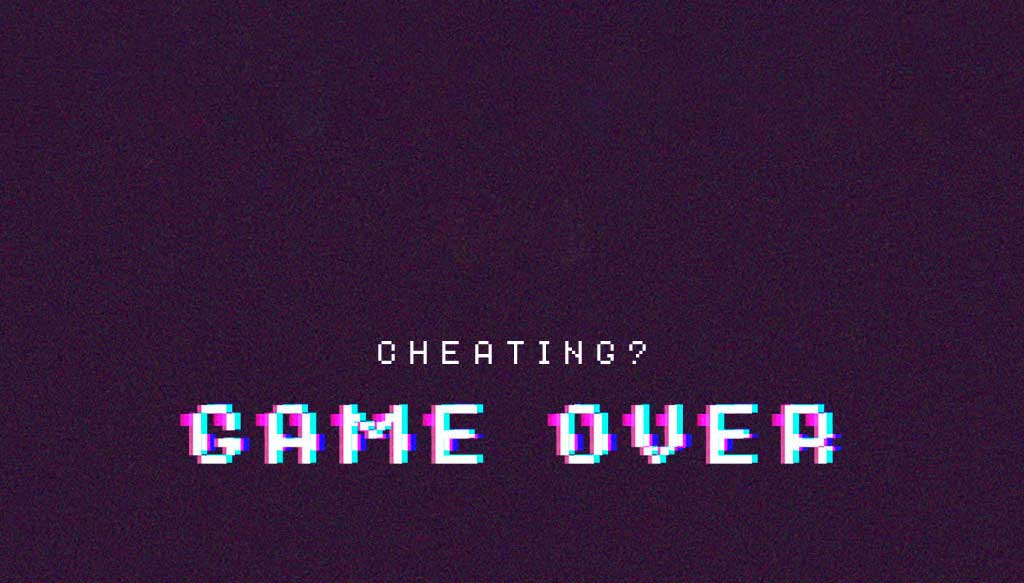 In online multiplayer games, cheating has become a chronic headache. The server of first-person shooter games such as Call of Duty, PubJie, and Counter-Strike is full of people who manipulate the game to their advantage by downloading certain software; For example, they use an aimbot that makes it very easy for them to target other players; Or use a wallhack that allows other players to see behind the wall and shoot at them; Or they use speedhack, which makes their character move faster than others. 
These hacks are mostly limited to computer games, because only on this platform, the gamer can change the software code of the software installed on the system.
 Of course, console games are not completely immune to exploits, and people take advantage of game design errors to their advantage or slow down the game by disrupting their Internet network to perform better than other players in shooter games. 
Disabling cross-play feature counters PC gamer fraud
Cheating in single-player games does not bother anyone, and in some cases it is even better to cheat and get help from guides until you have to leave the game completely; But cheating in online multiplayer games where one person wins means losing another can be very annoying and can even scatter the gamers' association that has gathered for that game after a while.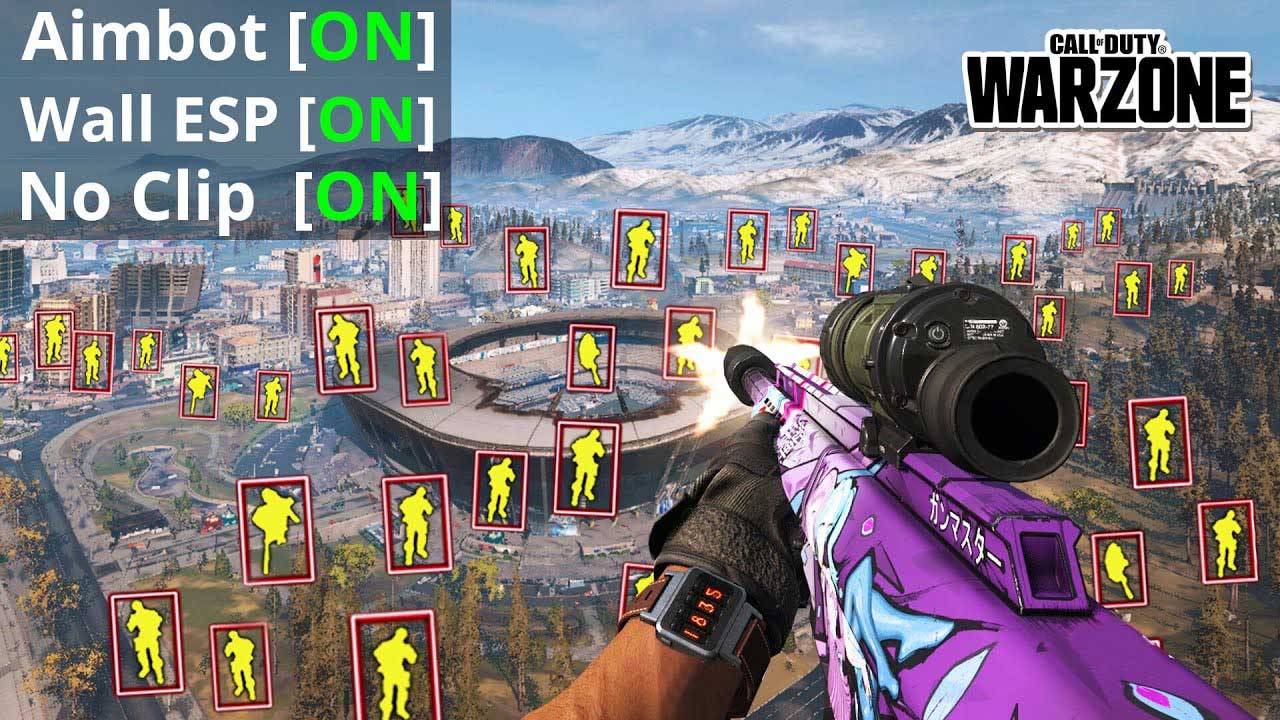 But what can be done to deal with this problem? 
Since most of these hacks are designed for PC games, and most people who cheat in multiplayer games usually use this platform, one way to deal with this problem is to disable cross-play capability , at least for PlayStation and X console owners.
 This allows them to face less cheating when playing. But what about people who play with piss and are not cheaters?
A study conducted by Iredeto ‌ (a cybersecurity services company active in the media and entertainment industry) in 2018 on 9,436 online gaming gamers in China, Germany, Japan, South Korea, the United Kingdom and the United States showed that only 12% of them have so far Other players have not had an unpleasant experience cheating while playing multiplayer online. 
In other words, nine out of ten players have had an unpleasant experience playing because of people who cheat. 
According to the company's CEO, "cheating in online multiplayer games is a problem that is getting bigger and bigger." According to him, cheating in these games not only annoys other gamers around the world, but also poses a great challenge to game developers. 
If fraudsters are allowed to operate without any problems, the impact on other players can lead to less traffic on the game server and less revenue for gaming companies.
That is, gamers who are bothered by cheating on others are moving to games where cheating is less common; People who cheat, on the other hand, spend their money on fraudulent tools instead of buying authorized products. 
To tackle the problem of cheating in multiplayer games on all platforms, it must be examined from two perspectives: supply and demand.
Dealing with demand-side cheating, that is, educating gamers about the unintended consequences of cheating, is difficult, because the result that the gamer sees from cheating is to get a better chance of winning, and he does not see this as an unfortunate outcome.
 Because the gamer cannot see the result of his cheating on the other side of the server and on other players, he is usually unable to understand their feelings and does not feel remorse for doing so.
By the way, in his opinion, this is just a game and no one is going to get a real reward by winning it (of course, there have been cases where people have cheated in online game leagues where there are cash prizes), so cheating is not There is no problem and if it makes him perform better in the game, it has an advantage. 
Therefore, it seems that the only way to deal effectively with cheating in multiplayer games is to go to the supply side; This means that game developers can technically design games in such a way that cheating tools cannot be used in them. They can also deal with websites that design hacking tools.
Which games are cheated the most?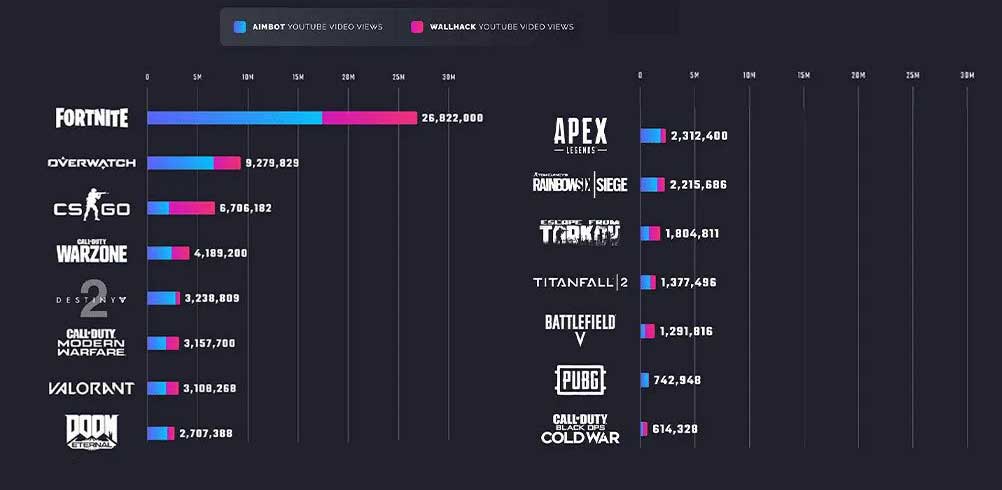 Gamers have watched aimbot and wallhack hacking videos more than any other game on Fortnite.
Anti-fraud protection systems, such as BattlEye, which Ubisoft uses in its games, block a gamer's account as soon as they detect fraudulent tools on the system.
 Last month, Activision blocked the accounts of 60,000 Call of Duty Warzone players using fraudulent software. The game, which was released in March 2020, has more than 85 million players to date, and according to Activision, more than 300,000 accounts have been blocked due to cheating in the game.
 Battle Royale PubJie has blocked nearly 30,000 accounts for using radar hacking (which identifies all players on the map), including professional players. 
But the problem is that blocking one cheat software leads to the development of another software, and blocking gamers' accounts has so far failed to deter them from using cheat. 
On the other hand, security strategies against hackers must be sophisticated enough to defeat them. 
Carl Magnus Trudson , CEO of Swedish studio Dice , which has been developing the online multiplayer game Battlefield , says that in order to combat the cheating problem in the game, a separate team at the studio has the task of identifying and blocking fraudulent players. 
According to him, the best way to fight fraud is to check the performance profiles of the players. Since cheat software cannot be removed from gamers 'systems, Dice Studio's anti-cheat team looks at numbers and figures related to players' performance, and for example, if their kill-to-death ratio in the game is greater than the specific number specified by the algorithm, it The person may have used fraudulent software. 
"We are constantly blocking a lot of fraudulent accounts." He likens the fight against game fraud to an "arms race" for which no end can be imagined. 
Some gaming companies are trying to outperform hackers in offering fraud
In an arms race, the two sides try to outdo each other, and some gaming companies seem to be trying to outperform hackers in offering fraud. To do this, they design upgrade packages and sell them to gamers who want to upgrade their character immediately in the game without spending hours.  
For example, in order to combat fraud and prevent gamers from being attracted to illegal hacking tools, Dice has introduced packages called "shortcuts" that players can pay to upgrade instead of playing for hours. 
For example, buying a shortcut bundle in the Battlefield game immediately makes all the items related to all the cars in the game available to the player. 
Gaming companies seem to be legalizing fraud by doing so. But if fraud becomes "legal", is it morally justifiable?
Is it morally (and logically) better to spend the money used to buy fraud from hackers to buy fraud from the game company itself?
This question is not easy to answer, because each choice has its advantages and disadvantages. For some gamers, selling upgrade packs for paid games is not the right thing to do.
 In fact, the gaming company is somehow making a profit from it. Selling bundles of purely decorative items will not ruin the gaming experience, at least for those who do not want to spend extra money on gaming; But bundles that improve player performance can be as annoying to people who don't buy it as illegal hacks.
Of course, some argue that buying these bundles does not make a person a better gamer, and only provides him with more powerful tools that require hours of play to master them; But it may seem to others that guns do not kill, but kill.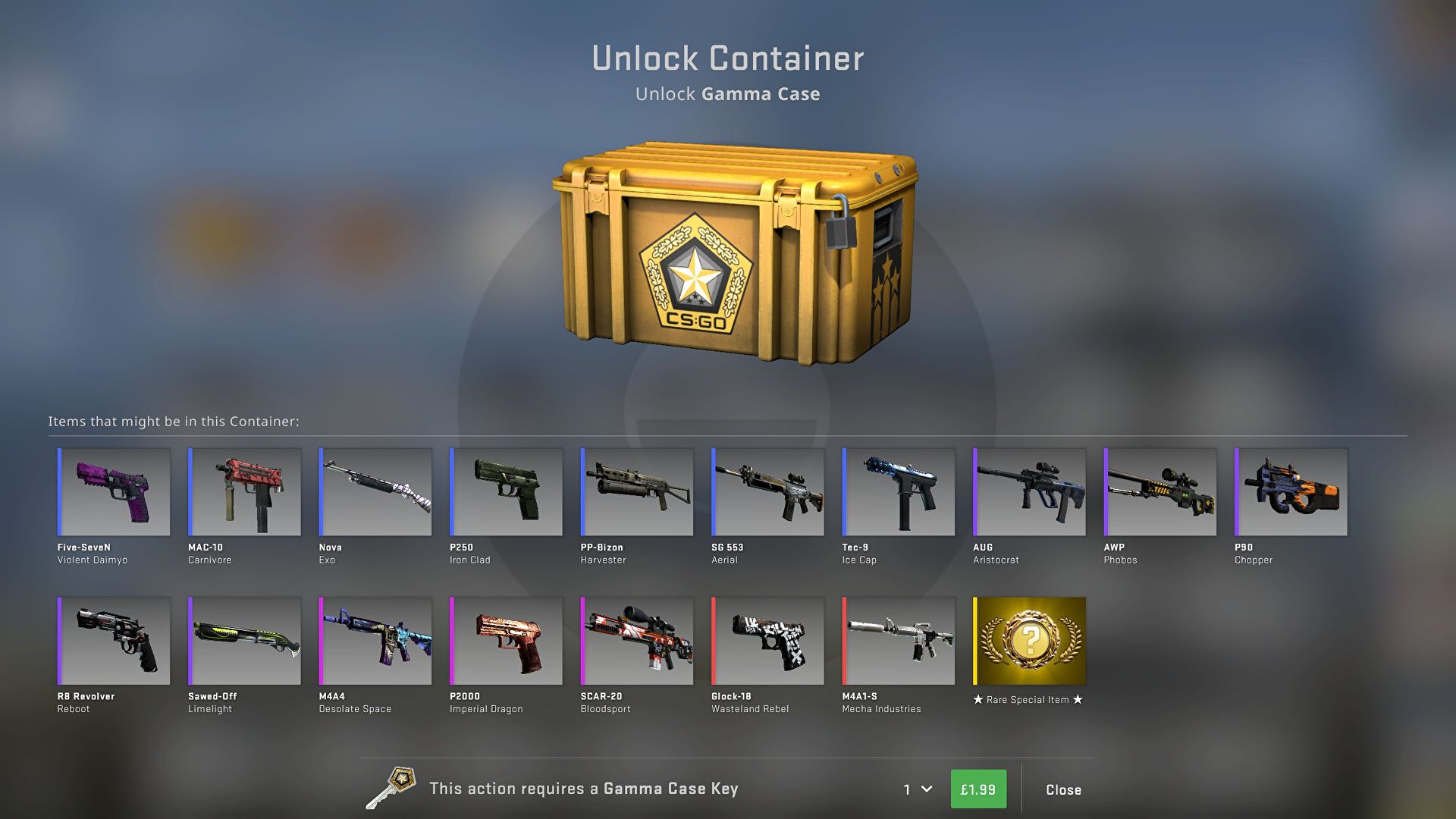 Lottery boxes in online multiplayer games have the status of buying "authorized" fraud
On the other hand, lottery boxes in online multiplayer games are similar to buying "authorized" fraud and have become a mechanism for monetizing the game company.
 Many people are not willing to pay to open these boxes, and their character performs worse in multiplayer games than the characters of people who have spent money on these boxes and the items inside them. 
A country like Belgium, with its very strict rules against gambling, has banned the sale and purchase of any lottery box in games. 
Gamers also seem to be dissatisfied with paying for something they do not know the contents of. 
Buying cheat software from hackers will undoubtedly give the gamer a much higher upgrade than game bundles, but he runs the risk of blocking his account.
 On the other hand, hacks used for automatic marking or invisibility of the wall put other players in a much weaker position and ruin their gaming experience.
Anyone who decides to cheat in the game for any reason should ask themselves the question: Is cheating worth spending, risking account blocking and harassing other players? Because it seems that the only factor that can really stop a person from cheating in online multiplayer games is himself.