TOEFL Vocabulary Book, Choosing A Good TOEFL Vocabulary Book Can Play An Important Role
Choosing a good TOEFL vocabulary book can play an important role in your learning. Therefore, it is necessary to be careful in choosing useful and reliable sources. 
For this reason, here we are going to introduce and briefly review the best books for learning TOEFL vocabulary. So if you are applying for the TOEFL test and you do not know which resources to use to expand your vocabulary, join us.
Every year, more than 800,000 people take the TOEFL test. One of the most common concerns for TOEFL test takers is how to expand their vocabulary, and this is very natural because no matter how many words we learn, there are still words we do not know what they mean. Many books have been written on the subject that exclusively teach TOEFL-related vocabulary. These books can greatly facilitate your vocabulary learning process.
1. Check Your English Vocabulary for TOEFL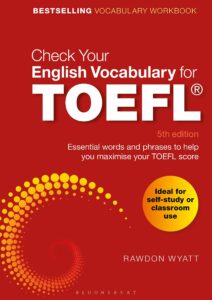 The vocabulary exercises in this book will help you learn many of the words and phrases you may encounter in the writing, listening, and reading sections. This book is divided into two parts. The first part deals with general vocabulary and includes synonyms, idioms and phrasal verbs. The second section, which is smaller than the first section, focuses on the frequently recurring topics on the TOEFL test.
How to use the book
First of all, keep in mind that mechanical exercises will always make you feel tired. Psychologists believe that learning happens sooner in spaces that are new to the person. So be diverse in your choice of study location.

Registering any new word is a very useful method. So write down new words and terms. For this purpose, there is a vocabulary page at the end of the book. You can get ideas from it and build your own dictionary of terms and terms and refer to it whenever you need it.

  Always have a dictionary with you. This dictionary can be an application on your phone. But for the first time, try to solve the exercises with your knowledge and guess the meaning of the words without checking the meanings. Finally, to check if you have a good understanding of the concept, search for the word and learn its exact meaning.
Essential words for the TOEFL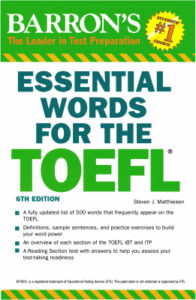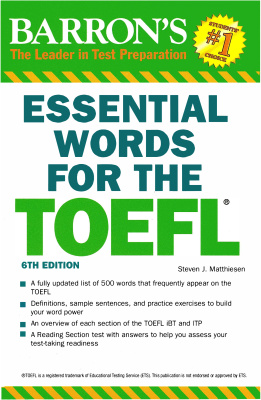 This book is specifically designed for ESL language learners preparing to take the TOEFL and contains up-to-date vocabulary that is often seen on the TOEFL test. By reading this book, you will get acquainted with a large number of TOEFL words that are used in the speaking and writing sections of this test.
 For each word, it gives examples of sentences that by reading them you can get acquainted with TOEFL words and their usage. This book is the result of more than 20 years of research and although it is updated once in a while and a new version enters the market.
How to use the book
This book consists of six sections:

Chapter (1) describes the complete format of the iBT test and explains all the parts in detail and, most importantly, introduces the testing strategies.

Chapter (2) talks about the importance of words. In this chapter you will find good texts similar to TOEFL Reading texts and response strategies.

Chapter (3) gives you a plan to read and practice the words in this book.

Chapter (4) teaches you the roots of words. In this chapter, you will also learn about important and useful prefixes and suffixes in English.

Chapter (5) will give you comprehensive guidance on how to read and understand vocabulary and how to learn TOEFL vocabulary according to the syllabus, you can get everything in this chapter.

Chapter (6) provides a comprehensive test for you to measure your learning.
Tip : Assessing yourself at different stages of learning TOEFL vocabulary is one way that can build confidence in language learners because people are motivated to see their progress and continue to learn with more energy. One of these books contains sample TOEFL test questions and the answer key. By answering these mock tests, you can test your English language skills.
This book contains a total of exercises for learning 500 TOEFL words. In the index section at the end of this book, you can easily find the page of any word you want.
Vocabulary for TOEFL® iBT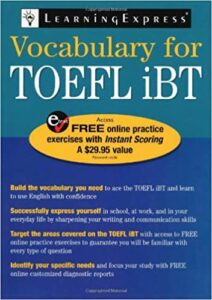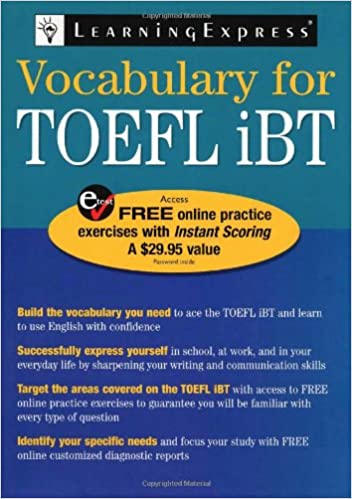 This book is another useful Taql vocabulary book that provides you with the essential words you will need for the TOEFL test.
How to use the book
It does not matter how many days away from the TOEFL test. By planning this book, you can take a big step towards preparing for the TOEFL test. All you have to do is set a goal and stick to it. For example, if your goal is 2 hours a day, spend 2 hours at any cost.

Keep in mind that if you try hard once, you no longer need to spend extra time, and in the first time you can get a good TOEFL test score. This book is designed in such a way that with continuous practice 5 days a week, you can get a very good result.

In this book, TOEFL words are considered in the form of various topics. The chapters are separate and you can either read the chapters in order or start from any section you want.

The TOEFL vocabulary at the end of the book is in the form of two tests that allow you, in addition to reviewing what you have learned, to identify your flaws and know which part you should spend the most time on.
Make sure you have the necessary ability by experiencing different types of vocabulary questions such as completing a sentence with the right word, right-wrong, word definition, synonyms and sentence construction. Learning TOEFL vocabulary is a sweet and easy process that will make it much easier to use useful resources.