Tips About Mellat Campus Cinema And Its Entertainment Facilities
The purpose of going to the cinema is not always just to watch a movie. Recently built movie campuses have so many different entertainment and leisure facilities that you can have fun even if you do not want to watch a movie.
 Pardis Mellat Cinema, which we want to talk about today, is one of these equipped cinemas in Tehran. Join us to learn more about this collection.
Let's get acquainted with the environment of Mellat Gallery Cinema Campus
The first thing that attracts attention about Mellat Campus is its beautiful architecture, which is made by combining a concrete body and a glass facade, and it is considered as one of the sights of Tehran . 
Before you get acquainted with the interior and halls of Mellat Campus, it is better to know that this cinema is located right next to a large and lush park called Mellat Park, which itself is a good place for a few hours of fun and entertainment.
Pardis Mellat has four cinemas in total. Each of these halls has a capacity of about 280 people. In addition to these four halls, Pardis Mellat also has a single cinema hall (special cinema) with a capacity of about 30 people.
Mellat Campus is not just a cinema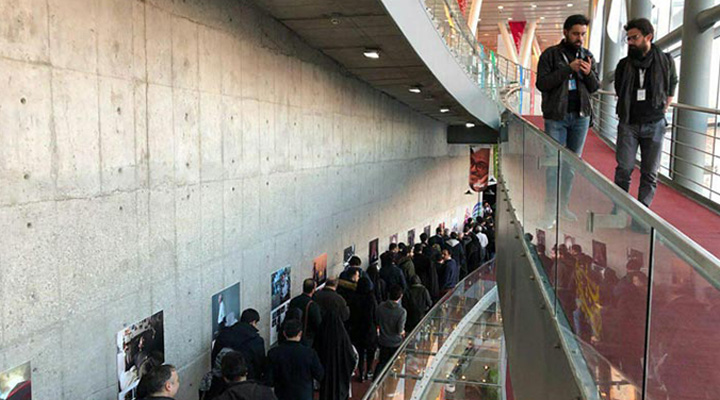 The full name of this collection is "Mellat Gallery Cinema Campus". On the negative floor of the two Mellat campuses, a gallery has been set up and contemporary works of art by our country's artists are on display. 
This also adds to the artistic burden of the Mellat Campus complex, and people who go to the cinema can spend time watching these beautiful works.
On the other hand, displaying the works of art and handicrafts of contemporary Iranian artists in a place as crowded and famous as Mellat Campus causes the works of these artists to be displayed in front of more people and also to have more sales. In other words, Mellat Campus has both entertained people and generated more revenue for artists.
What does Mellat Campus have except cinema and galleries?
Honestly, the same facilities (cinema, gallery, park) may be enough to spend a pleasant day in this complex. Fortunately, the facilities of Mellat Campus are not limited to these cases.
We have good news for people who follow cinema and visual arts closely and professionally. In Mellat Campus, there is a store of visual and audio works that you can buy products related to cinematic works at a reasonable price from this section.
Another feature of Mellat Campus is the chic cafes and restaurants that exist. If you go to the cinema and feel hungry before or after watching a movie, you can eat in this enjoyable environment. Of course, there are many kiosks in this collection that sell snacks such as hot chips, corn and..
Does Mellat Campus have parking?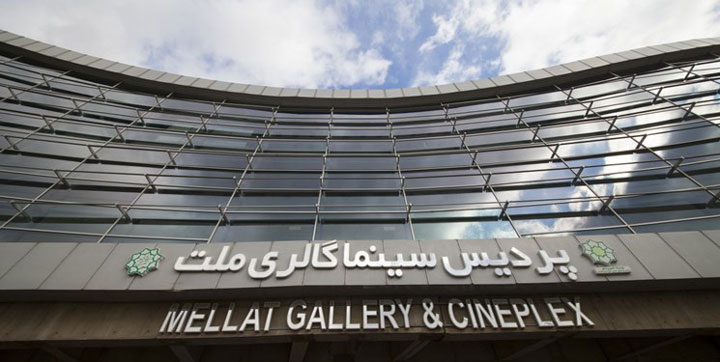 The Cinema Campus has a parking lot with a capacity of about 120 cars, but before leaving, you should pay attention to the fact that if you buy a ticket to Mellat Campus online, then for each ticket, you will be given the right to reserve a parking lot. The details of this parking place are written in the SMS that will be sent to you.
But if you are going to get your ticket in person or someone else has bought you a ticket, you may not be able to find a parking space. Also keep in mind that on weekdays (Tuesdays) and weekends, Mellat Campus gets a little busier than usual.
Where is the address of Mellat Campus?
In this section, we have brought you the access path, contact number and Google Map of Mellat Campus.
Contact number of Mellat Campus: 23162 021
Mellat Campus Address: Tehran, Valiasr St., Hashemi Rafsanjani Highway, in front of Kurdistan Highway
Mellat Campus address on Google Map
If you need more information about Mellat Cinema Campus (and other places of interest in Iran), you can visit Nabroo website .
Your experience of Mellat Campus
One of the strange features of Mellat Campus is that people enter it and recount different experiences. Some refer to the hustle and bustle of the complex as the flow of life, while others prefer to go to campus in private.
On what day did you visit Mellat Campus? Do you find it appealing? We look forward to hearing from you.