Tehran tour guide in spring days
The article of Tehran tour guide in spring days will tell you about the pleasure of adventure in different urban attractions and invites you to stay in Tehran and see its beautiful spring face instead of going on the roads of the country.
Spring and Eid days are the most beautiful moments of the capital. These days, tourism in Tehran finds a new meaning. Clean spring air and less busy streets at the beginning of the year, it is a good opportunity to visit the sights of Tehran and experience Tehran tourism in smoke-free air with the scent of flowers.
Also, if you live in other cities and you plan to travel to the capital, we suggest spring, especially during Nowruz. It's time for you to travel with us to visit the sights of Tehran in the spring.
Historical adventure in the sights of Tehran
Our first suggestion in the Tehran tour guide in the spring days is the adventure of Tehran's historical attractions. In the famous and old streets of Tehran, you will see many historical structures, most of which belong to the contemporary era.
Today, these palaces and mansions have become the sights of Tehran and have created an opportunity for adventure lovers for history. For example, Golestan Palace is one of the most famous sights of Tehran, which is located near Tehran Bazaar.
Also, Saadabad Palace, Niavaran, Moghadam House, Masoudiyeh Mansion and are other historical structures of Iran that are introduced as urban attractions today and are accessible to the public.
One of our suggestions in the guide of Tehran tour in spring days is an adventure in the garden and construction of these palaces.
Do not miss other museums in Tehran
Tehran tour guide is not complete on spring days without the capital's museums. These museums are secluded and cozy in the spring and early days of the year,
and their entrances and gardens have a heavenly atmosphere of spring.
For example, Ferdows Garden, which today has become a cinema museum,
is one of the most attractive places in Tehran on Valiasr Street and near Parkway.
The grounds of this museum, with its spring greenery and the aroma of newly blossomed flowers,
tempt you to walk in this environment. Also, adventure in building a museum and watching the history of cinema will be very exciting.
Also, if you go around Zafaranieh Street, you can visit the Museum of Time,
one of the most spectacular museums in Tehran. The Museum of Time is a collection of special and old clocks.
The mansion of this museum is built with artistic architecture and the art of plastering is in full swing.
Other museums in Tehran include the National Jewelry Museum,
Azadi Tower, Milad Tower Museum, Glass Museum, Music Museum, Negarestan Museum Garden and others.
Spring and Tehran's paradise parks
Other places of interest in Tehran and pure suggestions for guiding Tehran in the spring days are sightseeing in the city parks. Spring blooms, gentle rains and intrusive rainbows this season make the face of urban parks spectacular.
The climate of Tehran's parks in the spring is clean and oxygenated due to the arrival of the New Year and the solitude of the capital during the Eid holidays.
Among the best parks in Tehran, we can mention Abwatash, Niavaran, Jamshidia, Laleh, Saei, Mellat, Qeytariyeh, Nahj al-Balagheh and other parks. The Forest Park Cheetgar, campus, Lavizan, Taleghani and in the days of spring are pleasant mood.
Cafe tour in the spring weather of Tehran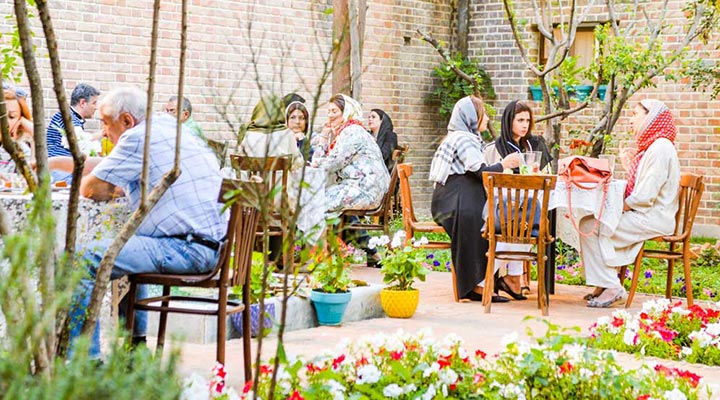 Cafe tourism is another interesting suggestion in our article on Tehran tourism guide in spring days. Spring vacation is a wonderful opportunity to invite yourself to a hot coffee in the best cafes of Tehran and watch the rainy city and spring weather in the peace of the cafe.
Naderi café near Republic Street cafe to Tehran in Villa Street cafe Diamond near St. Njatallhy, different branches of Café Vyvna cafe truthful near Vali Asr Square, Cafe Gallery in street doctor arithmetic and proposals for Kafhnshyny Guide Tehran trails in It is spring days.
Tehran shopping centers in spring days
In addition to cafe tours, shopping tours are also very enjoyable on lonely spring days. Many shopping malls in Tehran are on our list of suggestions for Tehran tour guides on spring days.
These days, you can enjoy the peace and quiet of Tehran's shopping malls and choose safely.
So if you are a shopper in a cozy and secluded environment,
you can go to many shopping centers in Tehran and return home with colorful bags.
One of the best shopping centers in Tehran and our attractive offers in the article of Tehran tour guide in spring days can be mentioned as follows:
Bamoland near Chitgar;
Circulation on Ashrafi Isfahani Highway;
Milad Noor in Gharb town;
Cyrus Shopping Center on Sattari Highway;
World of Light Commercial Complex on Resalat Highway;
Megamal in Ekbatan;
Samsung Center on Angel Street;
Gallery in Velenjek;
Elahieh Modern Shopping Mall on North Africa Boulevard;
Tajrish Citadel Shopping Center on Saadabad Street;
Palladium in saffron;
Tandis Shopping Center in Tajrish;
Rosha Shopping Center in Niavaran area.
At the end
In the article on Tehran Travel Guide in Spring Days,
we have introduced you to a collection of the best sights of Tehran to enjoy the cozy
and secluded environments of the days of the beginning of the new year in the capital.
Do not neglect cafes in the best cafes of Tehran, in the streets free of smoke and spring traffic.
Shopping on busy weekends is frustrating, and we usually do not have a good choice. We offer the pleasure of shopping in the spring days of Tehran shopping centers.
Choose calmly and enjoy your shopping. For more information about other places of interest in Tehran in the spring, you can use our suggestions. We hope you experience a pleasant tour of Tehran in the spring of '99.