Tehran Restaurants; Introducing 9 Famous Restaurants In Tehran
If you are experienced in discovering new flavors and finding different foods, you are definitely looking for quality restaurants to visit at the right time.
 In today's busy world, tasting delicious food is one of the most fascinating pastimes of every human being. Tasting a popular taste for the first time will never be erased from the mind and it will be a pleasant experience again.
 If you live in the capital or travel a lot to this city, join us until the end of this article. 
We introduce you to some of the best restaurants in Tehran to include them in your tour list and create a different experience of tasting the flavors for yourself.
Introducing popular restaurants in Tehran
You have many choices among Tehran restaurants, depending on your taste and the type of food you like. Restaurant tourism is one of the most enjoyable urban pastimes that, in addition to experiencing different flavors, provides an opportunity for conversation and togetherness. In this article, we have tried to have suggestions for different tastes.
1. Naib Restaurant; The most branched restaurant in Tehran
Photo from nayebsaie.com
Nayeb is one of the famous restaurants in Tehran that has different branches in the capital. For those who are eager to taste the pleasant taste of Iranian food in a luxurious atmosphere, Naib is the best choice. The quality of the menu of this restaurant has been proven among the people of Tehran and the taste of its food is unforgettable. 
Excellent service, stylish decoration and, most importantly, unique cooking, has made Naib one of the most famous restaurants in Tehran, which has a branch in the far corner of the city.
Address of Saei Branch: Valiasr St., below Saei Park, No. 2220
Tel: 02188713474
2. Morshed Niavaran Restaurant; Restaurant in the north of the capital
Photo by Mohammad Ganjgoli
If you are a fan of traditional food, this restaurant will be a great choice and you will enjoy every bite of food. Morshed restaurant has a decoration with traditional Iranian style and serves its guests with original and delicious Iranian kebabs. This restaurant has an acceptable quality and the price of food and drinks is reasonable compared to other restaurants around it.
Address: Niavaran, after Jamaran, corner of Delshad alley, No. 2
Phone: 02122002200
3. Muslim Restaurant; A restaurant in the heart of Tehran Bazaar
Photo by Saman Shahamat Javid
The antiquity of a restaurant is the most important reason for the deliciousness of its food and the regularity of its customers is the best advertisement. When you visit Tehran Bazaar, the constant crowd in front of Moslem Restaurant attracts your attention. This restaurant is one of the oldest restaurants in Tehran, whose popular and authentic taste of food is exemplary among Tehranians.
There are a variety of delicious Persian dishes such as kebabs, barberry, pilaf, beans, pilaf and… in the menu of this restaurant, but it is definitely famous for its chicken and meat dishes. Few people have eaten in this restaurant and have not tried this food. When you pass Tehran Bazaar, be sure to experience a delicious lunch at Moslem Restaurant and turn your shopping tour into a delicious memory.
Address: 15 Khordad St., Tehran Bazaar
Tel: 02155602275
4. Ghajri restaurant, historical feeling of Tehrani food
Photo from ghajarifood.com
If you are a fan of traditional restaurants, we have another great offer for you. Ghajri restaurant is one of the best restaurants in Tehran that serves authentic and traditional Iranian food in copper dishes in a Ghajri atmosphere. A variety of Persian dishes in the style of Ghajri cooking style, a variety of delicious chelokbabs and chelojojehs of this restaurant will open your appetite. Enjoying food in the Ghajri atmosphere of this restaurant is quite sticky. If you are a tourist and Persian food is a priority in your food style, do not forget to go to this restaurant.
Address: Haft Tir Square, Karim Khan Zand St., at the beginning of Iranshahr, No. 280
Phone: 02188335040
5. Excellent restaurant; Traditional restaurant in the capital
Photo from alighapoo.com
Traditional restaurants have many fans and their atmosphere is full of tranquility . These restaurants are among the first choices for people to eat Persian food. One of the best traditional restaurants in Tehran is Aali Ghapoo restaurant, which welcomes its customers with excellent service in Vanak area of ​​Tehran. The accompaniment of traditional music in this restaurant multiplies the appetite of the food. The original and traditional decoration of this restaurant and its special menu will sit well in your heart and will become one of your favorite restaurant experiences.
Address: Vanak, at the beginning of Gandhi Street
Phone: 02188777803
6. Spiritual restaurant; Serve food in nostalgic dishes
Photo by Mahshid Ahangari
Persian food is always hearty and popular, and restaurants that offer this style of food in their menu with high quality, have regular customers. Rouhi Restaurant is one of the most popular restaurants in Tehran, which in addition to the variety and good quality of food, their interesting service, is a topic of interest for tourists. The food in this restaurant is served in nostalgic spiritual dishes and for those whose age goes back to the time of using these dishes, this style of service will be very attractive.
Address: Gharb Town, Sima Iran St., AB Building, first floor
Phone: 02188376080
7. Good restaurant; The most delicious fast food in the capital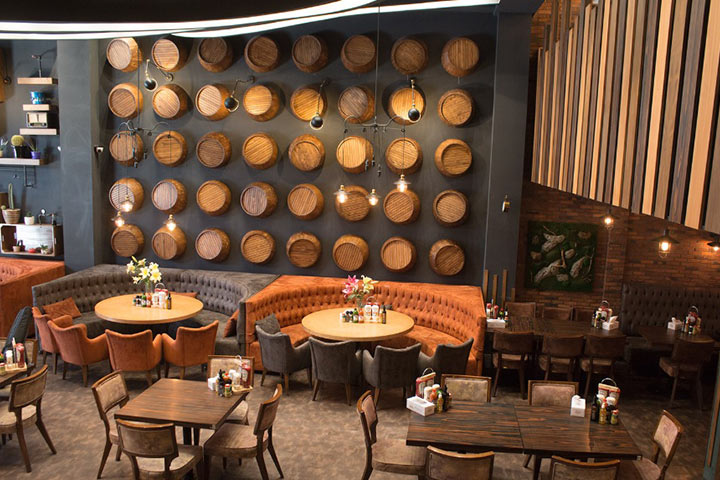 One of the restaurants in Tehran with a style of fast food is Mikhosh restaurant, which has several branches in Tehran and one of the most famous is the branch of Ferdows Boulevard. Mikhosh is known for its exciting Caesar salad , and without tasting this popular salad, Mikhosh will be meaningless. Also, the meat steak and pizza for this restaurant are very tasty and hearty. The menu of this restaurant has a high variety and quality and is a favorite of fast food lovers. This restaurant is usually crowded and you have to wait until the table is empty on the weekends to get in and serve food.
Address of Ferdows Boulevard Branch: Sadeghieh, East Ferdows Boulevard, corner of North Ramin, No. 257
Phone: 02144090203
8. Senso Italian Restaurant; A good sense of experiencing different flavors in the capital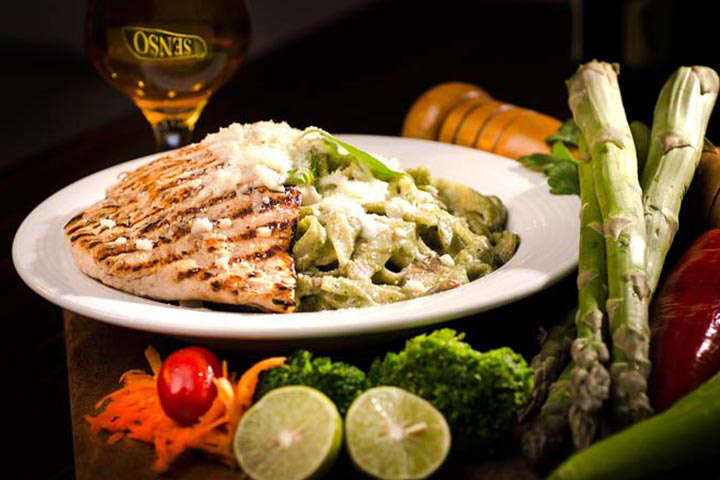 If you are into Italian cuisine and enjoy the taste of pasta and Italian pizzas with thin pizza dough , Senso Italian Restaurant is waiting for you. Senso is located in the vicinity of Ferdows Boulevard, and if you go to it on weekends, you will see a long line of customers behind the restaurant waiting for the table to be emptied. At first glance, this expectation may seem unreasonable, but it is enough to taste the food of this restaurant only once, so that you too can join this eager queue. Go to this restaurant and experience the delicious Italian flavors in its relaxing atmosphere.
Address: Sadeghieh, East Ferdows Boulevard, South Ramin
Phone: 02144956697
9. Sheila Restaurants; In the corner of Tehran
Photo from shilafood.net
If you are looking for a delicious fast food with a satisfying taste in Tehran, Sheila restaurants will be an acceptable choice. Sheila has branches in most parts of Tehran and the taste of its sandwiches and pizzas is hearty and has a reasonable price. We suggest that you try the food of one of the branches of Sheila restaurant among the restaurants in Tehran that offer fast food.
Address: Valiasr Branch: Southeastern side of Valiasr Square, corner of Shaghayegh Alley, No. 46
Tel: 02188945452
In the end
Restaurant tourism is one of the best experiences of today's citizen to share his happy moments with his loved ones and friends. Do not miss the pleasure of this popular experience and entertainment in the capital and be sure to spend time during it during the month.
 Tehran is full of cozy and friendly restaurants, only a few of which we mentioned. If you are a tourist and have a good time in the restaurants of the city, share your useful information with us to get acquainted with other restaurants in Tehran.