The best way to reduce the size of a photo in Photoshop without losing quality
Would you like to reduce the size of a photo in Photoshop by a third without compromising on quality? In this article, we will teach you the result of our 2 years of experience in this field in 30 seconds!
Note that there are several ways to compress images without loss of quality.
But if you only want to compress with Photoshop software, keep reading:
Concise and fast training
1- Download the full version of the software here . If you need it for a short time or temporarily, download the portable version (no installation required).
2. Press the Alt , Ctrl , Shift and S keys on the keyboard at the same time to open the compression window. Adjust it as shown below and click the Save button at the bottom of the page.
Just as easily! Photoshop has the highest compression rate of all available software and methods, and supports all image formats.
Detailed training
Step 1: Open the desired photo
Open your desired image from the File section and then Open (or press Ctrl and O at the same time) as shown below:
Step 2: Go to the save menu
Like the image below, go to the File section again and then the Save for web option to open the relevant menu: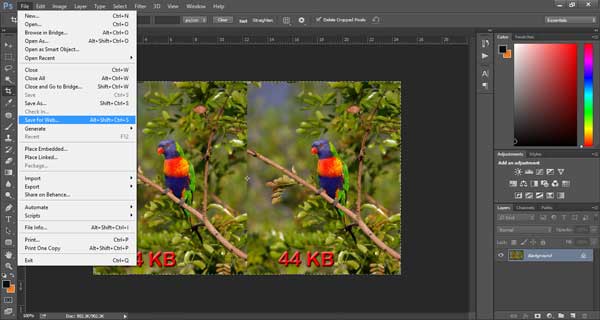 Step 3: Save the photo with the desired volume reduction
According to the image below, select any format you want for your photo (jpg is recommended), and select the size reduction (Medium is recommended), and then click Save and drag the photo wherever you like Save.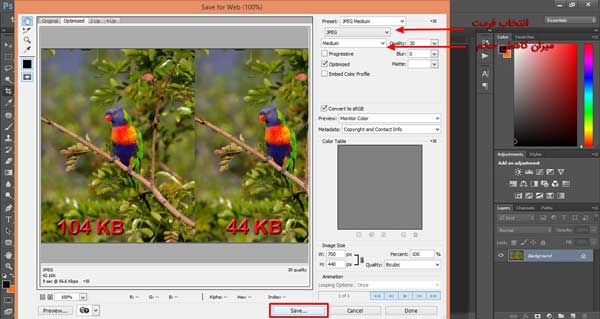 You can easily reduce the size of your photo to less than half without significantly reducing the quality. Ask any questions about reducing the size of the images in the comments section.