make the site display in Google more attractive
A beautiful appearance in site search results is one of the most important desires of website owners. Various methods can be used according to the need to increase the attractiveness of the website. One of these methods is the use of schema-structured data. But what are schema markup codes? How to add a schema to the site to make it look more attractive? What to do to generate schema codes for your website? Our goal in this article is to provide a comprehensive and suitable answer to these questions from the knowledge base of Fa Host. So if you want to know how to make your site more attractive in Google, stay with us until the end of this article.
The topics that will be discussed in this article are as follows:
What is schema markup?

What is the reason why our website needs schema?

The role of schema in SEO

What is Knowledge Graph or site information box?

What are the types of schema markup?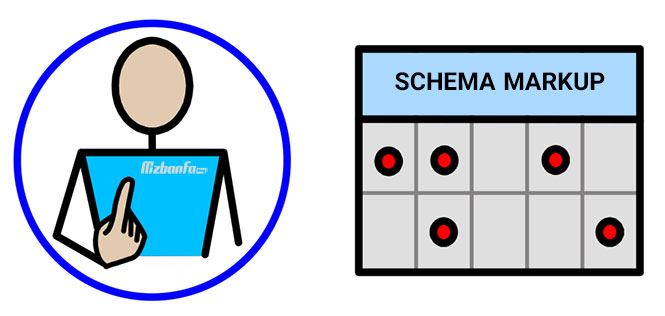 What is schema markup?
Schema markup is actually the data that you provide to search engines in the form of a series of codes so that they can understand the content of your website more easily. In order for search engines to read this information correctly and display it in search results, you must use schema codes correctly.
How to add Schema Markup in WordPress
by default These codes are placed in schema.org . It provides a series of schema tags that you can use to specify products, rating, questions and answers, show videos and other interesting things. Search engines are able to read these schema codes and can display them appropriately in their results. This will increase the attractiveness and beauty of your website in the results.

Why does our website need schema?
If you specify products, events, scoring or any other important feature of your website using structured data stored in schema.org, search engines will understand your website more accurately. Because schema markup tells search engines exactly what each section of your website is about. As a result, search engines no longer need to guess, and according to these instructions, they easily display content to Internet users.
On the other hand, you should note that the more attractive and better the way the site is displayed in Google, the more the rate of visits and display of your website will increase. Because internet users are also looking for a website that can get them to their needs quickly. Nothing better than schema markup can convince users that your website is exactly the option they should click on.
The role of schema in SEO
Using structured data is just like telling a long story in a few short, key sentences. For this reason, specifically adding schema to the site plays an important role in SEO. Using schema markup may not directly improve the ranking of your website, but it will indirectly make your website a better search result.
As mentioned earlier, by using schema markup, you help search engines to read and display your website content to users more easily. In addition, users' attention is drawn to the attractive appearance and classification of your website. As a result, your credibility among users and potential customers will increase. Therefore, both the click rate of the website increases and the bounce rate decreases appropriately. By observing these changes, Google also realizes that your website is attractive enough for users. So you can easily get the initial search results.
What is click rate or CTR?
How to display the site information box in Google results
You will be able to display your company information in an information box next to the Google search results. This box is known as knowledge graph. A knowledge graph is actually a large block of information that is displayed on the right side of Google search results. In this chart, you can see various information about a specific search. Because Google selects the information shown in this graph by checking the contents related to a specific topic. For example, if you search for the hostname of Fa, you can see the related knowledge graph on the right side of the search results. Normally, you can see the most important and original information about a specific topic in the Google Knowledge Graph. As you can see in the image below, the information box contains the following items:
Company phone number

Business address

Users' points to the website

Questions and answers from users about business

And…
What are the types of schema markup?
When you make it easier for search engines to understand your website content by using schema markup, they will reciprocate. Many webmasters have realized this and started using this structured data for their website. But we will definitely see more websites with schema markup in the near future. One of the reasons cited to show the importance of structured data in the future is their addition to Google's search console. In fact, there is a section called enhancements to analyze each schema in the Google search console.
Training from zero to 100 Google search console,   full training of enhancements section of Google search console
In the following, we will introduce some of the most important schemas that can be used to display in search results:
Breadcrumbs

Corporate contacts

Carousel

Logos

Sitelinks searchbox

Social profiles

Articles

Books

Course

Datasets

Events

Fact checks

FAQ

How-to

Job postings

Local businesses

Products

Q&A pages

Recipes

Reviews

TV & movies

Video
1. Adding the site guide path schema to Google results
If you use breadcrumbs structured data, you can show your users the path they took on your website to reach the displayed page. Using this structured data, in addition to being attractive, makes the visitor remember a positive user experience from your site.
Site guide report (breadcrumbs) in search console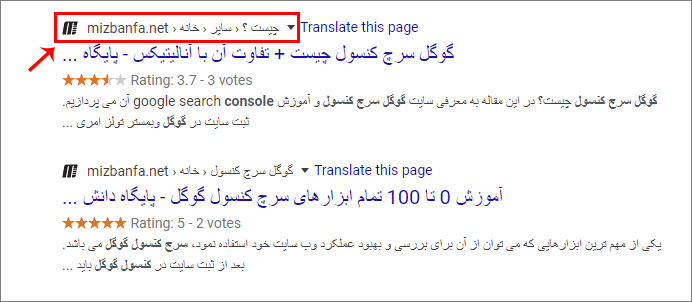 2. Display company contact information in Google search results
With the help of this structured data, you can add your company's contact information to the Google knowledge panel. In this way, when a user searches for your name, your phone number will be shown to him. In this way, you can provide detailed information about your business directly to your users. This item is very practical and brings the user to his goal quickly.
It should be noted that it is no longer necessary to use schema markup to display company information. Because this information is automatically displayed by Google.
3. Structured data slider in Google results
The meaning of carousels markup is to display rich results as a sequential list or gallery. Schema carousel is also known as carousel slider. Most of the time the carousel displayed by Google can support articles from a single site , known as the host carousel slider.
But another way is to display articles related to several publishers , which in this case can be seen as Top stories. This schema will perform better when combined with another structured data such as Articles, Recipe, Course and Movie.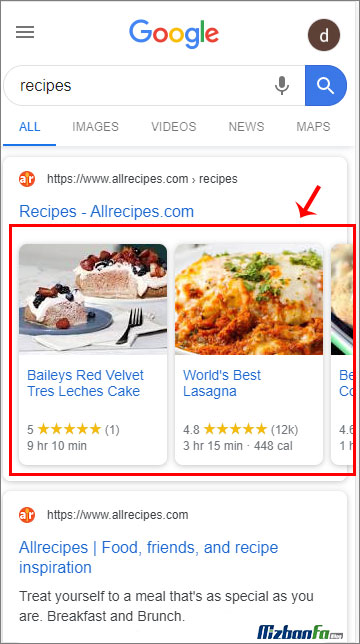 4. Site logo schema next to Google results
Schema logos will allow you to display your website logo in Google's search results and knowledge graph. This will ensure that your company logo appears in search results whenever possible. All you need to do for this structured data is to use the desired schema markup on your website.
Inserting the logo next to the site link in Google results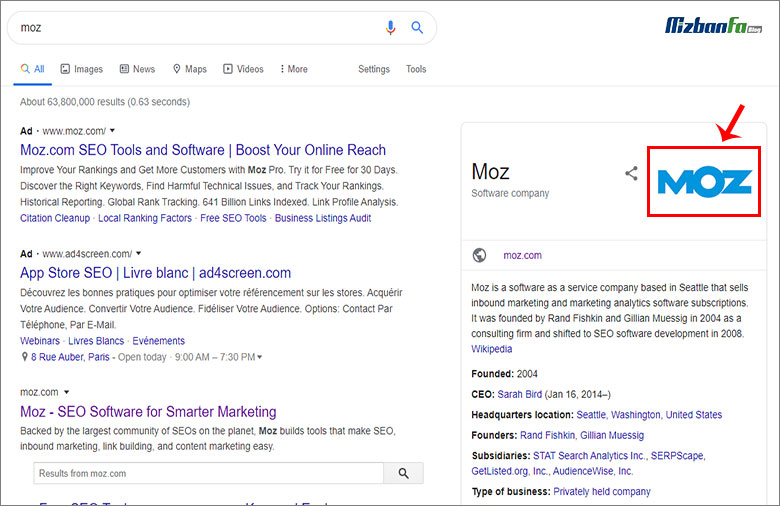 5. Internal search markup code in Google results
Another structured data that can be used for your website is called searchbox schema. By using the searchbox schema tag, you can also have the internal search function of your site in Google search results. In this way, the user can search the desired terms in the search box of a website and find out if the desired content is there. In this way, it will quickly reach its goal. You also have a second chance for the visitor to enter your website.