Learn How To Tell If An Apple Magsafe Charger Is Genuine Or Counterfeit
Apple launched the iPhone 12 and iPhone 12 Pro, the latest generation of the company's smartphones, with a variety of accessories that sometimes appeal to many users. 
The MagSafe is one of those accessories that connects to phones via circular magnets on the back of Apple's flagships, allowing the device to be charged wirelessly.
Like most Apple accessories, companies have been working on a counterfeit version of the product, so you may mistakenly buy one of these non-genuine items. Fortunately, there is a way to determine if a MagSafe charger is genuine or counterfeit, which we will discuss below.
How to tell if an Apple MagSafe charger is genuine or counterfeit
Although the price of Apple's MagSafe wireless charger is not very high for the iPhone 12 and 12 Pro, as mentioned, various companies can produce and market similar models at a cheaper price.
Of course, these fake or counterfeit samples do not have the quality and efficiency of the original products, so they will not be worth buying.
Just access your iPhone 12 or 12 Pro to determine if your MagSafe is genuine. Then follow the steps below.
First of all, you need to make sure that the MagSafe charger is connected to your iPhone. The charger must be charging your phone's battery.
Now go to the Settings section on your phone and select the General option.
Go to the About section.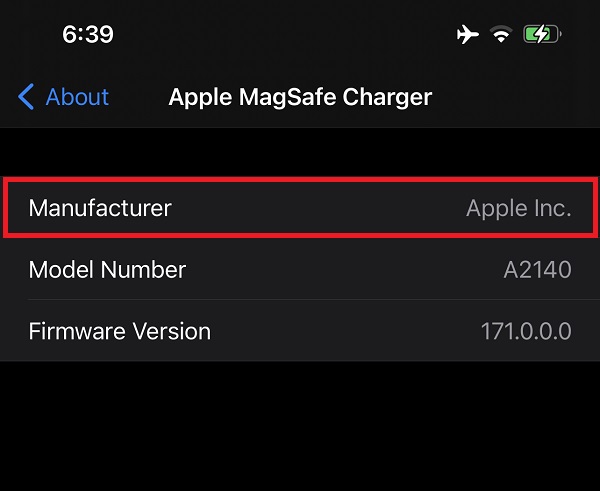 Scroll to the bottom of the screen and select the Apple MagSafe Charger option.
Check the Manufacturer's Name field. In front of this part should be the name of Apple Inc. Be inserted.
If your charger is counterfeit, there will generally be no Apple MagSafe Charger option in the phone settings menu.