Isfahan Marnjab Desert; Excursion In The Desolate Land Of Iran
In the heart of Isfahan, full of mysteries, in the north of Aran and Bidgol cities, there is a land called Marnjab desert, which should be considered as one of the most beautiful deserts in Iran.
 Travel to the Marnjab Desert, in addition to Shah Abbasi Caravanserai, in addition to its nature attractions, is also considered a historical trip.
Join us to travel to the Marnjab Desert and go to the salt lake and the famous caravanserai of this region to experience fascinating moments in this tour.
Location of Marnjab desert in the geography of Iran
Marnjab desert is located in Isfahan province. This region is one of the most beautiful desert lands of Iran and Aran and Bidgol cities of Isfahan are located at a distance of about 50 km south of it.
In the north of Marnjab desert, Aran and Bidgol salt lakes can be seen, which are considered as one of the most spectacular attractions of this region. Kavir Desert National Park and the Great Desert, which are important and valuable areas of the Iranian desert, have become neighbors of Marnjab from the east and have increased the importance of this desert.
 In the western part of this desert, Qom city and Hoz Soltan salt lake, which is one of the most spectacular mirrored lakes in Iran, are located.
Marnjab desert has a high tourism capacity in terms of natural, animal and historical features and is one of the most well-known among the deserts of Iran. Maranjab Caravanserai, Wandering Island, Dastkan Well and Salt Lake are some of the special attractions of this region that attract tourists.
Marnjab Caravanserai; Stable from Safavid times until today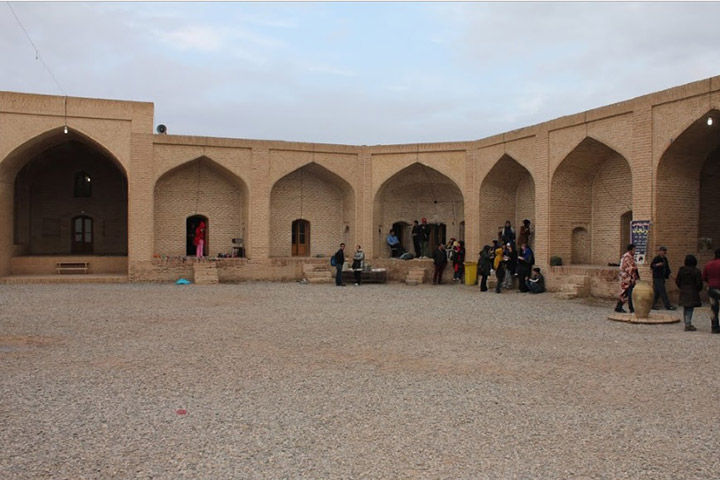 You have to walk about 40 km from the beginning of Marnjab road to see a solid and impressive building that was once the military headquarters of the country and was full of soldiers and guards. This fort is another caravanserai built during the reign of Shah Abbas Safavid, which was built by his order and has been of great importance.
Marnjab Caravanserai was built near Aran and Bidgol salt lakes and the reason for its construction was military plans to protect the country against foreign invasions to places such as Isfahan and Kashan, through the salt lake. Also, this caravanserai was a place for caravans and traders to rest because it is located on the Silk Road.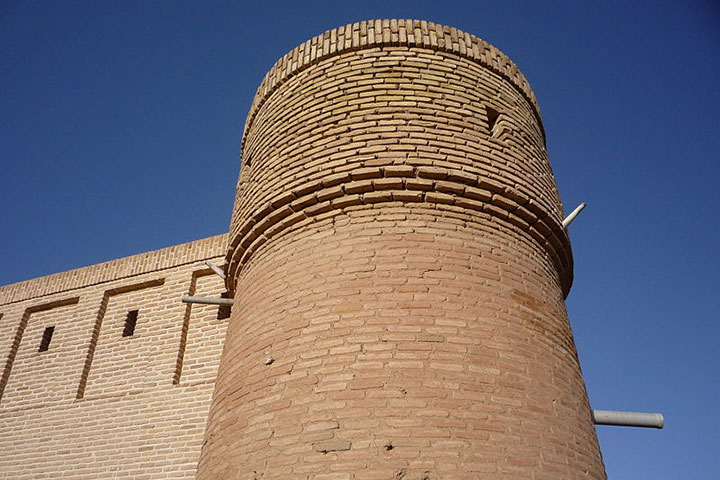 350 meters of infrastructure, 29 rooms and watchtowers complete this huge square building. This caravanserai also includes one of the strangest attractions of the Marnjab desert, and that is the existence of a freshwater aqueduct in this hot and desert land. While the land is famous for its salt lake and desert climate, the caravanserai freshwater aqueduct is a considerable attraction for domestic and foreign tourists.
Despite the renovations, Marnjab Caravanserai is now a traditional residence in the heart of the desert, welcoming tourists to make an exciting and historic trip for them. Staying overnight in this caravanserai and watching the starry sky of the desert will be the most enjoyable part of your trip.
Hand wells; A gift in the Marnjab desert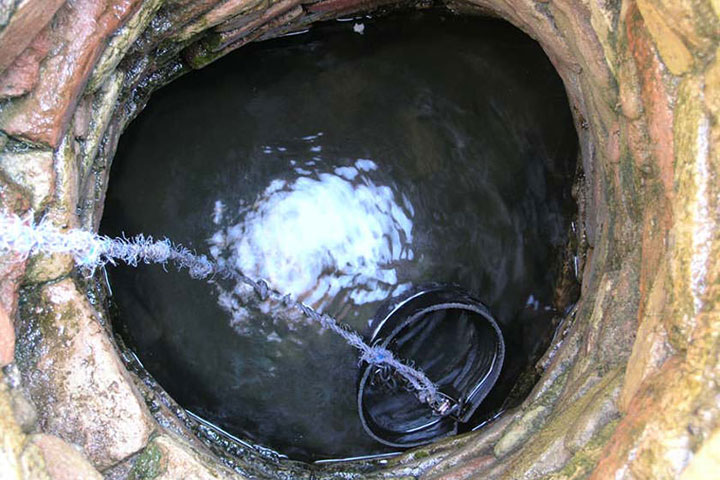 If we go 5 km east of Maranjab Caravanserai, we will reach a well left from history, which with its fresh water, is a gift to quench the thirst of desert camels. The Dastkan well was dug in the eastern part of the Marnjab Desert and is believed by many to be sacred. According to the existing anecdotes and narrations, this well was dug by the eighth Imam of the Shiites, on his return to Mashhad, and for this reason it was consecrated.
Aran and Bidgol salt lakes; Watch the irreplaceable beauty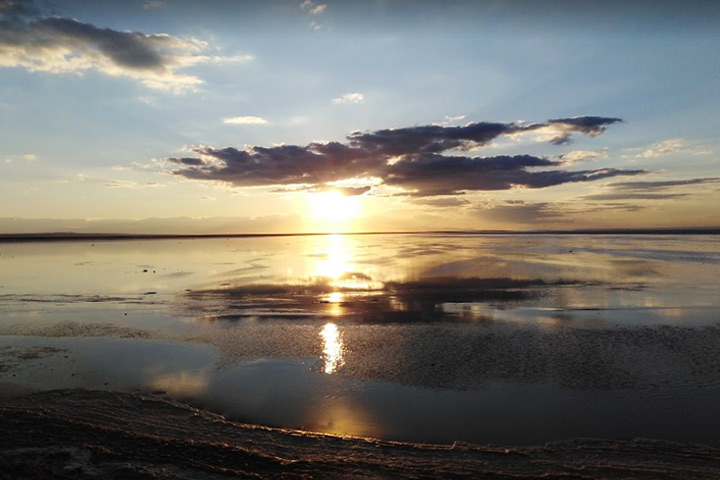 One of the most beautiful phenomena in the desert lands of Iran is the salt lakes, which you can use to make beautiful frames with a camera and enjoy its tranquility. Aran and Bidgol salt lakes or Masileh lake, in the area of ​​Marnjab desert and at a distance of about 9 km from Marnjab caravanserai, has its white expanse. Most of the country's salt is supplied from this triangular lake. The lake is surrounded by swamps and it is important to pay attention to this point on the way to reach it.
Sometimes when the lake is exposed to rain, its white surface is covered with a thin layer of water. After the water evaporates and the lake dries up again, very attractive and spectacular scenes appear on its white and salt-covered expanse. The whole surface of Aran and Bidgol lakes, after evaporating, is paved with white polygons, which are known as polygons. But the sights of Aran and Bidgol lakes do not end with this phenomenon alone; There are wandering islands in this salt flat that have added to the mysterious beauty of this area.
Wandering Island; Beauty in the heart of the salt lake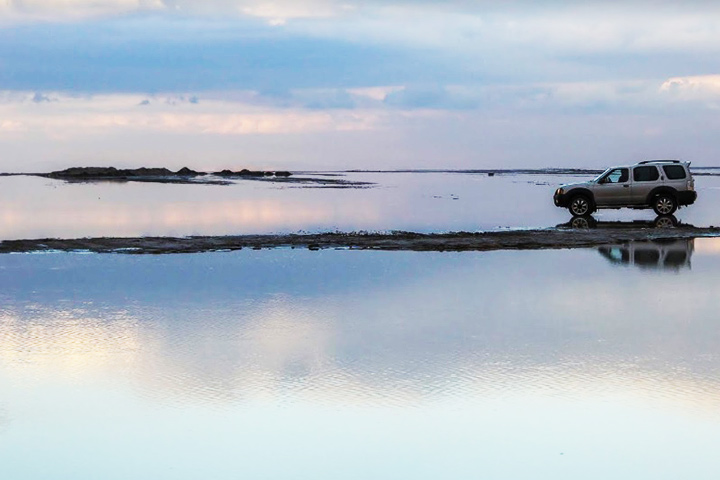 The wandering island is located in the heart of the salt lake and has given a magical property to this white-clad lake. The island shows its beauty in a short time of the year when it is possible to rain in the area. It is enough for rain to fall and a thin layer of water to cover the surface of the lake, the gentle movements of the water give the impression that the island is floating and floating on the surface of the water. Visual error due to the mirage and the vagueness of the end line of the island is another reason for its confusion. Due to these interesting and attractive visual errors, the name of Wandering Island has been chosen for this region, and in a short time when there are rainy conditions in Salt Lake, Wandering Island will be one of the most spectacular tourist attractions of Marnjab desert for travelers.
Vegetation and fauna of Marnjab desert
In Marnjab desert, the flora and fauna are diverse and this is a reason for the importance and attractiveness of this desert. Among the saline plants of this warm and desert land, shrubs such as skunbil, scissors, artichoke and teak and hawthorn trees can be seen. At the corner of Marnjab road, which leads to this desert, teak and hawthorn trees can be seen most of all.
It is interesting to know that many animals also live in this land and live in this desert by providing water and food. Chameleons, jackals, sand cats, sand foxes, wolves, wolves, snakes, scorpions and… are examples of the diverse animal texture of the Marnjab desert.
Excursion in Marnjab desert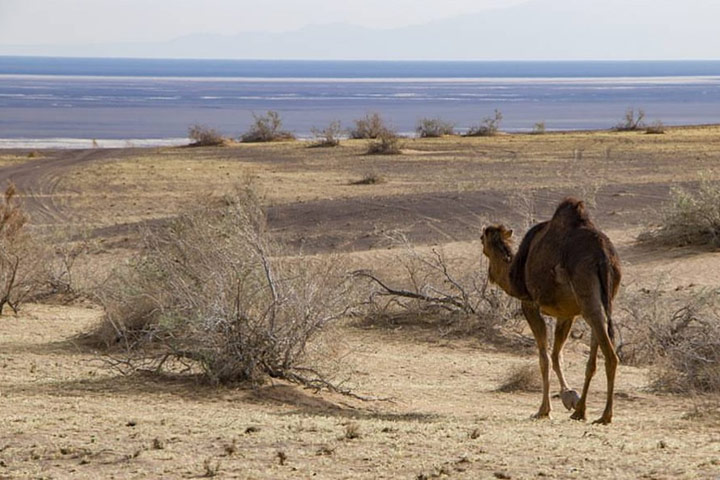 One of the fascinating pastimes of traveling to the desert is camel riding, which has many fans. With each slow step that the camel picks up, the peace of the desert is transferred to your being and a memorable journey is made for you. But if you are looking for excitement, you can experience an off-road ride that will give you adrenaline-filled moments.
 Do not forget that off-road riding, with all its sense of pleasure, can damage the texture of the desert. Therefore, if you are in favor of environmental protection and you are interested in the stability of desert lands, avoid long periods of off-road riding and its extreme and unprincipled movements.
Maranjab desert at night and watching the bright sky of Maranjab
After a pleasant walk through the hot desert sands during the day and beautiful photos taken of the desert's sunny weather, now is the time to embrace the tranquility and beauty of the night and fill your camera with the bright frames of the night sky. The most fun experience of traveling to the desert is nightlife and looking at the sky. 
In Maranjab desert, in addition to camping and camping, you have the chance to stay in Shah Abbasi caravanserai and spend the night on its roof with the stars and observing the sky. The desert nights are so spectacular that it tempts you to stay awake until sunrise.
The best time to travel to Marnjab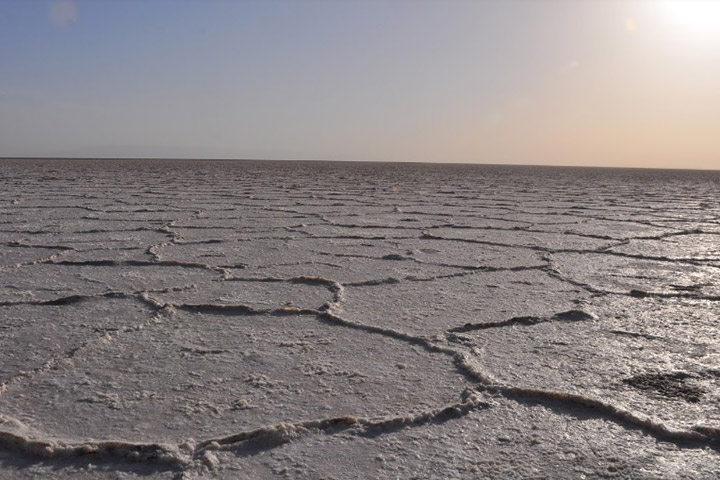 Maranjab desert, like other desert regions of Iran, has a high temperature and for this reason, it is possible to visit this region only in the cool seasons of the year. If you are planning to travel to this region, you should know that autumn is the best time to go to this desert and its heat of day and cold of night are more tolerable than other times of the year. Also, if you go to this region in spring, be sure to choose the first days of April to travel so that you do not face the unbearable heat of Marnjab.
What we need to know before traveling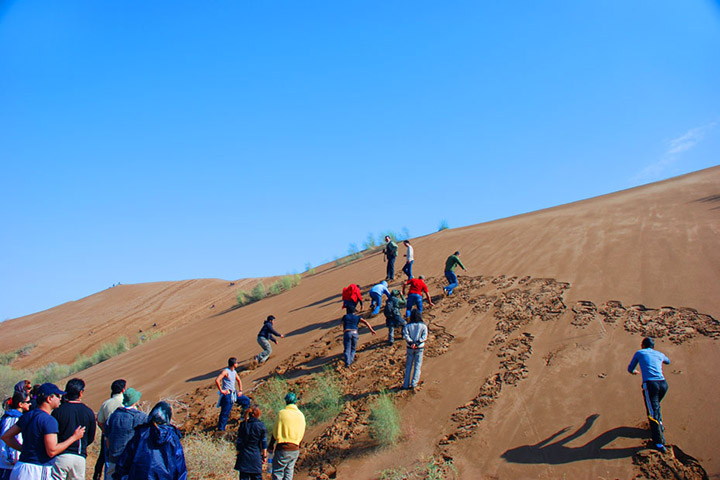 Desert climbing is a special form of travel that requires special conditions and equipment. A trip to the desert must be in a group and a professional guide who has experience in this style of travel will accompany you in the group. When choosing clothes and shoes, you must take into account the intense heat and sun of the day and the difficulty of hiking. The water supply you have with you should meet your thirst and it is very important to pay attention to this point.
In your backpack, accessories such as cool clothes for the day, warm clothes for the night, sunscreen, sunglasses, first aid kit, small and non-perishable foods, sugars, extra shoes and slippers, a map and… are required. To avoid the risk of bites, it is also best to include insect repellent creams and bite healing ointments in your bag. When walking, beware of the biting and dangerous bites of desert dwellers and use appropriate shoes.
How to get to Maranjab and its attractions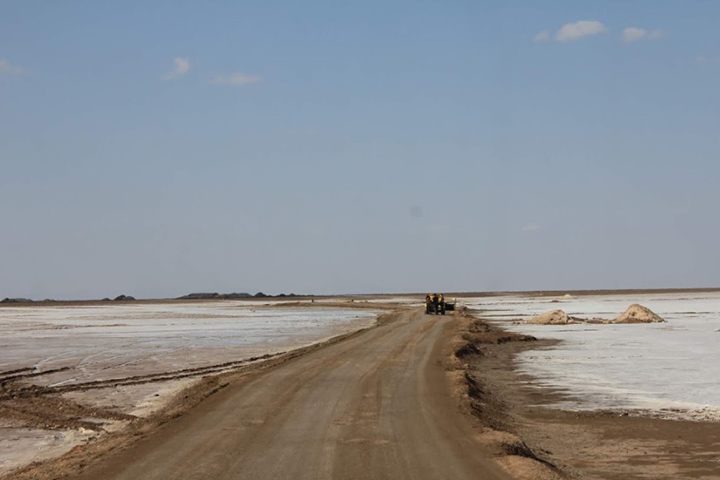 To go to Marnjab desert, you have to reach Aran and Bidgol cities and after passing Mohammad Hilal street, Haram square and Abbas Abad street, you can reach Army Boulevard. Walk this boulevard until you reach the intersection of Marnjab road and Aran and Bidgol roads to Feyzabad. Go along Marnjab road and drive about 40 km to reach Marnjab caravanserai.
To go to the salt lake, before reaching the Marnjab caravanserai, at a distance of approximately 5 km, you will reach a roundabout, which is one of the roads of the salt lake and will lead you to this spectacular lake.
It is enough to go to Dastkan well, after passing Shah Abbasi caravanserai on Marnjab road, go up to 5 km. Also, after reaching this well, you will reach a crossroads that will lead you to the island on the left.
Marnjab desert and its memorable experience
Desert climbing is a unique and enjoyable experience that conveys a world of good feelings to a person. Iran's climate, with its high diversity, has provided this golden opportunity for nature lovers and desert-loving tourists. Maranjab desert, like other golden deserts of our country, is spectacular and attractive.
 Experience this exciting journey and share its pure moments with your fellow travelers to become sweet memories. Every deserter will gain a world of valuable knowledge that will be very useful for others to publish.
 So if you have such an experience in the history of your travels, provide your useful information to desert lovers so that others like you can experience a pleasant trip and take the sweet memories of the desert with them as a souvenir.