Iran's sights in winter, 6 attractive offers for you
For many Iranians, winter is the season of staying home and watching TV, and few people go on adventures this season.
But for many people, winter travel and the touch of its white-clad nature is a lovely thrill, and many enjoy exploring this season. 
If you are also fascinated by winter adventure, in this article, how to travel with us to visit the sights of Iran in winter and tell you about 6 attractive destinations.
 Pack your bags and get ready for an exciting journey.
1. Zarivar Lake in Kurdistan; One of the sights of Iran in winter
The winters of Kurdistan are full of snow; But this has added to the charm of this region. Many tourists choose winter to watch the icy Zarivar Lake. Of course, you should know that the ice strength of this lake can not be guaranteed and it is better to watch it from a distance. In any case, this lake is one of the most beautiful natural lakes in Iran and one of the most beautiful places in Iran in winter that you should not miss.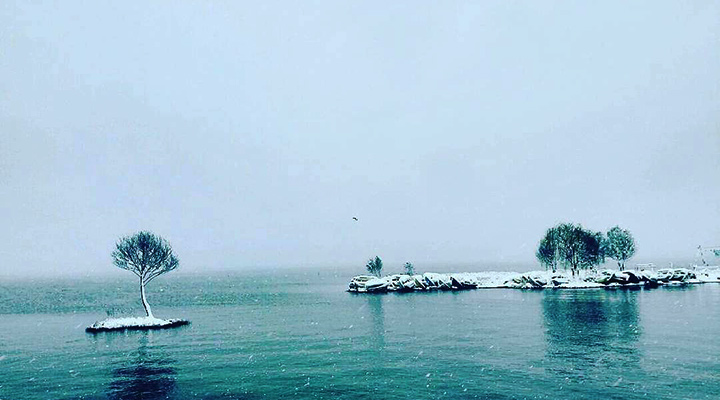 Access route : This lake is located in Kurdistan province, Marivan city, 3 km west of the city. After reaching the city of Marivan, you can easily access the lake.
2. Valley of the Stars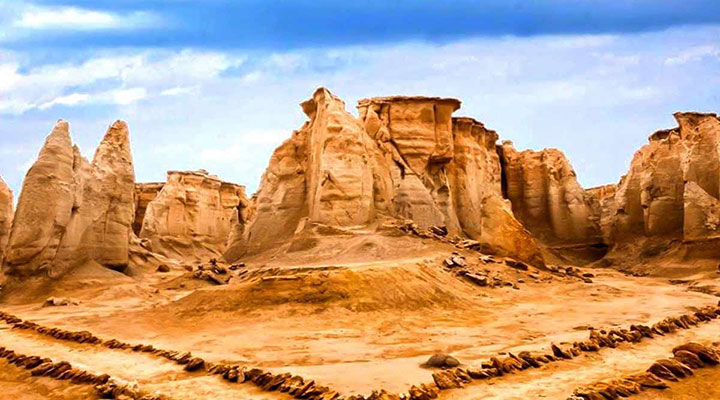 Erosion has given Qeshm a spectacular gift, known as the Valley of the Stars. The reason for naming this beautiful place the Valley of the Stars is that the locals believe that a star hit the area with a heavy blow and then the soil rose and dried up.
We must also say that according to the locals, the Valley of the Stars is a place for ghosts to travel at night; According to this belief, they usually do not go there at night. Regardless of whether this is a superstition or not, we do not think that you will want to spend the night there.
In the Valley of the Stars you can see salt caves, pointed cones, erosive columns, arches and strip walls. Salt Cave No. 3, located in this valley, is the largest salt cave in the world. Inside the cave, there are spiral rivers with a depth of one meter and the calcareous sediments in it always attract the attention of visitors.
Access route : Stargan Valley is located on the south coast of Qeshm Island, next to Barake Khalaf village. To reach it, you have to move from Qeshm to the south and then to the west. After 5 km, you will see the Star Valley sign on your right.
3. Hengam Island; One of the most beautiful places in Iran in winter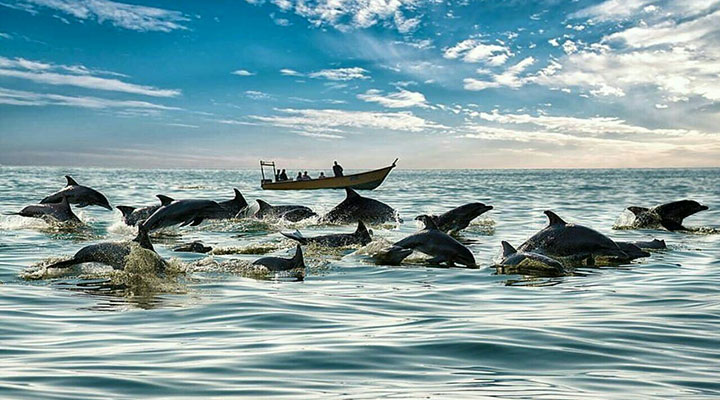 If you are wondering where to travel in winter, we suggest Hengam Island as one of the important options. Hengam Island is located in the south of Qeshm and is full of tourist attractions . Attractions on the island include the British Port Facility, Mother and Daughter Stone, Red Mountains and Soils, and Nupak Crocodile Park.
Also, from mid-autumn to mid-May, you can watch groups of dolphins in the waters of the Persian Gulf, playing and having fun in groups. The shiny sands of the island's beach are also one of the attractions that will caress your eyes. If you are still not convinced to go to the island, we must say that at night on the beach of this island you will see bright waves that make you feel like watching magic; So do not hesitate and hurry to go to this island!
Access route : To go to Hengam Island, first go to Bandar Abbas and then to Qeshm. There are boats in Qeshm that take you to Hengam Island.
4. Chabahar Martian Mountains
If you drive 40 to 50 km from Chabahar to the port of Goatherd, you will see a very amazing view of the mountains on your left. These mountains are known as the Miniature Mountains or Martian Mountains. Like the Martian mountains can only be seen in fantasy movies . The grooves that adorn these mountains make them very similar to the rocks of other planets; This is the reason for their strange naming. Fossils of marine animals can also be seen among these mountains, indicating that the area has been underwater in the past.
Access route : Martian mountains are located in Chabahar and on the way from Chabahar to Goater. After entering the Chabahar-Goater road, you have to drive 35 to 40 kilometers to reach these mountains.
5. Bandar Siraf
Siraf port is also one of the sights of Iran in winter. This port is very old and its ancient history is one of the most important reasons for its popularity among researchers, historians and even ordinary people.
Antiquities such as rain ponds and ancient crypts, proximity to Shiraz and the beautiful sea of ​​this port are among the other reasons that attract tourists from all over Iran.
Access route : After passing 245 km east of Bushehr , you will see the port of Siraf along the Persian Gulf coast. This attractive place is located between Kangan port and Assaluyeh port.
6. Maharloo Lake; Among the sights of Iran in winter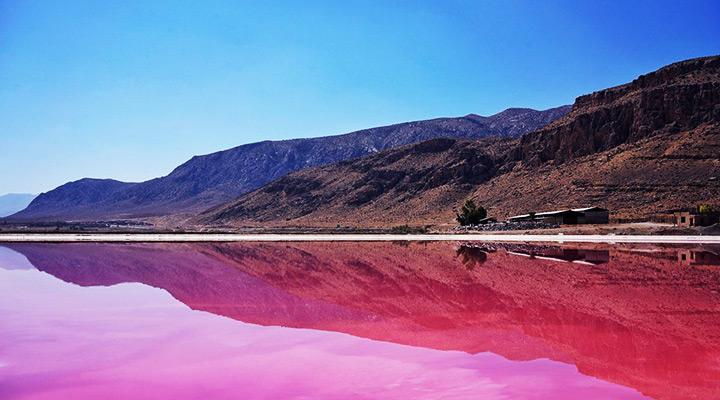 The red color of Maharloo Lake, which is located in Fars province, attracts many tourists. The depth of the lake will vary depending on the amount of rainfall. Also, the water of this lake is salty and the bed of some parts of the lake is covered with salt due to drying. Many species of migratory and non-migratory birds also live in this lake.
Access route : Go to Fasa on Shiraz road. After about 15 km, you will reach the road leading to Maharloo village. Your destination is located next to this village.
last word
Iran is a country of four seasons; So at any time of the year you will find a good destination for sightseeing. In this article, we have mentioned places that are suitable for winter travel; But Iran's sights in winter are not limited to these cases and have a much more detailed description.
now it's your turn! Tell us which part of Iran do you choose for travel and tourism in winter ?
Do you think winter is a good time to travel or do you prefer friendly overnight stays to winter travel? Please tell us your experience and opinion.