Introducing the Most important top Tools for analyzing the performance of Social networks
Introducing the Most important top Tools for analyzing the performance of Social networks
If you want to achieve better results on Social Networks and increase your page audience, one suggested way is to use social media performance analysis tools.
Do you want more people to access your posts on social media? One way to do this is to explore performance through proper tools. Social media analysis is not just for the benefit of large corporations and popular influencers. If you want to become a social media influencer or have more people see your posts, you need to make the best use of the tools available. This article introduces a tool that collects social media account data to make constant decisions about your efforts.
Google Analytics
Sociality.io
Quantity
Sprout Social
KeyHole
Socialinsider
Hootsuite
Socialbakers
Google Analytics
Google Analytics is commonly used to observe website traffic. However, you can also use this tool to track the progress and performance of social networks. With Google Analytics, you can track data related to social networks such as referral platforms. For example, you may find that your audience came to your page from a website or transmitted content using the share buttons.
You can configure Google Analytics to estimate search traffic and social access. This tool automatically collects regular data and tracks your progress towards your goals.
Free download Google Analytics for Android and iPhone.
Sociality.io
Socioality.io is a helpful management tool for separated social network users. In complement to scheduling and publishing, this tool allows you to reach a good strategy for social media by competing for analytics. This reporting application helps you output reports from all accounts in PowerPoint and Excel documents. This report contains precise fan analysis and engagement to develop a more engaging strategy and improve performance. It also allows you to compare data from unlimited Facebook, Instagram, YouTube, and Twitter pages. This application also has elements such as historical hints and data.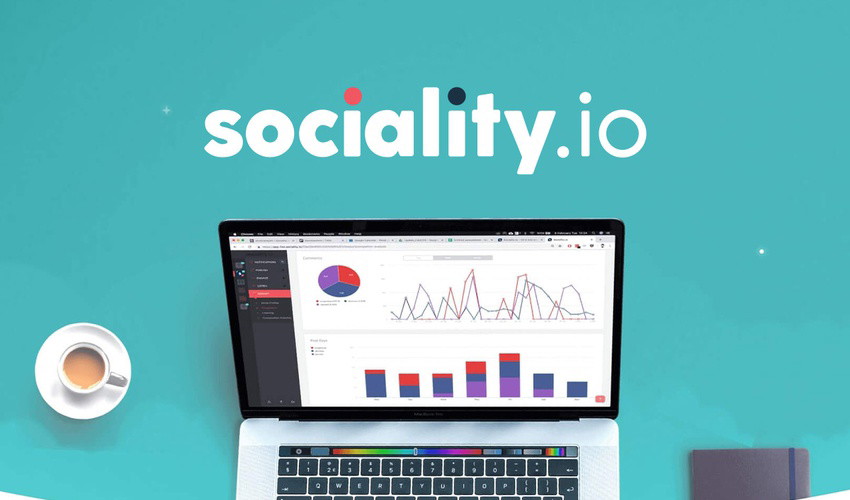 If you're looking to imagine the success of social media, Quintly is a great tool. With this simple analysis and indexing tool, you can track and compare social network media. That way, you know what to look for and improve.
In addition to social media analytics data, this tool can provide custom social media reports. It also supports social network data integration with business intelligence systems such as Google Big Query or Tableau. This application can analyze your performance on social networks such as Facebook, Instagram, LinkedIn, Twitter, YouTube, and Snapshot.
Sprout Social
Tracking access to social media posts is essential to recognize the effectiveness of a social media strategy. Sprout Social is a tool for assessing social access. It also permits instant monitoring and analysis on multiple social network channels.
You can use this tool to monitor the participation of social networks; Another measure that will help you achieve favor. The app also allows you to comprehend the latest social platform trends and learn about the industry. Sprout Social is useful for tracking keywords, hashtags, and prominent influencers on the two leading platforms, Instagram and Twitter. In addition, it has a social listening tool that allows research analysis of socially related conversations.
It goes without saying that by combining hashtag analysis with audio reports, you can better understand your social access. Brilliant Inbox quality This tool gathers all the notes and messages together.
KeyHole
This tool is designed to help estimate the effectiveness of social networking posts. This tool comes with an array of valuable features that deliver insights, impressions, geographical location, and famous business influencers. In addition, with the help of this tool, you can collect valuable data on Twitter, Instagram, Facebook, and YouTube.
One of the main features of this tool is tracking hashtags, URLs, and keywords. So You can reach a wider audience through your social media content by working on hashtags and keywords. This tool also shows instant updates that allow changes to be made.
Socialinsider
Socialinsider, as a social media analysis tool, uses elements such as social performance analysis, reporting, competitors' insights, and reports on various campaigns on social networking platforms. If you have multiple accounts on other platforms, you can use this tool to measure your performance. The agency also follows social metrics such as reach, impression, participation or engagement speed, statistics, follower growth, and post rankings.
The Socialinsider app gives you a broad spectrum of profile views or hashtags. It is also equipped with a feature called index execution. You can use this tool to analyze your field's top competitors and influencers. Once you have discovered their content strategy, you can compare it to your work and enhance your activities accordingly.
Hootsuite
This comprehensive social media analysis tool is suitable for all social network users; Because in addition to creating analytical data on the social network, it also permits the calculation of ROI and the organization of content and scheduling of posts. Hootsuite supports Facebook, Instagram, Twitter, YouTube, LinkedIn, and Pinterest. With Hootsuite, you can track participation across all platforms through an app, monitor your social media conversations, and organize social media posts on the platforms.
Socialbakers
Socialbakers is a platform that delivers a set of social analytics tools. The stable capabilities of this tool permit the implementation of complete monitoring of social network accounts. With the help of this tool, you can track your activity on other sites and your performance and index your competition. In addition, this integrated platform uses artificial intelligence to position the target audience and discover exciting content.
Conclusion
Therefore This course, you know the best time to post content on any platform and the type of highly contributing posts. Once you know the target audience, you can automate your social media strategy.
Source:https://www.zoomit.ir/internet-network/377289-best-social-media-performance-analysis-tools/