IELTS writing task1; Line Graph, Pie chart, Table
In previous blogs, we explained IELTS examination modules and some strategies in each part. Also, we talked about both task 1 and task2. As you may know in writing task 1 of the IELTS exam you are expected to write about a statement and give your own idea. for example, suppose that question type is like this, "In many countries today, people in cities either live alone or in the small family unit, rather than in large, extended family group. Is this a positive or negative trend? ". As you see the task2 question it seems that this question wants to know your opinion and we will see the suggested answer for this at the end of this post. However, in writing task 1 you cannot write your own opinion. In this part, you have to write a report of a diagrammatical question that contains a numerical report.
It should be mentioned that the recommended spending time for task 1 is 20 minutes and 40 minutes for writing task 2.
Task 1
In IELTS writing task 1 some question types need their own strategies to answer.
Line Graph
In the line graphs, we have to report the following parts of the graph:
Positions
Every line graph in the IELTS writing task1 has several positions that some of which have to be reported completely. But we don't need to report all the positions. Important positions in a line graph are starting point, maximum point, minimum point, ending point. As mentioned in the line graph there is no need to report all positions but it is better to report all mentioned positions. for instance, see the below line graph. You can see that there are several positions that the maximum position is in around 2005.
There are some structures that you can use to report the positions of the line graph with them.
starting: subject+ (started at/ stood at/ originally was)
maximum: subject+ (peaked at/ made a peak at/ reached its maximum number at)
minimum: subject+ (hit the bottom at/ made a low of/ reached its minimum number at)
we use these structures when we want to report starting, maximum and minimum points respectively.
One important thing that the candidate should notice is that the time period mostly is about the past and then accordingly the sentence's tense have to be simple past.
Trends
The next part of a line graph in the IELTS writing task1 that IELTS candidates should report is the trend. We normally can find upward, downward, stability, and fluctuation trends. Like positions, there is some useful structure that candidates can memorize and use to report trends in a line graph.
---
Firstly, For the upward trend was can use this structure:
"subject +verb" or "there was+ a/an noun" or "subject+ (experienced/ saw/ had)+ a/an noun"
verbs that indicate an upward trend: rise, increase, go up, climb, grow, double, triple, boom, surge, soar, rocket, and so on.
nouns could be a rise, an increase, a growth, an upward trend, a boom, a surge, a doubling, etc.
---
Secondly, The above structures in the IELTS writing task1 are for both upward and downward trends.
verbs for downward trend: fall, decline, decrease, dip, drop, go down, halve, plummet, plunge, dive, and deteriorate
nouns are: a fall, a decline, a decrease, a drop, a reduction, a slump, and a plunge
---
Next, the Following structures are for a steady trend:
Subject+ "did not change" or "(subject+ had/ there was) a period of(stability/ steadiness/ static state)" or "subject+ remainder (stable/ steady/ unchanged)"
---
Finally, look at the following structures for fluctuation trend:
after the subject, we can use "(had/ there was) a period of(fluctuation/ constant changes)" or "change constantly"
---
Example
Now see the following example in the IELTS writing task1. the question is:
"The chart below shows the changes that took place in three different areas of crime in Newport city center from 2003-2012.
Summarize the information by selecting and reporting the main features, and make comparisons where relevant."
The first step is recognizing the positions. By looking at this line graph we can find a maximum point in around 2004 and a minimum point in about 2008 for burglary figure. What do you think about Robbery's figure? Is there any point to report? the answer is NO! the maximum and minimum points should be easily distinguishable. You can see that we cannot find any obvious max or min point in Robbery's figure. First, find and list the positions and then use the mentioned structures to report them.
The second step is that to report the trends. If you look at the question you can see that the question says summarize the information. What do you know about summarizing a line graph!? In the following chart, you can see the Burglaries figure, can we report the downward trend from 2004 to 2006 and then again report the downward trend from 2006 to 2008? the answer is NO we cant! it is better to summarize information in situations like this, the sequence of two upward or downward trends.
Sample writing
For the below line graph in the IELTS writing task1 we can write like this:
The given chart shows how much fish and different kinds of meat were consumed in a country in Europe from 1979 to 2004.
Overall, while the consumption of different types of meat including beef, lamb, and fish experienced a downward trend over a period of 25 years,  the one of chicken increased significantly.
In the first year, in 1979, beef was the first highest figure with a consumption of about 225 grams per person per week. Then, this figure experienced a sudden plunge before surging to about 230 grams in 1984. Following this, there was some fluctuation until 1989 after which it decreased dramatically to around half as much as its original amount in 2004. However, it was still the second most consumed type of meat in that year.
Roughly 150 grams of both lamb and chicken were used in 1979. However, while the consumption of the former declined gradually as it reached approximately 60 grams in the last year, the latter saw a considerable growth peaked at 250 grams in 2004.
As for fish consumption, it was originally near 60 and experienced a small fall of about 10 over the period.
Questions that have to be asked after the report
Have I reported the needed positions? (maximum, minimum, starting and ending points)
Have I employed a wide range of structures (grammatical structures) in the report?
Did I report the numbers correctly?
Did I follow the punctuation rules?
Pie chart
Another question type in the IELTS writing task1 is the pie chart. In this type of question, an IELTS candidate should write a report about a question like this: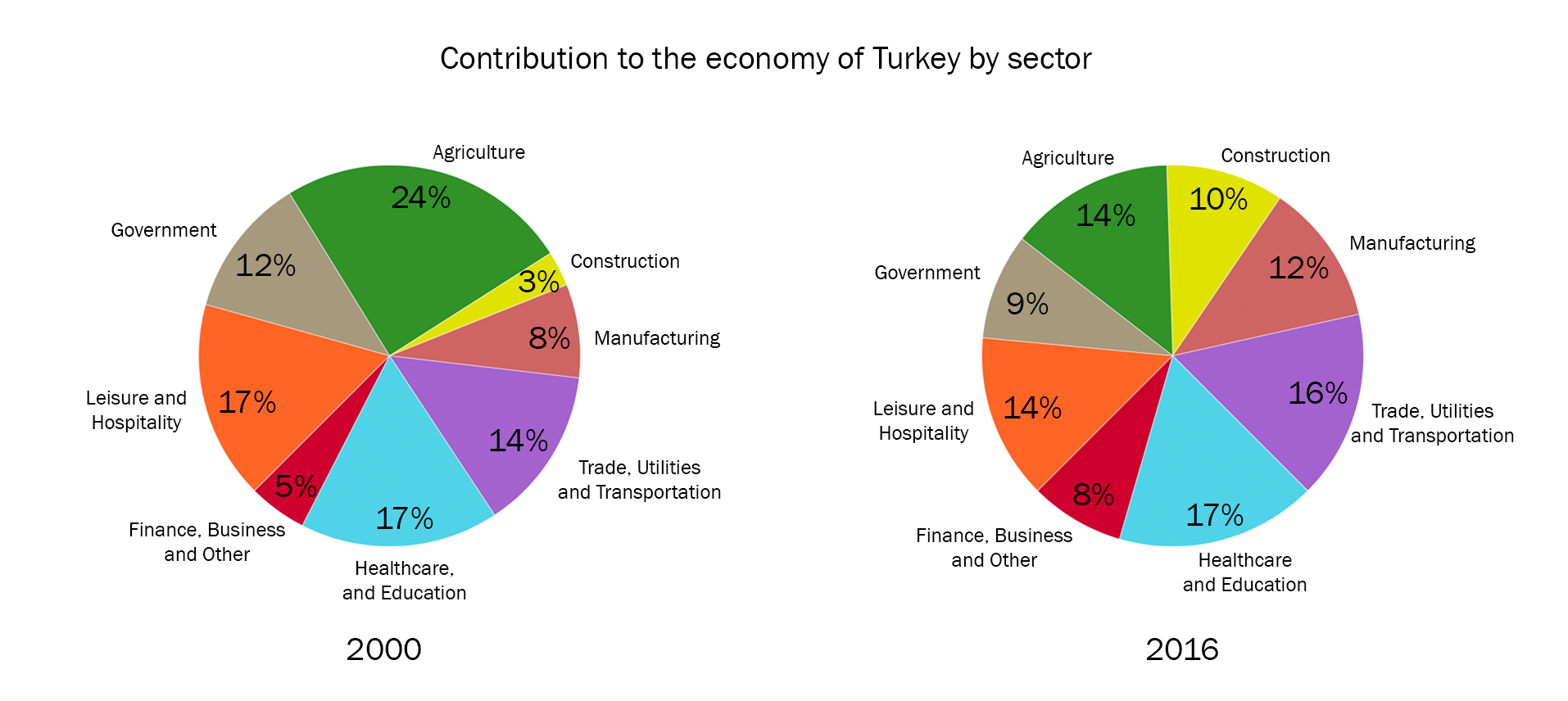 there are some useful structures that candidates can use for reporting this kind of question. Please look at the following structures:
… percent of … belongs to …
… makes … percent of …
The biggest/ largest/ most significant … belongs to … with …
… percent of … is reported to be …
… responsible for … of …
… percent of … is related to …
… is … as big/ much as …
… forms …percent of …
The percentage/ share/ proportion of … is … of …
… comprises … percent of …
The smallest/ least/ least significant … is related to … which is …
In the pie chart questioned it is better to use Superlatives, Comparatives, Contrasts, and Similarities. Here you can see some common structures for mentioned structures:
Contrasts
while/ whereas ………………………………………………………………………………….
…………………………… . However, / On the other hand, / Conversely,……………….
Unlike/ As opposed to………….., ………………………………………………………….
Similarities
Both ………. and ……….    ……………………………………………………………………….
………………………….. . Likewise, / Similarly, / In the same manner, …………………..
Similar to ………………………., ………………………………………………………………..
Table
Almost all strategies and structures that are used in both line graph and pie chart can be used in the table, bar chart other kinds of questions. In this section, we are going to show you a good sample of writing for the table type.
| | | | |
| --- | --- | --- | --- |
| City | Date opened | Kilometers of route | Passengers per year (in million) |
| London | 1863 | 394 | 775 |
| Paris | 1900 | 199 | 1191 |
| Tokyo | 1927 | 155 | 1927 |
| Washington DC | 1976 | 126 | 144 |
| Kyoto | 1981 | 11 | 45 |
| Los Angeles | 2001 | 28 | 50 |
Sample writing:
The table compares the six networks in terms of their age, size, and the number of people who use them each year.
Overall, it is clear that the three oldest underground systems are larger and serve significantly more passengers than the newer systems.
The London Underground is the oldest system, having opened in 1863. It is also the largest system with 394 kilometers of route. The second-largest system, in Paris, is only about half the size of the London underground, with 199 kilometers of route.
However, it serves more people per year. While only third in terms of size, similar to Paris, the Tokyo system serves more passengers than one of London. In fact, it is easily the most used, with 1927 million passengers per year.
Of the three newer networks, Washington DC underground is the most extensive, with 126 kilometers of route, compared to only 11 kilometers and 28 kilometers for the Kyoto and Los Angeles systems. The Los Angeles network is the newest, having opened in 2001, while the Kyoto network is the smallest and serves only 45 million passengers per year.