Ideas For Using Accent Wall In Changing Home Decoration, Examples that illustrate well The Accent Wall is not just a colored wall
Home Decoration, Accents are a fast, low-cost and efficient way to change the mood of your home with minimal change. These special and colored walls are the best choice for those who do not want to completely change the color scheme of their home decoration; But they need a little excitement and change.
Because there are several ways to run an accent wall , it all comes down to your own taste. Before you start, it's a good idea to get acquainted (gain, obtain) with present-day techniques that came from Accent Walls.
In this way, you can better come up with ideas for your home accent wall and get the best possible result according to your space and capabilities.
Accent walls are not just colored walls or just a kind of wall. You can turn any wall and even the ceiling of your living room or office into an accent wall. Of course, there are general principles for doing this that will help you make better decisions. Ultimately, it's up to you to decide which wall is going to be the salt of your home décor.
Another important issue is the choice of materials. Building paints, wallpaper and decorative materials (such as tiles, stone and wood) can all be used to make these walls. Creatively using the right materials in the right place multiplies the effectiveness of these walls.
 In addition, your budget plays a crucial role in this choice.
If you are an owner and want to do something lasting, you can think of materials such as stone or decorative tiles; But if you are not going to live in this house for a long time and you are just looking for a quick and inexpensive way to change the space, it is better to think about temporary wallpapers or painting.
But more important than both is the use of creative ideas to execute this type of decoration. Impressive accents do not necessarily use the most expensive raw materials or the strangest colors. This attractiveness owes much to the proper placement, compatibility of the design components next to each other, and ultimately the choice of materials according to the needs and function of the Accent Wall.
What you see below are examples of designs that have considered all of these things well together and have successfully implemented an attractive and effective accent wall in the desired space.
Make it crowded
The best way to differentiate a wall and make it the focal point of the house is not to paint the whole. Designed by Amanda Darnell, the living room features a cluttered corrugated wallpaper to further match the paintings on the wall.
Introduce the feeling of a cinema hall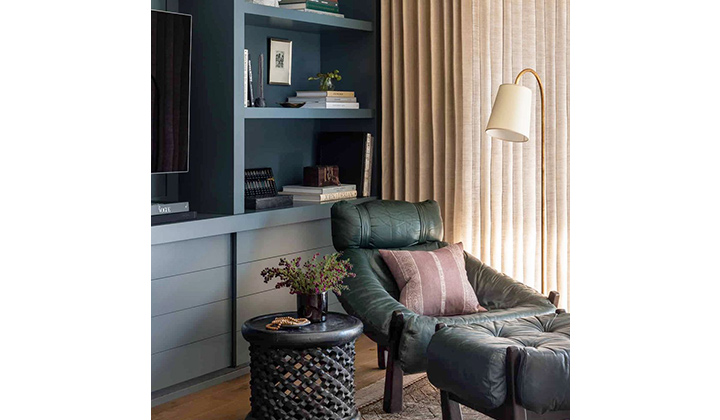 In the image above, an interior wall cabinet with dark green color (Deep Marine) is used to create a black box and induce the feeling of a cinema hall. In addition, using an integrated wall closet as an accent wall is a practical idea. Though In this way, in addition to decorative use, you can also use this space to store items or display decorative items.
Think of the stone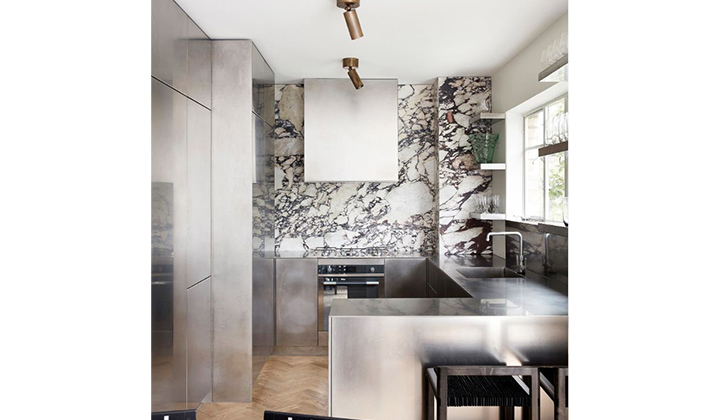 Natural stone coatings are very beautiful but very expensive. As a result, the best way to use them at no extra cost is to cover the accent stone. In the picture, you see a kitchen where all eyes are drawn to the intricate combination of purple and smoky stones on the wall. Patterned stone tiles and large slab stones can be easily found in our country's market today. You can add a special and lasting accent to your home by sticking a few stone tiles or slabs on the wall.
Use bold and bold ideas
One of the most effective ways to create an effective atmosphere in small rooms is to use bright colors. You can create such an atmosphere by painting a wall with warm and energetic colors and adding contrast to the decor and furniture; For example, take a look at the image above. The combination of green wall color with black fireplace and pink chairs has given this room a distinct and at the same time positive feeling.
Think of a distinct framework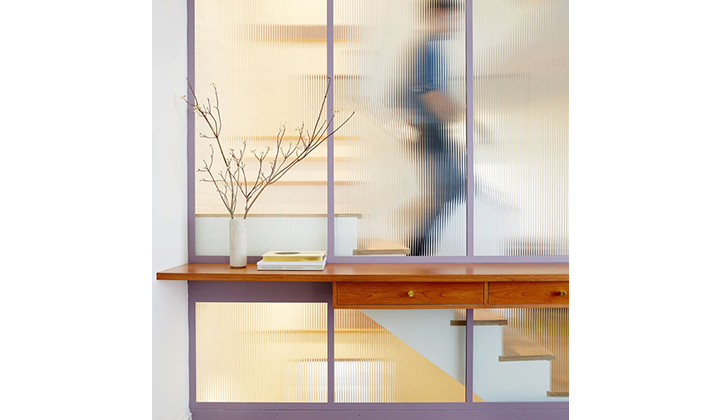 If you do not like to paint the whole wall, think about painting window frames or baseboards. By doing this, you can add a little excitement and variety to the uniform color of your wall, window or balcony. You can see an example of the implementation of this idea in the image. The designer of this idea has used a light purple color to neutralize the darker colors. This will also make the window frames more visible.
Use floral designs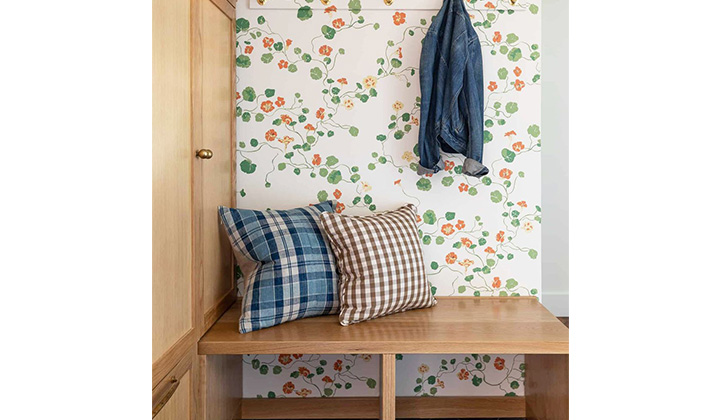 This is not to say that accents should always be on the main wall of the living room. In this picture, you see a handmade wooden dressing room and shoe rack (with a distinctive colored wall in one corner of the room). The Accent Wali designer you see in the picture above, using a wallpaper with a floral design, has turned this corner of the house into a different, cozy and lovely space. Basically, many of us never think about such a crowded design when choosing wallpaper or design for the wall; But this example shows well that any design and role can look beautiful in its place.
Use a mirror instead of a painting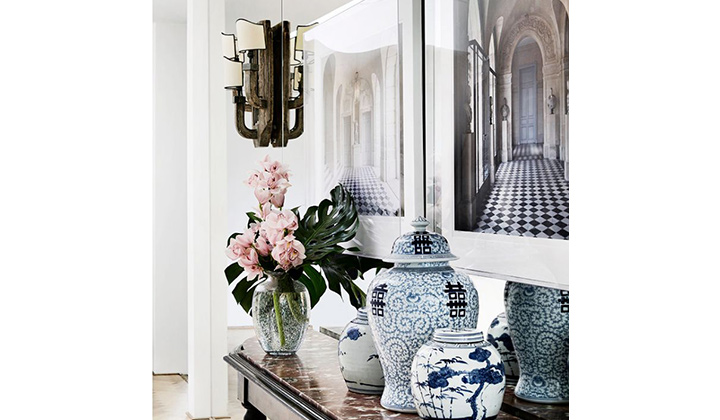 Mirrors have very attractive decorative functions. With the help of a mirror, you can make small spaces bigger or give some room some symmetry; For example, in this image, using an accent wall, the mirrors of the entrance hallway of the house can be seen much larger than it is. In addition, this mirror can be a final opportunity to control your head and appearance before leaving the door.
Try antique stones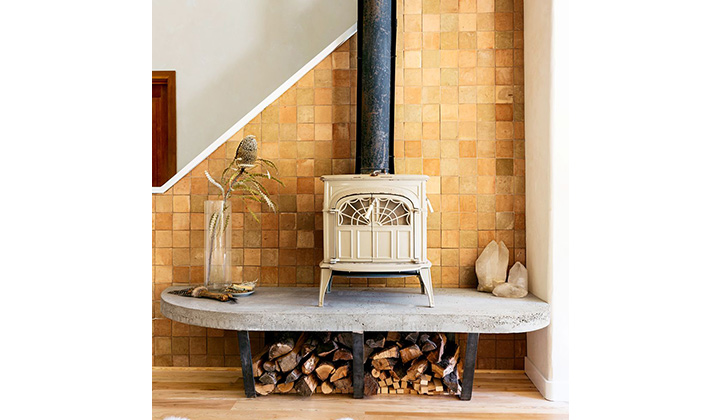 Antique and decorative stones have been widely used in interior design due to their good resistance to abrasion and corrosion and of course heat. Of course, in most cases, these stones are used to cover the walls of the kitchen or bathroom. However, one of the advantages of decorative stones is their unique resistance to heat. That's why you can turn the wall behind the heater or fireplace into an impressive accent wall with antique stones. A good example of implementing this idea is the design you see in the picture. Here, decorative stones, in addition to their function as a wall thermal protector, have turned the wall next to the stairs into an attractive accent wall.
Astonish your guests with murals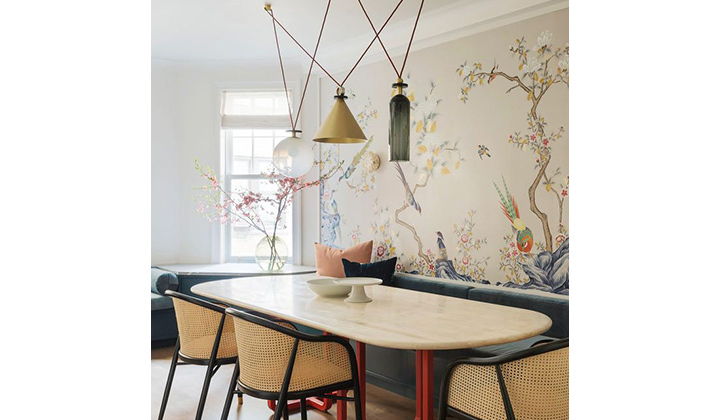 A different way to create an accent wall is to do a mural on it. Of course, this method is sometimes very expensive; But at the same time, it makes ordinary spaces distinctive and unforgettable. In addition, you do not have to go for complex designs that require professional painters to do murals. Simple and colorful geometric designs, if chosen the right colors and the right execution, can be simple murals for your particular room.
Create a colorful surprise
The bright yellow accent of this room is a warm and lovely surprise that makes the atmosphere of the house pleasant. Of course, the reason for this good feeling is that the color is limited to this particular wall. If all the walls in the room were to be the same color, the space would look much more cramped and crowded than it is. You can also use a color contrast in your decoration depending on the space and the effect you want to create.
Wood is always beautiful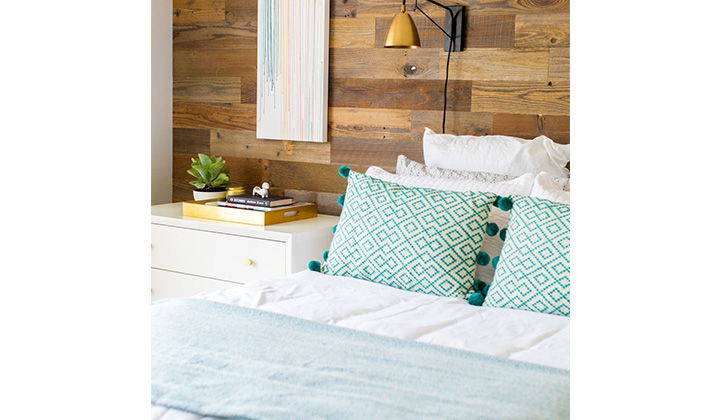 Natural wood is one of the materials that doubles the beauty of your Accent Wall. Of course, natural wood is expensive and not compatible with any space. However, one of the advantages of wooden panels is their ability to be easily install and removing, which allows you to take your decor with you wherever you go. As a good example, in the picture above, you can see a bedroom with a wooden accent wall, which the accent wooden wall alone has given an attractive and different atmosphere.
Do not be afraid of dark colors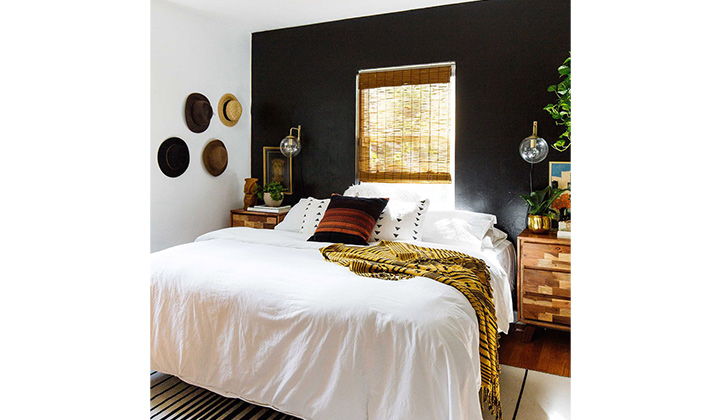 Black is not usually one of the colors we choose for our home. If this color or dark colors are sometimes a very good choice for the bedroom. Of course, in order for the space of the room not to be too heavy and cloudy, it is better to use this idea in rooms that have good light. In addition, the use of white sheets and bedspreads and bright decorations can create the right contrast.
Conclusion
There are a number of attractive and creative designs for Accent Wall. You just have to be more creative and not be afraid to try new ideas. By considering the specific features of your home, along with the application that you want Accent Wall to do for your home decoration, you can reach attractive solutions.
What do you think of the exciting ideas for running Accent Wall? Is there anything we have missed but do you feel should be seen more? Would you like to tell us about your favorite Accent Wall? As always, we're happy for you to share your thoughts with us and help make the Accent Wall Collection of Ideas even better.