How to use another phone internet (iPhone and Android)
Tethering, or hotspot, is the process of sharing your mobile data with other devices – such as laptops or tablets – that connect to the Internet through your phone data connection. There are several ways to connect to the Internet on Android.
Internet, Tethering is useful when you are in a place where you do not have access to Wi-Fi but have access to mobile data and want to do something on your computer instead of your phone. You can pay extra for convenience.
Will it cost anything?
It may or may not cost you money, depending on the carrier. In the United States, most large carriers charge extra for an Internet connection. For more information on tethering costs, visit the website of your company. $ 20 extra cost for tethering in the US is no surprise.
Removal of these restrictions is possible by installing and using a third-party tethering program, or if the phone is root and has an internal tethering feature unblocked, it is possible to remove the restriction. However, the carrier may notice tethering – this can be detected because the traffic on the laptop is different from the traffic on the cell phone – and they may add a tethering program to your account and charge you the standard internet connection fee. To take. If you are lucky, they may not notice, just do not be surprised if they ask you to pay for tethering.
Of course, the limitations and costs of standard data apply. For example, if your carrier provides 2 GB of data per month and you use 3 GB between tethering and normal data usage of your smartphone, you will be penalized – extra charge or lower speed – even if the carrier does not notice it is tethering You are.
Finally, the battery drains quickly with tethering. When not using tethering, you should disable it to maintain the power of your Android phone and keep its battery longer.
Types of tethering
We will talk about how to use tethering methods. Here's how to compare them:
Wi-Fi tethering : Wi-Fi tethering turns your phone into a small Wi-Fi hotspot that creates a Wi-Fi network that you can connect to with a computer. It has good speed and you can connect more than one device to it – but the battery drains faster than other methods.
Bluetooth tethering: Bluetooth tethering is significantly slower than Wi-Fi, but uses less battery power. You can also connect only one device via Bluetooth. Probably not worth using unless you really want to save battery power.
USB tethering: USB tethering has the fastest speed, but to use you need to connect your phone to the laptop with a USB cable. Your phone does not drain because it is charging from the computer's USB port.
In addition to the standard Android tethering options, there are other methods you may want to know:
Third-party tethering apps: If tethering is disabled on the mobile phone you purchased from your carrier, you can install third-party apps and use them for tethering. If they find out, the carrier may charge you.
Reverse tethering: In rare cases, you may want to share your computer internet connection with your Android phone. This is useful if you have a wired internet connection in the area and do not have access to Wi-Fi.
Let's talk about how to do all this, one by one.
Wi-Fi tethering
Android has built-in Wi-Fi tethering, although if you do not pay for tethering, it may be disabled by some carriers. (However, if the phone is rooted, you can use these instructions to unblock the Android tethering feature).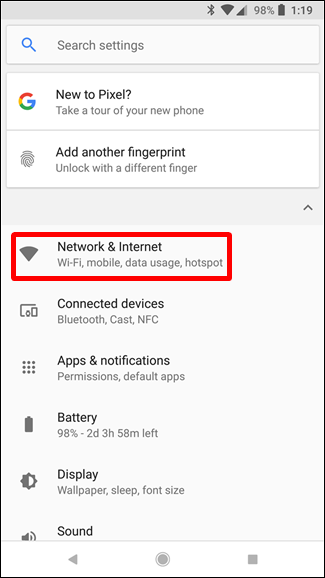 To access this feature, open your phone's settings page, tap More in the Wireless & Networks section, and tap Tethering & portable hotspot.
Tap Set up Wi-Fi hotspot then you can change the SSID (name) and password and configure your phone Wi-Fi hotspot. Set the security settings to WPA2 PSK unless you need to use an older device that does not support this encryption standard. WPA2 PSK is the most secure option and you definitely do not want other people to connect to your connection point and use your data.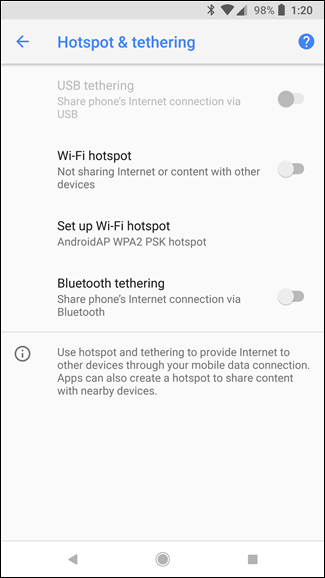 After configuring the hotspot settings, check the Portable Wi-Fi hotspot option. You can now connect to your phone's Wi-Fi hotspot via laptop, tablet or any other device.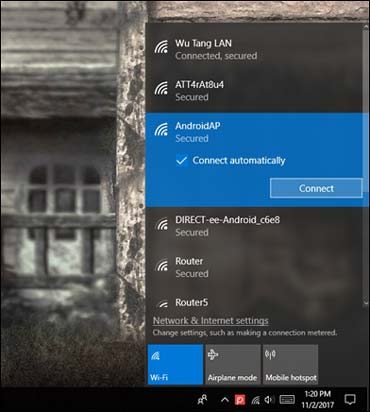 Bluetooth tethering
You can also connect to the Internet via Bluetooth. If your laptop has built-in Bluetooth (most laptops have this feature) you can enable Bluetooth on your phone and enable Bluetooth tethering.
You must first pair your PC with your phone. In Windows 10, you first open the Bluetooth menu and make sure the device is recognizable.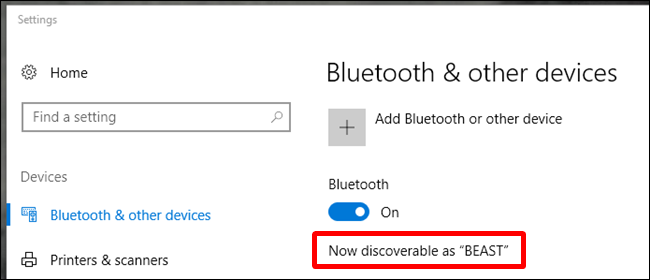 On your phone, go to Bluetooth settings and look for new devices to pair with. Wait for your computer to be displayed. After display, tap to start the pairing process.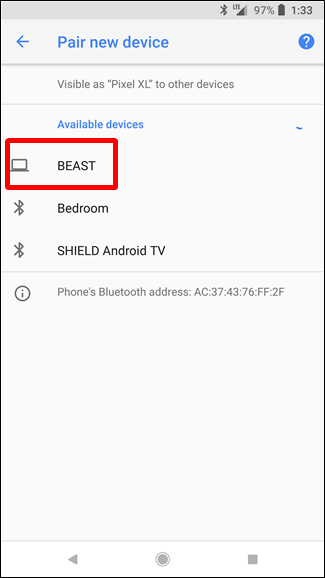 Once both devices have started communicating, you will be asked to confirm that the unique code is the same. In this case, click Pair on your phone and computer. You then need to connect via Bluetooth.
Now that the devices are paired, you are almost ready to use the Bluetooth tethering feature. First go back to Tethering & Portable Hotspot on your phone, then enable Bluetooth tethering.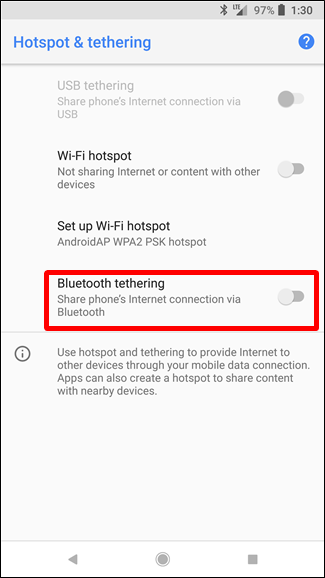 Go back to the computer, right-click on the Bluetooth icon and select "Join a personal area network".
Your phone should be there when this menu opens. Click on it, then click "Connect using". Select "Access Point".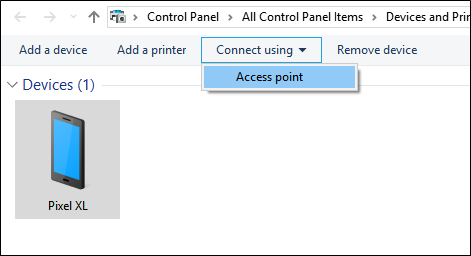 Once connected, you will receive a notification. You can now use the Bluetooth connection to access the web.
USB tethering
Connect your phone to your laptop via USB cable. You can see that USB tethering is available. Turn it on.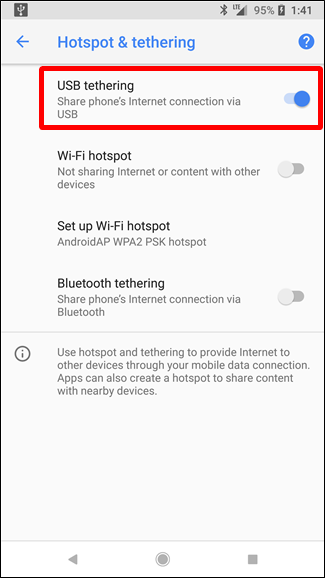 Your computer should automatically detect a new type of Internet connection and make it available.
Third party tethering programs
There are a few third-party tethering apps that you can download from Google Play. However, many of them are paid programs or require root access.
PdaNet + offers Bluetooth and USB tethering on all Android phones, while Wi-Fi tethering only works on some phones. The free version automatically shuts off, forcing you to turn it on again from time to time – you can avoid the hassle by paying for the full version. Unlike many other applications, PdaNet does not require root access. Wi-Fi tethering feature in the new PdaNet + is similar to the popular FoxFi app.
Also, if you want a free app that uses root and does not need to be reactivated regularly, or if PdaNet + cannot provide Wi-Fi access on your phone, you may want to look for other tethering apps in Be on Google Play. In that case, we recommend using the Magisk / Xposed module, which bypasses carrier restrictions.
Reverse tethering
Finally, if your phone is rooted, you can reverse the internet connection – connect your phone to your computer and share your computer internet connection with your phone. This is a relatively rare condition, but you may one day be in a place where there is no Wi-Fi. If you can connect your Android phone to a computer using a USB cable, you can share its wired internet connection.
How to enable Wi-Fi hotspot on iPhone?
1. On iPhone, open Settings and tap Personal Hotspot.
2. Move the slider to turn on if it has not been activated before.
3. You may be asked to turn on Bluetooth and Wi-Fi if they are off, but later versions of iOS will not warn you. In fact, in iOS 13, enabling Wi-Fi disables the connection point and disconnects any device that uses it.
4. Tap Password Wi-Fi and enter the password. This is the password that you enter in the list of Wi-Fi networks of another device after tapping the name of Hotspot.
5. Write down the name of the hotspot so that if others want to use your connection, you can give the Wi-Fi network name and password to others.
Why is my Personal Hotspot not on the list of Wi-Fi networks?
If you can't see your phone's connection point on another device, make sure the Personal Hotspot is recognizable. To do this, open the Control Center by swiping from the top of the screen (on older iPhones from the bottom up).
To display the Personal Hotspot shortcut, press long or deep at the top left. It will probably turn gray and say "Off" or "Not discoverable". Just tap on it and wait for it to turn green and the description to "Discoverable". The hotspot should now appear in the list of Wi-Fi networks of your other devices.
Then connecting to a Wi-Fi hotspot is as simple as other Wi-Fi networks on a tablet, laptop, or other Internet-connected device. When done, turn off Personal Hotspot to save battery power.