How to restore Photoshop to original / default settings
One of the most common causes of sudden problems with Photoshop performance is a corrupted settings file or preferences. 
All we have to do is figure out how to clean them and restore them to their original state. 
In this article, we will teach you how to reset the settings in Photoshop CC and earlier versions of Photoshop.
Does your version of Photoshop work weird? Do my panels or menu items disappear? Do the tools work badly? Most likely the problem is that your Photoshop configuration file is corrupted, which means that the settings are corrupted and the information inside it is corrupted.
The configuration file is where Photoshop stores most of its executable settings. In this section, the general view and user interface, tool settings, file storage and management features, Type tool settings, Scatch disk settings, plugin settings and other items can be seen. Each time you exit Photoshop, the settings file is rewritten. 
Unfortunately, every time we rewrite a file, something goes wrong.
 If this happens to your configuration file, then Photoshop is not working properly.
Fortunately, there is an easy way to restore these settings. In fact, from Photoshop CC 2015 onwards, there are two easy ways to do it. In this tutorial we will learn both methods. 
We will start with the basic method that works in every version of Photoshop. Then if this method does not work, we can use a completely new option in Photoshop called CC or Creative Cloud to easily rearrange the file.
Warning : Before you start, make sure that resetting your Photoshop settings file is more than that! You can reset the color as well as the custom keyboard shortcuts or workspace you have already created. If you want to keep these items, be sure to save them (using the appropriate dialog boxes) before proceeding.
The first (original) method that works on all versions
Step 1: Exit Photoshop
Let's take a look at how to reset settings using a method that works on all versions of Photoshop. Exit Photoshop first. On PCs running Windows, go to the file menu in the menu bar at the top of the screen and select Exit . On a Mac, go to the Photoshop menu in the menu bar and select Quit Photoshop .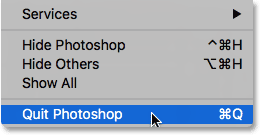 Step 2: Restart Photoshop while pressing the keyboard shortcut key
When Photoshop is closed, hold down Shift + Ctrl + alt and Mac Shift + Command + Option برای for Windows and restart the program as usual.
Step 3: Delete the Photoshop settings file
Just before Photoshop opens, a message appears asking if you want to delete the Photoshop settings file. This is your configuration file. Select Yes . Next Photoshop will open with all the settings saved by default:
The second method is to reset the file in Photoshop CC version
In this step we will learn how to reset Photoshop settings using the Photoshop CC method. You need to use Photoshop CC to make sure its version is up to date.
Step 1: Open the Settings dialog box
Adobe has added a new reset feature to Photoshop CC. This option can be found in the settings dialog box. To open the dialog on Windows computers, go to the Edit menu at the top of the screen and select Preferences and then General‌ . For Mac, go to the Photoshop CC menu , select Preferences , and then General‌ .
Step 2: Select "Reset Preferences On Quit" default settings
A Settings dialog box opens to set general options. In this section you will find the Reset Preferences On Quit option. Click on it to select.

Step 3: When you exit, select "Yes" to clear the settings
When exiting Photoshop, you will be asked if you are sure you want to reset the settings. Click Ok‌ .
Step 4: Close Photoshop and restart
Exit Photoshop by going to File> Exit in Windows and Photoshop> Quit Photoshop CC on Mac. Once you open Photoshop CC, the program will open with the settings back to their default state.