How To Enjoy Staying Home During The Eid Holidays?
The last days of the year, which lead to the celebration of the New Year and Eid, are busy and busy days. 
These days, families are struggling to move house , shop, and plan a vacation, and they want to spend the New Year vacation traveling with their loved ones, out of town, away from home. 
In the meantime, there are people who have worked all the days of the past year, have been struggling and prefer to spend the Eid holiday in a different way.
Most of these people, including myself, like to take advantage of this opportunity to take refuge on their own and do things they have long wanted to do but did not have the time or opportunity to do.
That's why these people prefer to stay home on vacation, not travel, and follow their own personal schedule.
If you are one of these people and you prefer to stay at home, do not worry at all; Many are like you and prefer to spend this time for themselves and away from the hustle and bustle.
Of course, this decision to stay at home and away from the hustle and bustle is not a reason for these people not to be social; Sometimes these people have a good social status and deal with different people all day of the year, at work, university and social activities; That is why they prefer to spend the new year in a pleasant solitude without worries and away from the hustle and bustle and be able to plan for the coming year.
Since most of the articles and notes published on websites, newspapers and… about how to travel, find a destination, travel, etc., we are going to talk about ideas in this article that can be useful for people who are planning a vacation. Spend at home without going on a trip. This is definitely not a complete list; If you come up with something out of the ordinary, then write it down for us.
1. Spend the first two days visiting friends and family
It is true that you prefer to be alone and spend your free time at home, but it is recommended that you visit friends or family members you have not met in the first few days. Contact them and make sure they are at home before you visit. Then one day visit people and families who have stayed home just like you.
You do not have to go there for dinner or lunch. You can have tea with them for an hour or two and spend happy hours with them. During this time, in order for the conversations to be valuable and useful, talk about good memories of the past, pleasant events, and so on. Political debates, grievances, and grievances make you and others bitter; So talk purposefully these days to feel satisfied and happy together.
2. Read a book
If you have a habit of reading books, you consider the holidays as a treasure trove of opportunities that you can read non-stop. If you have not read the book yet, the holidays are a good opportunity to meet this good and valuable friend. I often go to read Russian novels on holidays. These long, descriptive novels require a lot of patience and leisure, and with these conditions, I look forward to seeing them on vacation.
If you want to take advantage of this holiday and develop the habit of reading in yourself, start with small books that are related to your work and interests. Do a search on the Internet to find a list of books related to your interests or field of work, and read them with a double arrow during the Eid holidays; Enjoy reading the book and develop your personal and professional skills.
If you are always interested in books, you definitely have a long list of unread books. If you have a paper copy of the books, put them on the table. Then lie down on the sofa and start reading. If you are used to reading the electronic version, you can still relax on the couch and enjoy your book with a cup of tea or a cup of coffee .
3. Write and enjoy putting words together in Eid Holidays
Get rid of the idea that only professional writers and writers spend their time writing. You do not have to be a professional writer or storyteller to devote time to writing. You can use writing to record your memories, worries and concerns, regardless of your job or position. You may not believe it, but in psychology , writing therapy is used to calm and relieve anxiety.
So do not hesitate and do not consider writing a specialty that is not suitable for you. During the holidays, you can use an old pen and deadline to write and see how good writing feels to you. Also keep in mind that after a while if you go to this notebook and your personal notes, you will both review your memories and feel good about reading them.
You do not need to think about writing a novel or a story during this time. You can take time each day to write down the good things that happened last year. You can also write down the plans and what you plan to get in the new year in your notebook and draw it in word order.
4. Experience walking in secluded places of the city in Eid Holidays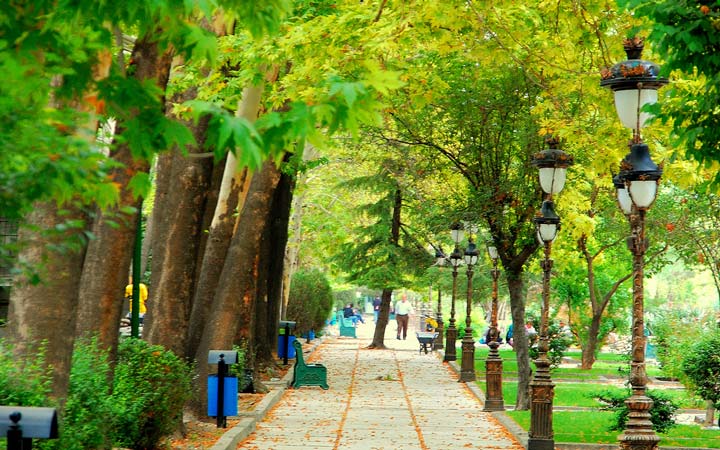 If you are in the capital, it will probably be interesting for you to see the city in solitude and without crowds. Generally, Tehran has a blue sky and is more spectacular during the Eid holidays, when they have left the whole city to travel. You can walk the streets of the city for a leisurely day; Streets that are crowded on normal days and their beauty is not visible.
I have a friend who was found last year from the railway to Tajrish. On this walk, he also visited cafes, went to bookstores, and discovered beautiful back alleys.
Generally these days, the city's museums and bustling places are also secluded and offer better services. The cinema is another place where you can spend an hour these days and, given its privacy, think that the film has been screened just for you and the whole cinema is for you.
5. Have a specific, short-term plan for yourself in Eid Holidays
During the short break, go for activities that you have been planning to do for a long time, but either did not find the leisure or did not have the patience.
For example, before the holidays, buy yourself a puzzle and plan to complete the puzzle during the holidays and frame it so that whenever you see it, you will see that this effort is the result of the holidays.
If you watch movies, you probably have an archive of new movies that you have not been able to see. So seize the opportunity. Make your own corn ( how to make Mexican corn ), lie down in front of the player and keep watching until you get tired.
This list could possibly have been longer and more detailed, but we have limited ourselves to a few and wanted you to create your own unique and personal plans with your creativity . So if you have had a holiday experience like this, tell us about your experiences.