How to delete emails through C-Panel file manager
As you know, email accounts are one of the most important parts of our hosts, and because we may receive a lot of spam and unwanted emails in our email accounts daily, these emails usually contain a lot of text and images. After a while, our hosts take up a lot of space, so we should be able to delete these emails and emails we read from the host forever. One of the ways is to enter our webmail, and Then we delete the emails in the email of our host accounts one by one. Still, if we do not have access to our webmail in any way, there is a more interesting solution that allows it to enter the host manager cpanel and the entire email. Select the received, deleted, sent, and spam files and then delete them. In this tutorial video, we have decided to teach you how to delete emails through the C-panel file manager.
Learn how to delete incoming emails through the C Panel file manager
To do this, please first log in to your site's C panel by learning how to log in to C Panel, and from the files section, click on the file manager to enter the file manager section of your host,
Well, you are now in the home directory of your site, and this is where the basic and structural files of your site are located, so do not delete or change any of the contents in this path, because then your entire site will be disrupted. All you have to do to delete the emails through the C-Panel file manager is first to enter the mail directory here, which also has an email icon.

To do this, double-click on the mail icon to enter this section.
Okay, now scroll down a bit from here to get here. You will see a series of directories or folders, the first of which has a dot name. The names of these folders are just like the email accounts built inside your host. For example, our domain name is mizbanfatv. Ir, and you can see the email addresses created for this domain in this section, for example, our email addresses: ads@mizbanfatv.ir and info@mizbanfatv.ir and sales @ mizbanfatv. Ir and support@mizbanfatv.ir, and because we want info@mizbanfatv.ir, we enter the .info @ mizbanfatv _ir folder.

Categories of receiving emails in the C Panel
Inside there is a series of directories that we will explain the use of all of them:
The draft

is a directory containing emails you wrote but did not send.

Junk

is a directory containing spam emails or emails sent to you.

Sent

is where the emails you wrote and sent to others are kept.

Trash

is a directory that stores emails and junk you delete via webmail.

Cur

is a directory that contains the emails that are in your inbox, and you read them and remain in the same state.

New

is a directory that contains emails that are in your inbox and you have not yet read and remain unread.
Delete all emails inside the webmail c-panel webmail via file manager
Well, you should first note that you are not allowed to delete any of these folders completely or change their access level, because then your email host will be severely disrupted, we have decided now. We have to delete a series of emails that are in our inboxes, to do this we enter the cur folder.

As you can see, there are a number of files with long titles here, these are exactly the emails that are currently in our webmail inbox,

To delete all these files, select them all through the select all tool, and then right-click and right-click the delete button. Before doing this, make sure that you have selected only your email file according to the image, and be sure. Be careful not to delete any other files or folders from these paths.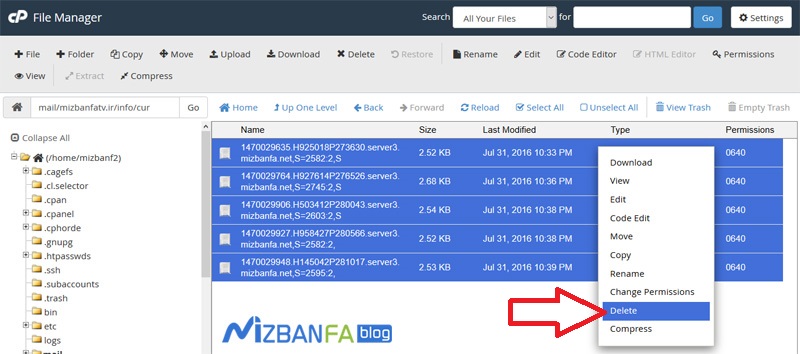 And then from the trash window, click the confirm button to delete the emails.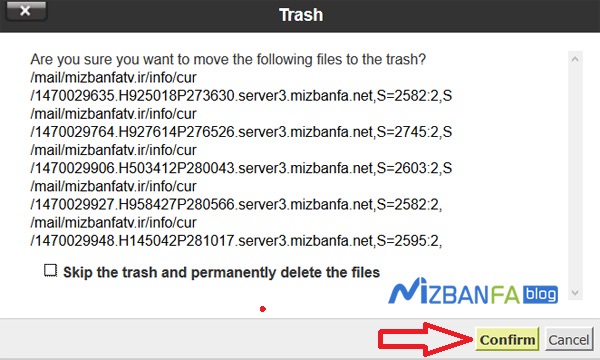 If under any circumstances you find that you have mistakenly deleted a series of files and folders from these directories, you will be able to restore those files to their original location by observing the tutorial on how to restore deleted files in C Panel. In the next tutorial video, you will get acquainted with how to view hidden files in C-panel and their use in hosting, and after that, you will be able to easily hosting view or edit More instructional videos about C Panel, which is one of the most popular control panels of host management, please visit www.mizbanfa.net or follow us on Twitter and get all our tutorials for free use