What Have We Lost If We Do Not See Niavaran Palace?
Do you know why watching palaces is enjoyable? Well it turns out; Palaces are usually beautiful buildings (both in terms of architecture and interior design). But is that enough?
No, we think another attraction of the palaces is that they have been able to keep a part of the history of the community alive. Niavaran Palace has been one of the historical narrators of Iran during different periods.
In this guide, we want to take a brief look at Niavaran Palace in Tehran .
Niavaran Palace or Niavaran Garden?
The building of Niavaran Palace is better known as the Pahlavi dynasty, but the garden of which the palace is a part has a longer history. Niavaran Garden also has its own beauties, because it is located in one of the most pleasant and airy parts of northern Tehran.
Also, its vegetation is so full and lush that even if you do not go to Niavaran Palace, by seeing this garden, you will definitely experience one of the tourist attractions of Tehran .
Let us know a little about the background of Niavaran Palace
In the previous section, we said that Niavaran Palace is inside this garden. Now it's better to know a little about the history of the palace itself and this complex. It is also better to know that Niavaran Palace is not the only building in this complex.
The garden dates back to the Qajar period, but during the Pahlavi era, Mohammad Reza Shah demolished a number of Qajar buildings to build the Niavaran Palace. It is said that the construction of this palace was stopped for a while in the middle of the project and then it was reopened.
After the victory of the Revolution (exactly in 2003), visiting the Niavaran Palace was banned because the authorities intended to renovate different parts of the complex. This reconstruction lasted for six years until finally in 2009, the doors of the Niavaran Palace complex were opened to the public.
Before we get to know more about the palace itself, we need to remind you; Niavaran Palace is very attractive not only for us Iranians, but also for foreign tourists. For this reason, Niavaran Palace is important for our country in terms of tourism economy.
The beauties of Niavaran Palace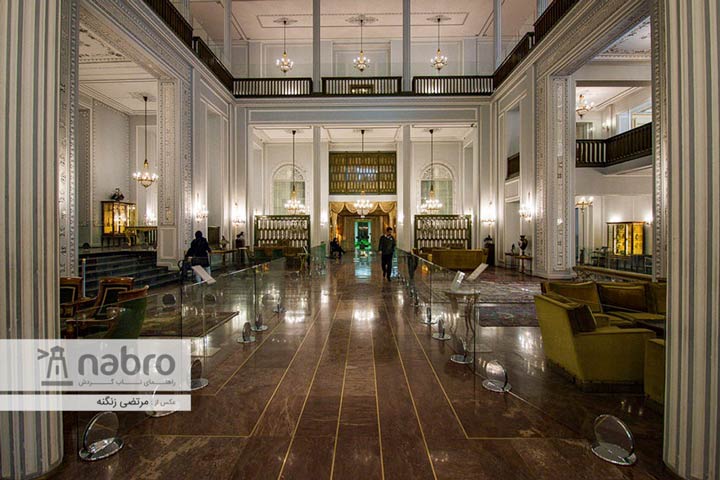 One of the main beauties of Niavaran Palace is its architectural style. Niavaran Palace is a combination of Iranian and European architecture. Of course, remember that one of the main differences between Niavaran Palace and other royal palaces in Iran is that it is made simpler and more minimal.
Niavaran Palace, built in the northeast corner of Niavaran Garden, was once the residence of Mohammad Reza Pahlavi and his family. Today, if you go to Niavaran Palace, you can see fragments of their lives in different parts of it.
For example, the bedroom of Mohammad Reza Pahlavi's children, his work room and Farah study room are all part of the sights of Niavaran Palace and you can enjoy watching them.
 Of course,
it is better to know that Niavaran Palace has two complete floors and a half floor in total, and all these rooms are scattered in different sections and floors of the palace.
Now you may be wondering if this number of rooms and wards with nine thousand square meters of infrastructure may be a little too much for a family. True, this family was royal and they did not build the Niavaran Palace just for themselves.
Other buildings in the Niavaran Garden (many of which date from the Qajar period) had other uses. For example, in addition to the living environment, this palace was also a work environment, and naturally, additional space was needed for work.
There were also other sections for special reception of guests.
Historical sources tell us that Mohammad Reza Shah, in order to build the Niavaran Palace, ordered that one of the buildings left over from the Qajar era be demolished and that its land be used to build the Niavaran Palace.
What else does Niavaran Palace have?
As we have said, in this guide we have only a brief look at Niavaran Palace and its various sections, and you can be sure that the sections and history of this palace are more than these professions.
If you would like to read a little more about this, you can visit Nabroo blog .