How To Work With Binance Site, Binance Exchange Is An Online Platform
Binance Exchange is an online platform that allows traders to trade many digital currencies. Although Binance was created by the Chinese, its headquarters are located in Malta. 
Binance Exchange, But the important thing about this large exchange is its uses. 
Many traders are only familiar with the ability to buy and sell in it, while the ability to invest and stick or hold can also be used in Binance. 
Therefore, it is very important to get acquainted with these capabilities and use each of them according to our needs.
How Binance site works
At Binance Exchange, traders can easily trade digital currencies with each other. In other words, Binance allows traders to pay for their digital currency and buy another digital currency in return. 
But traders generally use stable coins like Tetra to do this. But Binance is limited in some countries, such as Iran. Given that Iran is on the Binance sanctions list, Iranian users do this with the help of a VPN or VPS that gives them a fixed IP from abroad.
How to register in Binance?
The first step in registering for Binance is to secure a VPN with a fixed IP. Then search for the binance address in your browser. In the second step, enter the Binance site and click on the Register option from the top list of the site.
Registration link on Bainance site
Then follow the picture below just by entering an email and a password. Note that at this stage, an email must be used that you must have access to. Because the activation code will be sent at each step of entering it.
After registering an email on the Binance site, enter your email and fill in the code sent by the Binance site in the table on the Binance site. Like the image below: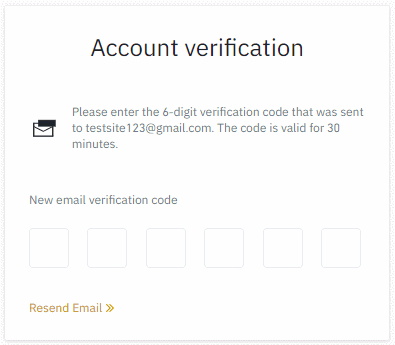 After entering the activation code sent to your email, your registration will be completed. Now you can log in to your Binance site account. And get more acquainted with the Binance user environment.
Familiarity with Binance site
Now, after entering the Binance site, you should think about recharging your account or the same as recharging your wallet so that you can buy and sell digital currency on this site.
Binance wallet charging tutorial
After charging your wallet, now is the time to get acquainted with the different sections of the site and then start trading.
Top list of Binance site
When you enter the main page of Binance site, you will see a list at the top of the site that you will probably not notice anything in the first encounter. 
In this tab, you can see all the services that Binance site offers. As it is clear from this section, the exchange is only a part of Binance services. Bainance Charity Trust Volt wallet and other items have all made Binance more popular. In general, traders working with Binance will find the least need outside of this exchange.
Click on Buy Crypto to display the first currency of your choice to display prices. The default is dollars, but can be converted to euros or other currencies. Other options will be activated after registration.
In the Market tab, you can find comprehensive information about the state of the digital currency market. The whole market can be divided into futures market or spot. Also, categories based on the type of POS and POW rewards can be seen in this section.
Trade tab on Binance site
Perhaps the most important tab for traders is the trade tab. Carefully describes each section of the trade tab in the simplest possible way. For example, in the Convert tab, the "Easiest Way to Trade" is mentioned. The main thing is that they are not much different from each other in doing business. Traders can use any of them depending on their needs.
The Derivatives tab is for digital currency futures. Some of the features of this tab are not recommended for beginners at all. For example, in the Battle section, like gambling games, they bet on price fluctuations. They will win if they make a correct prediction, but they will lose their money and capital if they make a wrong prediction.
Suppose you want to keep your digital currency for a long time or you want to make a profit in a shorter way in addition to price fluctuations in other ways. One of the best possible methods is Staking. Many projects, ideas or digital currencies offer stickers to traders for different purposes. In fact, in this case, your digital currency will be given to them for a while and you will be given a profit in return.
Binance Home Structure
Tournaments can be found on the main page at a glance. Binance tournaments are one of the most attractive parts for professional traders. Whoever makes more profit will win the tournament and a very large amount, but the first step is to pay the participation fee in the competition.
Also in the following section you can find Binance software for all operating systems and devices. Then the site shortcuts are placed for faster access to popular sections.
Conclusion
Binance site is the main reference for digital currency transactions. This website offers a wide range of privileges and services to its audience so that it can provide all the needs of its audience at once. Learning each of these tabs on the site requires time and practice to learn how to work well with this site.