Apple Airtags Was Introduced, Apple's New Imacs Were Introduced With Attractive Colors
After a long rumor about Apple AirTags and its non-introduction during recent events, it finally unveiled this product last night during the Apple Spring Loaded event.
AirTags is actually a small and lightweight tracker that uses its built-in Ultra Wideband technology to notify its Find My app of its location. This product is designed and manufactured in the form of waterproof and dustproof with IP67 standard, and also uses a speaker and a replaceable battery that lasts for one year.
AirTags connects to Apple's Find My app on iPhones 11 and 12, which also show the latest AirTags location on the map. Also, if AirTags is in the phone's Bluetooth range, you can use Siri to call it using the phone.
But if the AirTags is not close to the phone, this tracking is done using a combination of the U1 internal chip and super bandwidth technology.
Apple calls this finding method Precision Finding, which uses camera inputs, ARKit, accelerometer and gyroscope. In addition, the user is guided to AirTags through audio, word and visual feedback.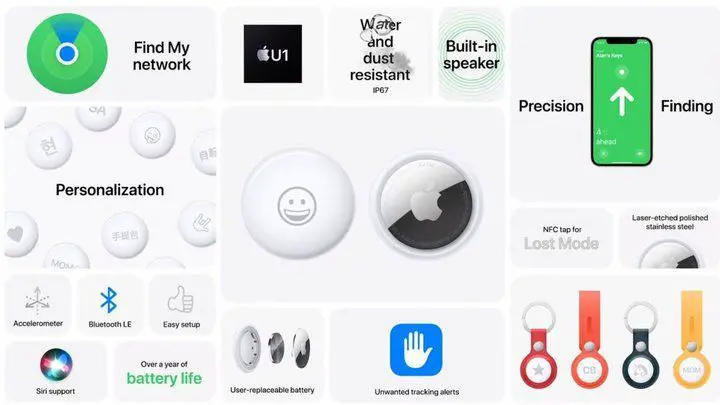 On the other hand, you can introduce AirTags as a missing object so that if it is within the scope of another iPhone that has the Find My application, you will be notified. We have to say that just like Samsung Smart Tag Plus, Apple AirTags uses anonymously and secretly uses other people's phones to update its location.
The Apple product will finally go on sale on April 30 for $ 29. Of course, if you buy a pack of 4, you only have to pay $ 99.
Apple's New Imacs Were Introduced With Attractive Colors

One of the products we saw at Apple's Spring Loaded event was the company's new iMac. This product has undergone many changes not only in terms of appearance, but also in terms of hardware. Be with Facebook with the introduction of the new generation of Apple iMac.
The new generation of Apple iMac
This product uses a 24-inch display with 4.5K resolution and equipped with True Tone technology. The edges of the screen are very narrow, but at the bottom of the screen, in addition to the edge of the screen itself, there is a large space.
Apple has used a flat design in this product, and due to this type of design, the volume of Apple's new iMac has been reduced by about 50% compared to previous models. 
In other words, Apple's new iMac is 11.5 mm thick. On the other hand, instead of the previous generation heat transfer system, Apple has used two fans with a very small size in this product, and this is another reason for reducing the volume of the new generation iMac.
One of the improvements that the new generation iMac has seen is the camera and microphone. In fact, Apple has enlarged the camera sensor on the new iMac and upgraded its resolution to 1080P. This improvement allows users to experience better quality during the video calls that are needed more than ever these days.

Apple's new iMac design –
This is the first Apple iMac to use the Apple Silicon M1 processor, which is in line with Apple's goal of replacing Intel chips with Apple Silicon chips within 2 years. The base iMac model has 8GB of RAM and 256GB of SSD memory, and it should be noted that all non-custom models will only come with 8GB of RAM. However, you can order this product with a maximum of 16 GB of RAM and 2 terabytes of memory.
Apple's new iMac power cable is magnetically designed similar to the old MegSaf cables that attach to the back of the device, and its color scheme matches the iMac itself. In the base model of this product, Apple has used two USB 4 ports with support for Thunderbolt 3, but in the higher model, in addition to the ports we mentioned, Apple has added two USB-C ports without Thunderbolt support.

Magnetic power cable with color compatible with iMac –
The base price of Apple's new iMac is estimated at $ 1,299. The other two non-custom models are priced at $ 1499 and $ 1699, respectively.