Android 12 Makes It Easier To Manage Deleted Files With Trash
Based on information from Google's new operating system, Android 12, which has been released to date, it can be seen that users can better manage their trash and deleted files in this operating system.
Android operating system, like Windows, has a trash feature, this information goes to the trash when you delete data. But this feature has a number of limitations, and it seems that Google is finally planning to design a new trash can in the new version of Android, which will make managing deleted files much easier.
The XDA-Developers website reported in December last year that Google had decided to add a new folder for deleted files to the Google Files app.
 But now it seems that Google has bigger ideas and wants to design a Recycle Bin-like trash in Windows.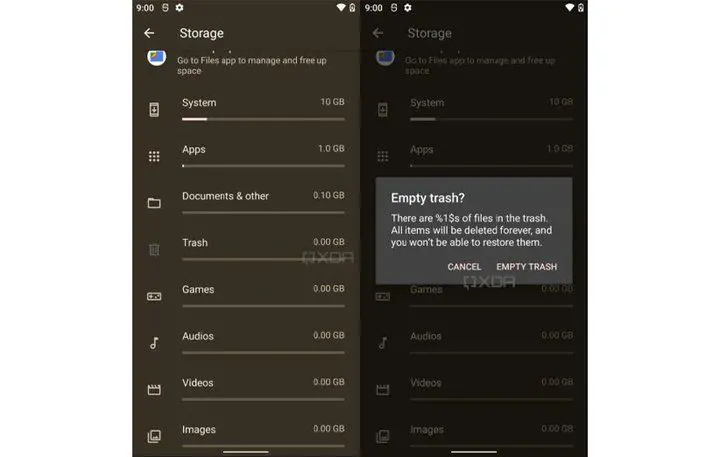 Following the XDA-Developers report, it is said that Google has decided to manage deleted files very comprehensively and universally through the Storage section in the settings of this operating system.
 In such a section being built by Google, users will be able to view all deleted files and delete this data permanently.
 It is said that there is no way to get this information back now. For this reason, you can not compare this feature with the Windows Trash. However, this may eventually happen in Android 12, as it was previously reported that the Google Files app will receive this feature.
It should also be noted that in the Android 11 operating system, when the user wants to perform a deletion, he receives a similar API that allows him to hide this information. 
So the trash is still available to users, but not in a way that any application or service can use it. Maybe even in Android 12 this is the case.
 For example, manufacturers or developers will not want to use the Google Trash can API. For this reason, Android 12 may not be able to access a professional trash, such as the Windows Trash.
Next month we will see the Google I / O event. Undoubtedly, we will get more information about holding this event, because Google's programs related to Android 12 and its capabilities will be released.