Activate Free SSL C Panel and renew it automatically
With the advent of websites and the expansion of web activity, Internet users are looking to use websites that provide good security. One of how website owners can secure their website and their customers is by activating SSL. SSL is a security certificate that encrypts the data entered on the website to secure people. But the question here is how to enable SSL? In this article from the Fa Host Knowledge Base, we will tell you how to activate the Free SSL c panel. You can read the Direct Admin SSL installation tutorial if you are using Direct Admin Hosting.
The topics covered in this article are as follows:
Activate SSL on hosts

Impact of SSL installation on website security

How to activate automatic SSL in C Panel

Free SSL activation in C Panel
In general, website owners need to work on the security of their websites to gain the trust of Internet users. The best thing you can do in this regard is to install and activate the SSL certificate on the host. You need to log in to your hosting control panel and apply the settings for installing the SSL certificate. Of course, keep in mind that sometimes, for various reasons, we may need to disable SSL in C Panel, which we have provided for your dear ones.
One thing to keep in mind is that you may use different control panels. C-Panel and Direct Admin are currently two very popular user panels most hosting companies use. First, you can read the instructions for installing and activating SSL in C-Panel and Direct Admin and proceed accordingly. Then, like the tutorial in this article, activate SSL automatically so that you no longer have problems with the security of your website.

Impact of SSL installation on website security
One way to establish a secure connection between the client and the server is to use SSL encryption. Certificate SSL stands for S pocket S secure L Ayer, which means the secure connection layer used to transfer data securely. For this reason, many users prefer to use websites that can provide good information security.
Important and sensitive information such as user personal information, credit card information, and a lot of data whose disclosure could cause irreparable damage to customers and website owners, is encrypted.
To determine if SSL activation has taken place on a website, you should look at the URL. If the website link starts with https, you can see that the SSL activation process has been done for that website.
How to activate free SSL in C-Panel host
You can do this with a few simple steps to activate your free SSL website in C Panel automatically. To do this, you can proceed as follows:
🟢🔵 Note that if you use the WordPress content management system, after activating the SSL certificate in the C-panel host, you should go to your WordPress counter, and according to the tutorial mentioned in the green box at the beginning of the article, the certificate in addition to hosting in WordPress Also activate.
In the first step, you must enter your user panel in C Panel. Then scroll to the page and select SSL / TLS Status from the Security menu.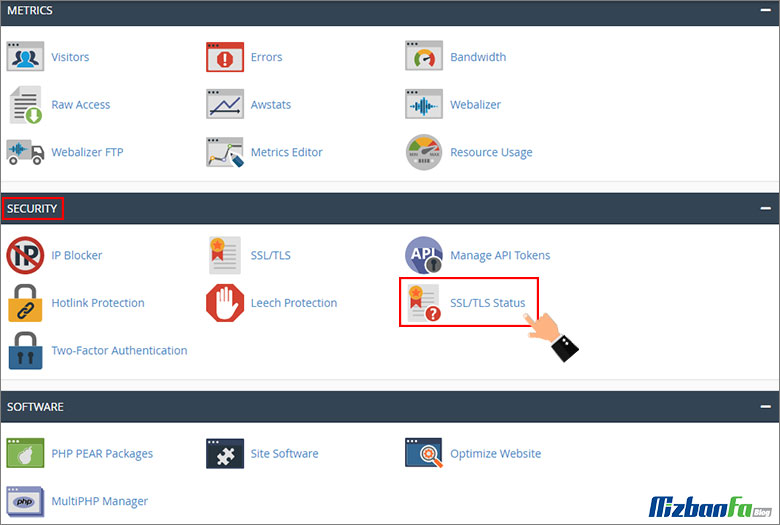 On this page, you will see a table that shows you all the domains and their validity of the security certificate. Next to the name of each domain, there is a box that, by clicking on each of them, you can set the status of your desired domain in the selected state.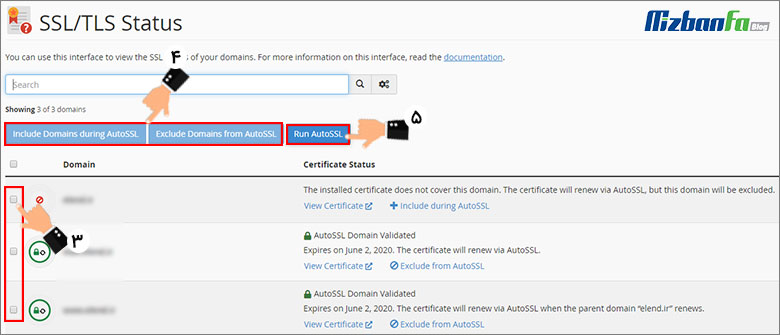 At the top of this table, you will see three buttons that you must use when activating SSL. These three buttons are:
include Domain during AutoSSL:

After activating the tick next to the desired domains, by clicking on this option, you specify that the SSL activation will be done only for the selected domains.

Exclude Domain from AutoSSL:

If you click this button after activating a domain check, you send the command not to install SSL for selected domains.
Keep in mind that the SSL certificate is automatically renewed every three months. If the domain is excluded, it will not be automatically renewed after three months.
Run AutoSSL:

After specifying your desired domains, you must use this button to complete the SSL activation process of your website.

In the last step of installing the free SSL C Panel, you must click the Run AutoSSL button to complete the process of automatic SSL activation for the specified domains. Note that if the SSL auto-activation operation is completed successfully, it is located next to the amber color domain. The "AutoSSL Domain Validated" is displayed in the Certificate Status section.

If you send an AutoSSL request more than 3 to 5 times in 24 hours to the SSL service provider server, the requests sent by Let's Encrypt will be blocked. For this reason, your access to this section may be restricted for at least 72 hours. As a result, you need to wait and try again after the restrictions are lifted.
How to detect the installation of an SSL certificate
Note that after installing the SSL certificate at the beginning of all links on your website, the HTTPS protocol will be displayed instead of the HTTP protocol.

In new browsers, the gray lock symbol is shaped like

it Is displayed next to the address bar.
You may have defined multiple domains on your host, each with its SSL certificate. It's very smart to decide which domain the Let's Encrypt certificate should be applied to and extended for a specified period, i.e., three months. The free C-Panel SSL certificate will be applied to the desired domains, and you will no longer need to renew them manually.
The question that may arise is the expiration status of the SSL host C Panel? Do you have to renew it after the set date ?! In answer to this question, it should be said that currently, the policy that Cpanel has adopted for providing SSL is that the SSL provided will be extended automatically. You do not need to do any special work.
An important point of installing WordPress SSL: After activating the free SSL certificate and the end of this tutorial, if you are using the WordPress content management system, you can also follow the following tutorial to change the SSL certificate in active WordPress and the HTTP protocol to HTTPS.
Enable SSL on WordPress
In previous versions of C-Panel, we went through the steps of installing free SSL in C-Panel separately, but now you can enable or disable free SSL hosting with one click. If, for any reason, you decide to remove your free or commercial SSL certificate, get help from the tutorial below.
How to disable SSL in C Panel How to disable   SSL in WordPress
Disable SSL in C Panel
Sometimes for various reasons such as obtaining a business certificate, installing CDN, or technical problems, and… we may have to remove and disable SSL from the c panel. In this case, you should refer to the section for displaying installed certificates and click on the uninstall link in front of SSL. Due to the importance and sensitivity of disabling SSL, instruction has been prepared in this regard. By studying it, you will be able to manage the certificates installed on your hosts properly.
Fixed SSL display problem with error
Note that all URLs, files, and می must be https on the page. Otherwise, the lock icon in the browser's address bar will be associated with an error. To solve this problem, check your page elements, such as images and other files, and if they exist, change them to https as HTTP to eliminate the SSL error.