5 Useful Tools To Download Free And High Quality Wallpaper For Mobile And Desktop
Many people are always looking for great wallpapers for their mobile or PC. If you are one of these people, we suggest you do not miss these 5 tools.
Many people are always looking for great wallpapers for their mobile or PC. If you are one of these people, we suggest you do not miss these 5 tools.
Free tools to download free wallpaper for mobile and desktop
1- Movie Mania website
If you love movies and TV series and are always looking for wallpapers from different movies, we recommend the Movie Mania website . Usually when you download the poster of one of your favorite movies or series, all of them have the title of the movie written on them, which is not suitable for use as wallpaper at all.
 To solve this problem, Movie Mania website provides you with high quality wallpapers of popular movies and series from which the text and title of the movie have been removed. You can use these wallpapers for mobile and tablet.
This website contains many images in different fields that are often vertical so they are perfectly suitable for the phone; But a number of wallpapers are also suitable for the desktop. 
To see the appropriate images of each category, you can click on the icon in the upper right corner of the website. Of course, the images that are provided to you are not as complete and high quality as mobile wallpapers.
2- Wllppr website
This website is actually a community where people interested in this work collect high quality images that are suitable for mobile and computer wallpaper from various designers, artists and photographers and place them on this website. 
Unlike the previous source, the images on this website are very suitable for use on a computer, but you can also find suitable images for the phone on the website. 
In addition, all images are automatically adjusted for use on the phone according to the resolution and aspect ratio of your phone.
For more convenience, it is better to select your desired device from the menu on the left, from the very beginning of entering the website. You can also select the images in the same section by selecting one of the available categories.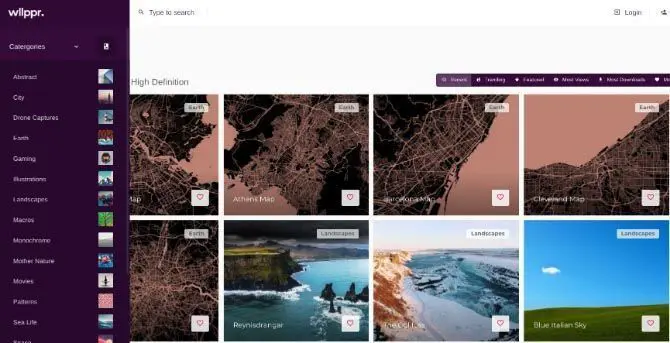 3- 21 Wallpaper
This is a new and interesting project in which 7 of the best designers and graphic artists in the world have been asked to provide users with 3 of their recorded images that are suitable for wallpaper during the month for free. 
Since each of these artists has their own style and context, the images on this website are undoubtedly unique and rich.
The good thing about this website is that artists offer wallpapers for both PCs and phones.
allpaper and Mapapers program
With these two programs, you can easily turn any corner of the world map into wallpaper. Both of these apps work exactly the same, but Atlas Wallpaper is installed on iOS and Mapapers on Android. 
Of course, Atlas Wallpaper is free, but Mapapers is not, and it costs $ 1; It also puts google watermark on images.
To use this program, just select any part of the world, zoom in on it. Then choose the color you want from different colors and styles. After completing the photo, save it to your phone memory and use it as wallpaper.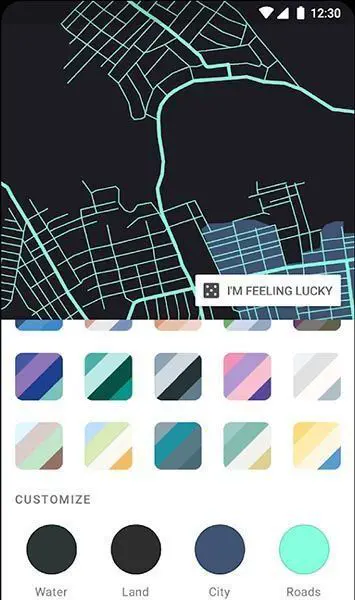 Pattern Cooler -5
Many prefer to use wallpapers that have not been photographed, but use special patterns. Pattern Cooler does this for you easily. You do not even have to worry about the time it takes to find the images on this website, but you can use the style and color to go exactly to the same category of patterns.
More interestingly, once you find the image you want, you can easily change and customize it to your liking and adjust its color, text, transparency, and so on.
This website has a limit for you, the maximum size that you can download images for free is 300 by 300 pixels. So if you want to have a larger template, just copy and paste it over and over in an editor.